Bunches is a family-owned florist operating since 1989. Having been in the business for about 30 years, they know everything about the business, mainly how to make someone happy. Working with the mantra, "We deliver happiness", Bunches delivers fresh flowers and house plants all over the UK.
Erik and Sandra used to sell flowers under an umbrella in Mansfield. Their vision was to do something unique, which gave them the idea to speak to their customers about their genuine demands and expectations from the flower shops. They came up with the concept of postal flower bouquets and started sending them by postal service in 1990.
After a huge success and significant growth in their initial years, they decided to go online in 2004. Being family-owned, they believe that business should bring a positive impact. Bunches gives around 10% of its profit share to charity for poor people not only in the UK but also all around the world.
Express your feelings even if you are not in town
Flowers are a great way to express your feelings for your loved ones, especially if you meet someone special for the first time. Bunches understands the value of flowers for their customers.
You can get all the types of flowers and for all occasions in Bunches. Their collection of flowers includes Flowers by Post, Mother's Day Flowers, Christmas Flowers, Valentine's Day Flowers, Birthday Flowers, Gift Hampers, and Christmas Hampers.
Sending flowers is easy with Bunches online flower delivery services where you can buy your favourite Flowers and send them by post at affordable prices with their free UK delivery. You can also send a message and a personal message card with a bouquet.
Bunches also delivers flower food and care instructions with flowers. You can buy fantastic flower gift sets to surprise your friends and family on their birthdays and anniversaries with some extra inspiration.
Surprise Your Mother with Her Favourite House Plants
Pamper your mother with love and care this Mother's Day. If you are reading this after 14th March, you can still bring a smile to your mother's face with a beautiful bouquet or her favourite house plant from Bunches. They have the finest collection of mother's day flowers. You can send her a hand-tied beautiful bouquet; it's perfect for every occasion.
Everyone loves to have a long-lasting house plant, and it will be more impressive if you gift them. Bunches has a range of flowering house plants delivered in custom boxes with care to ensure their perfect condition.
Were you searching for a perfect flower shop to buy flowers for your loved ones? Bunches can be the best place! Take the time to browse their collection and order your favourite arrangement online.
Bunches Journal, The Flower Press
Read through the Bunches Journal called The Flower Press for inspiration and home decor ideas. Experts from Bunches share tips and tricks for the budding florist in you. They also share information on various topics ranging from plant care to bird feeders and social awareness. Not sure what flowers to get for your significant other? The bunches journal can help you.
You may also win one of their competitions for a gorgeous arrangement and gift hampers if you are lucky. And maybe a Bunches promo code or two towards your next order.
Bunches Monthly Flower Subscription
Want to make flowers a regular treat? Why not purchase a subscription box for letterbox flowers every month?
With three pricing options, people at Bunches will handpick your blooms and send fresh flowers at the same time every month. Simply choose how much you would like to spend every month, the subscription duration and when you would like your subscription to begin. Place your order and surprise your loved one every month.
No matter the blooms you choose, add a Bunches voucher code and get a great discount on your order.
How to Use Bunches Voucher Codes (Image)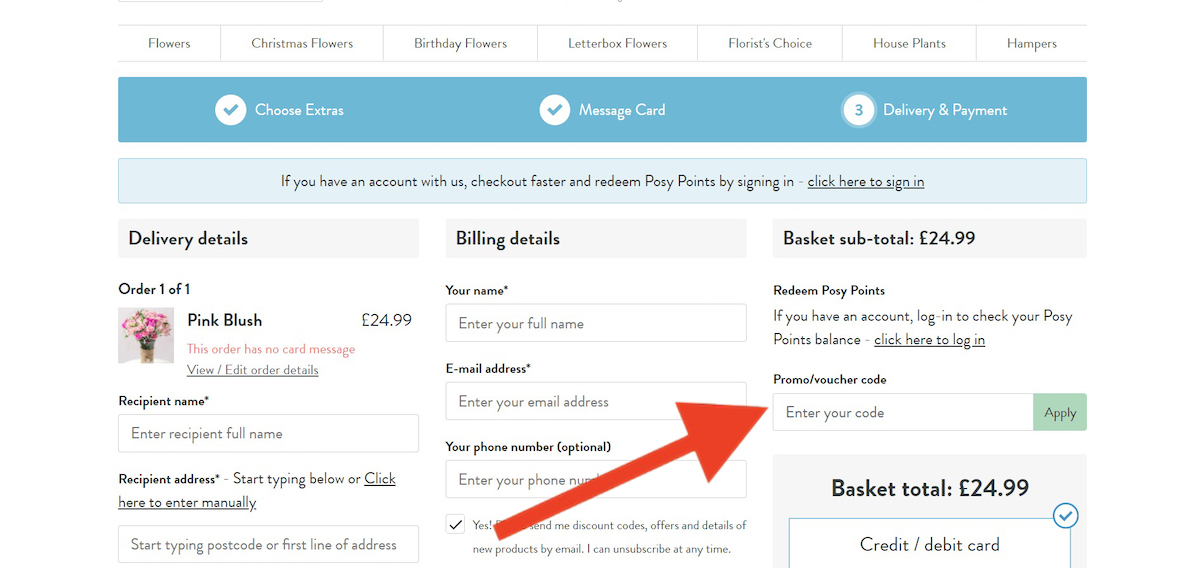 Check our list of Bunches discount codes and choose the one that suits your needs.
Copy the discount code and open the bunches website in another tab.
Look through the flowers, bouquets, gift hampers and house plants.
Add your choice to the shopping cart; Include any extras and add a message for your loved one;
Click continue until you reach the 'Basket Summary' page.
Locate the "Promotion code" text box and enter the copied Bunches promo code.
The page now reloads and show the discounted amount in the basket.
Complete the payment and place the order.
Save Money with Bunches
A simple arrangement can brighten the day of your significant other. Why not order flowers from Bunches and get a bouquet worth bragging about?
Bunches offers exquisite flowers at affordable prices delivered right at your doorstep. From hand-tied bouquets to birthday flowers and letterbox flowers, Bunches has a breathtaking collection of flowers, both native and exotic.
We work with Bunches to get you the best deals and discount codes. However, there are still more ways to save money when shopping at Bunches.
Bunches Newsletter
Subscribe to Bunches Newsletter and be the first to receive information on the new launches, special deals, exclusive offers and many more. They serve as reminders for special occasions so that you do not forget Valentine's Day or your anniversary.
You may also receive a discount code or two. So, register for their newsletter and keep your eyes peeled.
Bunches Loyalty Scheme
Get free flowers with the Bunches Posy Points loyalty scheme. Earn Posy points every time you order from Bunches to save towards your next order. Every £1 spent at Bunches is worth five posy points. And 100 posy points is worth £1. You can redeem your points against any product at Bunches. Combined with Bunches discount codes, you can save quite a bit on your order.
Sign up for an account with Bunches and start collecting points with every order.
Bunches Seasonal Sales
Bunches has its major sales season through the summer months. You'll be able to get your favourite blooms at a discounted rate. Apart from that, Bunches voucher codes can also help reduce your costs.
Bunches also has special deals around special occasions such as Mother's Day, Valentine's Day, Father's Day, Christmas and Easter.
Bunches Discount Codes
Discount codes are a great way to save money at Bunches. Our experts scour the internet for various Bunches promo codes and keep this space updated. The codes are also verified for authenticity.
FAQ
How long does Bunches Flowers delivery take?
Most of the orders will be delivered the next day, provided they were placed before 5:15 pm on the weekdays, and 10:45 am on Saturday. Your order will be delivered via Royal Mail First Class Post, but if your order is to be delivered on a pre-arranged day, you need to make special arrangements.
Can I choose a delivery date?
Yes! You can order your arrangements at an earlier date in advance. Simply place your order, and in the checkout stage, you'll see a calendar with all the available delivery dates. Choose one according to your need and complete the payment. Advance orders will be saved in the Bunches network until the desired delivery date.
How do I know the flowers will be fresh?
Bunches sends the flowers in the bud stage to prevent damage whilst in transit. This ensures that the recipient receives fresh flowers and can enjoy them longer.
Furthermore, the arrangements are placed in specially designed boxes available in different sizes to fit different bouquets. The boxes keep the flowers snug during transit, preventing damage.
Bunches Flowers has over 30 years of experience and is knowledgeable about supplying fresh arrangements. If you still have queries or concerns, their handy customer service team will be there to help you.
Can I get same-day delivery?
Unfortunately not. Bunches doesn't offer same-day delivery on any of its items. Flower orders are shipped via first class post or overnight courier.
What should I do if my Bunches voucher code doesn't work?
Verify the following if your Bunches discount code doesn't work:
Have you copied the correct promo code?
Check the expiry date on your Bunched discount code. It may have expired.
Check the requirements of the Bunches promo codes. Not all voucher codes work the same.
Have you met the minimum expenditure requirements?
Can I get free delivery at Bunches?
Yes! Bunches offers free next day delivery for all its orders via Royal Mail Tracked 24. You can also choose to upgrade to a courier delivery for an additional charge of £5.99. It guarantees delivery on the day of your choice.
Hello! I am Axel, tripplo.com's travel tips expert, travel savings expert and founder. It's me who publish and update most of the content and discounts on tripplo.com!