BuyAGift caters to individuals who are looking for unique gift experiences to celebrate those special moments and occasions in their life. Regardless of what type of event or occasion you may be celebrating, BuyAGift has the perfect gift idea for you. Planning trips, getaways, anniversaries, weddings, and other special events can be quite tedious and time-consuming especially if you don't know what exactly you're looking for. By using BuyAGift, you will gain access to 4500+ gift experiences all of which vary in terms of the occasion their geared towards and the amenities you'll gain access to once you choose one.
BuyAGift caters to individuals who live in the UK and Europe, so regardless of where you're located you will be able to get the perfect gift experience for the particular occasion that you're planning. Currently for the month of December BuyAGift is running a special 50% off promotion on all of their top Christmas-oriented gift experiences.
There are no limits to who or what particular occasion you can purchase a gift experience for, BuyAGift has gift experiences available for couples, gifts for her, gifts for him, and gifts for children. BuyAGift gift experiences cover a complete spectrum of activities including winter sports, hovercrafts adventures, flyboarding, and much more.
Couple's Experiences
Take your romance to the next level this holiday season with BuyAGift's special "The View from The Shard w/ 3 Course Dining & Bubbles for two". The Shard is one of the tallest buildings in Europe with a height that is twice the size of any other viewing platform in the London area. This gift experience does not require a booking or apportionment which means you can get a gorgeous view of London virtually any time of the day.
The best part about this gift experience is that after you've been able to soak in the beautiful view of the city, you can enjoy a full 3-course meal at Marco Pierre White's New York Italian and French Café Rouge restaurant. This is the perfect gift experience for couples who want to enjoy a nice intimate setting while also feeling the freedom that comes with sitting atop the Shard.
Take Your Family on A Trip
If you want to give your family an experience they'll never forget, the Family Days Out Choice Voucher gift experience is a great option. No matter what the occasion may be such as birthdays, holidays' or simply for a weekend retreat, this gift experience comes with a ton of amenities that you and your entire family will surely love. The Family Day Out Choice Voucher is for two adults and two children which makes it the perfect choice for medium to small sized families.
You can choose from over 200 different unique experiences including sightseeing tours, paintballing, crazy golf, bowling, mazes, and much more. You will also have the ability to interact with a wide range of existing animals such as Reptiles, Birds of Prey, Owls, and more with the animal experience. This gift experience gives you a comprehensive package that includes all of the elements needed to create a memorable moment in time that you and your family can enjoy for years to come.
Enjoy A Nice Romantic Getaway
For those couples that want a nice and therapeutic romantic giveaway, the Blissful Spa Day with 25-minute Treatment for two is the perfect gift experience for you. This gift experience lets you decide on the location that you want to receive your relaxing massage and spa treatment at. Those locations include the following: Virgin Active, Macdonald, Bannatyne, Village, and Mercure spas. Each of these spas come with the essential amenities that you would expect plus more.
The spa facilities listed above come with a built-in steam room, swimming pool, sauna, and gym so that you and your significant other can experience rejuvenation and relaxation like never before. The pampering treatments included with this package lasts for 25 minutes each and the type of treatments that you gain access to will vary depending on the spa location you decide to choose.
Some of the most popular pampering options include relaxing Swedish back rubs, shoulder massages, facials, neck massages, scalp massages, pedicure and manicure. Keep in mind, the exact pampering treatment options available to you will vary based on the location you choose. With the BuyAGift Blissful Spa Day w/ 25-minute treatment or two is available in a wide range of different premium locations around the UK.
These include the following: Bannatyne, Marriot, Macdonald, Mercure, Village, Virgin Active, and more. As you can see, there are no ends to the level of relaxation and rejuvenation that you can experience with your significant other when choosing this particular gift experience.
Indulge in A Movie
BuyAGift's Vue Cinema Tickets for Two package is the ultimate in cinema experiences for those individuals who like to see the latest film releases on the big screen. Vue cinema offers the classic British film experience for you to indulge in, this package is the perfect idea for rainy days or for those moments where you simply want to enjoy some quality time with your significant other.
You have the ability to choose which movie you see with the two tickets that you get in this package. This gift experience comes with two adult tickets to over 87 participating Vue cinemas in London which gives you the ability to choose the exact movie you and your partner want to see.
No matter what kind of event or occasion you may be celebrating, BuyAGift has the right solution that you're looking for. Don't waste time with bogus gift experiences, coupons, or special offers that don't deliver on their initial promise. At BuyAGift, their core principles rest on giving their customers premium gift options that are designed to help you save money while also giving your unforgettable moments that you will have for the rest of your life. Purchase a gift experience from BuyAGift today and receive a special discount for the month of December!
How to Use BuyAGift Voucher Codes (Image)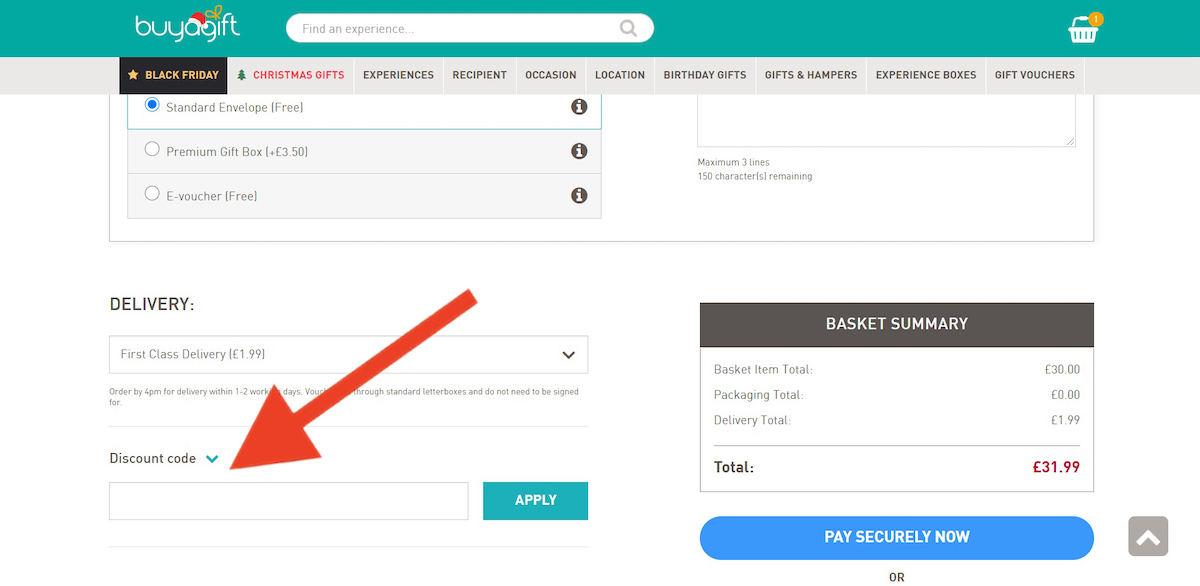 Hello! I am Axel, tripplo.com's travel tips expert, travel savings expert and founder. It's me who publish and update most of the content and discounts on tripplo.com!