BuyCarParts is an online market where one can find spare car parts at very cheap rates. Everybody knows how hard it is to mend the car parts and buying spare parts can burn a hole in your pocket. Because of this BuyCarParts has come up with a solution to provide cheaper car parts to their customer in order to save them from all the stress and hassle. They deal with sensors, tyres, breaks, clutches, etc., and several other parts of the car. Their website makes it very simple to select what products you need and get them shipped straight to your home. Doorstep delivery for your spare parts is just a click away. They provide free shipping for orders over 140 Euros. Their network is spread all over The United Kingdom serving thousands of customers.
Replace your vehicle parts to prevent larger mechanical issues in the future
Your car is a vehicle comprised of various components that will eventually wear out, wear down, and need replacement. When you buy your own car, there is no way to avoid facing these challenges of maintenance and replacements. So it's better to replace a part when there is a minor issue in it to avoid future issues at a later date. Car maintenance is mandatory for your vehicle's long life. BuyCarParts gives you high-quality car parts and accessories from popular and authorised car brands like Abarth, ac, Acura, Aixam, Alfa Romeo, Alpina, Alpine, Alvis, Aro, Artega, Asia motors, Askam (Fargo/Desoto), and many more.
BuyCarParts – A perfect shop to update your car with a great variety of products and accessories
Buycarparts have high-quality oils and lubricants for your car - you will find more than 2,000 car oils from 13 brands in their online shop. Some of the most popular manufacturers are Motul, Liqui Moly, Castrol, Febi Bilstein, Startol, Vaico, Swag, Elf, and Aral. They always have ongoing promotions and discounts, and you can buy motor oils at the most affordable price. Car parts available on their site include Air conditioning, Belt/chain drive, Belt pulleys/gears, Body, Brake system, Clutch, Comfort/interior, Damping, Electric system, Engine, Engine cooling system, Exhaust system, Filters, Fuel system, and much more. Their employees are always ready to help you find the most suitable car parts and accessories. If it's time to update your car with some accessories, browse BuyCarParts to get the best quality parts and accessories for your car.
How to Use BuyCarParts Voucher Codes (Image)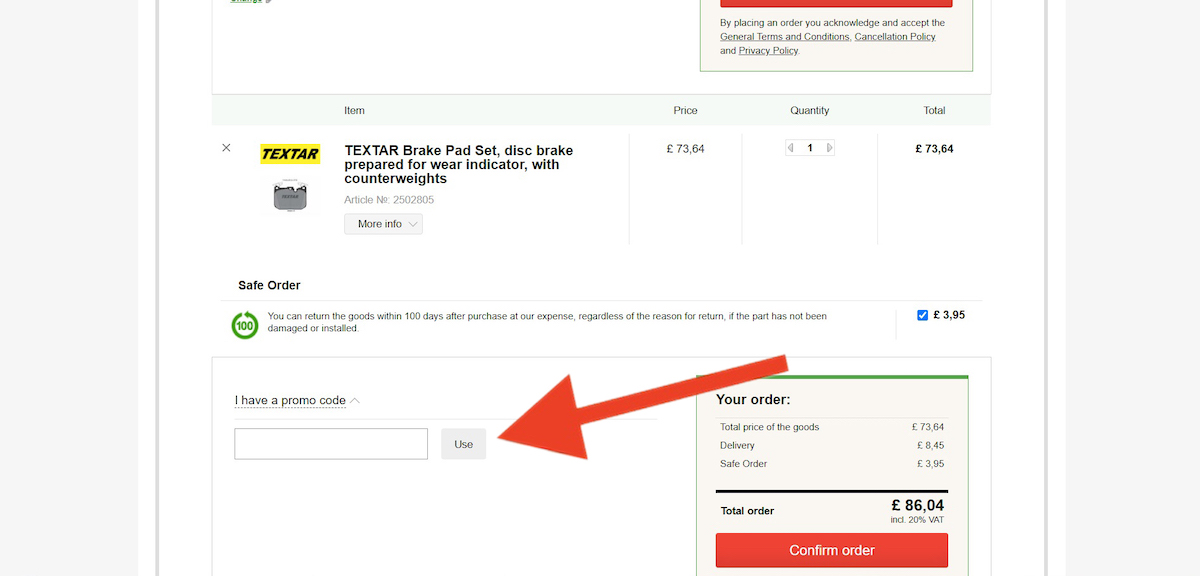 Save Money with a BuyCarParts Promo Code
As car owners, we know that keeping our vehicles in good condition is important. Not only does it make them run better, but it also helps keep us safe on the road. That's why we're always looking for ways to save cash on car repairs and parts. One way to do that is by using a BuyCarParts voucher code. By entering the code at checkout, you can save on your purchase. You can save on car part replacements and even get free postage on some orders. Remember that all our vouchers are working codes, so if you come across one that doesn't work, let us know so we can fix it. We want to make sure that our visitors always get the best savings when they shop online with BuyCarParts. At the top of the page, you will see all our current Buycarparts.co.uk discount codes. Our voucher codes are updated daily, and we are constantly scouring the web for the best deals for our visitors. Make sure that you check out our site regularly to make the most of our deals.
BuyCarParts Coupon Codes -FAQs
When should I use a BuyCarParts coupon code?
Our BuyCarParts discount codes are valid for a limited time only. We regularly add new coupon codes to our site, but if you see something that interests you, make sure to use it soon!
What other promotions and offers do you offer?
We have lots of promotions on our website that will help save money on your next purchase. Use the search box to find the coupons for the products you are interested in.
What happens if my BuyCarParts coupon code doesn't work?
If you find that your codes aren't working correctly, they could be expired or not valid for your purchase. Typically you will find all the coupons on our site are the latest and most up to date.
Do BuyCarParts offer free shipping?
If your order is over £140, BuyCarParts offer free shipping within the UK.
What is BuyCarParts returns policy?
BuyCarParts offer a standard 14-day return, but for an additional £3.95, you can extend it to 100 days. However, they will not accept returns if the car part has been used, damaged or installed or on bulky items such as tyres.
Hello! I am Axel, tripplo.com's travel tips expert, travel savings expert and founder. It's me who publish and update most of the content and discounts on tripplo.com!