La Redoute is a private multinational company that operates from Europe. The French fashion retailer was established in 1969 in France with headquarters in Roubaix. La Redoute is one of the largest retailers for women's clothing and linens. They rank 2nd in the sale of women's apparel and is famous for their effortless and timeless style. Their e-commerce website is top-ranked for clothing and home decor, boasting 7-million visitors each month.
La Redoute operates in more than 26 countries with more than 10 million customers. Since its inception, La Redoute has made Parisian fashion accessible to the scores of women worldwide. In short, they bridge the world of French style and home decor with women all around the world. La Redoute has collaborated with some of the famous names in the business, such as Sonia Rykiel, Isabel Marant, Chloe for Stella McCartney and many more.
La Redoute deals with much more than just fashion and apparel. They also sell home décor, rugs, furniture, to name a few. They are a complete lifestyle brand and carry home and garden products including lighting, electrical, home decor, garden accessories, bedding and rugs, amongst others.
Grab your favourite clothing and home accessories at La Redoute
It's never been easier to capture the essence of French style as it is with the chic collection of clothes from La Redoute. You can look effortlessly stunning by combining their feminine blouses and shirts with tailored trousers and skirts or simply wearing a flattering dress for a fabulous look.
You can complement your Parisian-inspired outfit with their statement accessories, including chiffon scarves, belts and bags, shoes of towering heels, and practical but pretty flats. They also carry Women's Coats, Women's Padded Coats, Women's Jackets & Blazers, Women's Parkas, Women's Ankle Boots, Women's Knee Boots, Summer Dresses, Women's Shirts, Blouses, Tunics, and Maternity Wear. Women's Plus Size include Plus Size Coats, Plus Size Jumpers, Plus Size Jeans.
Men's clothing includes Men's Leather Jackets, Coats & Jackets, Men's Coats, Men's Jeans, and Polo Shirts. You'll find the perfect attire for you and your family at La Redoute.
All their clothes are from famous brands like Adidas Originals, Adidas Performance, Aigle, Airselfie, Airsprung, Alphaitalia, American Vintage, Am.Pm, Anaki, Anne Weyburn, Anonymous Copenhagen, Anthology Paris, Arena, Asics, Athena, Babybjorn, Babyliss, Babyliss For Men, Babyliss Men, Babyliss Paris, Babymoov, Baby To Love, Badabulle, Balzac Paris X La, Redoute Collections, Banana Moon, Batman and many others.
Add Some Attitude in Your Wardrobe and Home
La Redoute has a wide range of home accessories and electrical items along with clothing and footwear. They have the finest quality French products and help add a touch of European flair to your wardrobe and home.
Discover stylish and high-quality furniture range at affordable prices in La Redoute. And never forget to accessorise your home with the latest electrical accessories. La Redoute has a fantastic range of equipment like toasters and kettles, TVs, computers, and smartwatches. Take the time to browse their site and discover fashion and home accessories and style tips, all in one place.
Remodel Your Home with Latest Home Decor Trends
La Redoute not only carries new styles in fashion but also the latest trends in home decor and interior design. You can always trust La Redoute for quality and trendy home accessories. What started as a relatively small collection has expanded to include rugs, carpets, floor lamps, bed linen, sofas and many more. La Redoute has evolved to be a complete lifestyle brand. You can buy everything you need for your home and garden, including electrical fitting, lighting, home and kitchen appliances, garden sets, loungers, garden decorations, and more.
Furthermore, folks at La Redoute is always busy! So, there's always a sale or another on their website. You can stock up on your favourite pieces without having to break your bank account. Look out for La Redoute promo codes when there are no sales around.
Return Policy of La Redoute
La Redoute offers free returns with a 21-day refund and exchange policy. To obtain the refund, you must first return the item to La Redoute in the original packaging, unused condition and with the seals/tags intact.
Fashion, accessories, home decor and footwear, can be returned via home collections. You can organise for the same through your La Redoute account. In addition, you can also use the myHermes Parcel shop for click-and-collect returns. They are convenient, fast and open all seven days of the week.
Save Money with La Redoute
La Redoute is the leading retailer of French-inspired clothing and home furnishings. They carry everything from apparel and accessories to rugs, sofas, beds, home appliances and more at reasonable rates. You can refresh your wardrobe and rejuvenate your home for less.
With La Redoute discount codes, the shopping process is now easy. You can buy products and save money while shopping at home. Here are some tips to help save money when shopping at La Redoute.
La Redoute Newsletter Discount
Subscribe to the La Redoute newsletter and be the first to get your hands on exclusive discounts, secret sales, and special deals. You'll also be the first to know when a sale goes live. In addition, La Redoute subscribers also get £10 off on their next order over £50 as a joining bonus.
La Redoute newsletter registration is easy - simply enter your email address and get the newest newsletters and promotions directly to your email. If you are lucky, you may even get your hands on a La Redoute discount code or two.
La Redoute App Offers
Thanks to La Redoute's new app, it is even easier to shop the latest Parisian fashion. The app has been meticulously designed to make your shopping experience delightful and hassle-free.
With the app, you can get a low price for La Redoute rugs, bedsheets, cushions, etc. Turn on the notifications to receive sale alerts, product launches and exclusive app discounts.
Shop La Redoute Sale
Everyone loves a good bargain! Whether its a clothing or home decor, there's no better time to shop than during a La Redoute sale. La Redoute winter sale that happens post-Christmas in January is the best time to find a bargain.
In addition, the summer sales also carry heavy discounts, especially during the Thanksgiving weekend. Black Friday through Cyber Monday is when the brand gives out unbeatable discounts. Keep an eye out for the La Redoute promo code offering an extra 10 off sale items.
La Redoute Credit Account
Open a credit account with La Redoute and receive a 30% off on your next order of full-priced items. Or you can opt for the extra 10 off sale items. Credit account orders also benefit from Easy3 payment, where you order now and pay later.
Free La Redoute Delivery
Shop at La Redoute UK and get free click and collect to your nearest myHermes Parcelshop. The minimum spend amount for the service is over £50. Orders lesser than £50 incur a delivery charge of £1.99. You can avail of home delivery for an additional charge of £3.99.
Large goods and services, including furniture, large carpet, lights, electrical items, mattresses and furniture, have a shipping charge of £8.99.
In addition, you can also use La Redoute discount codes to receive free delivery for orders with no minimum spend.
How to use La Redoute voucher codes (Image)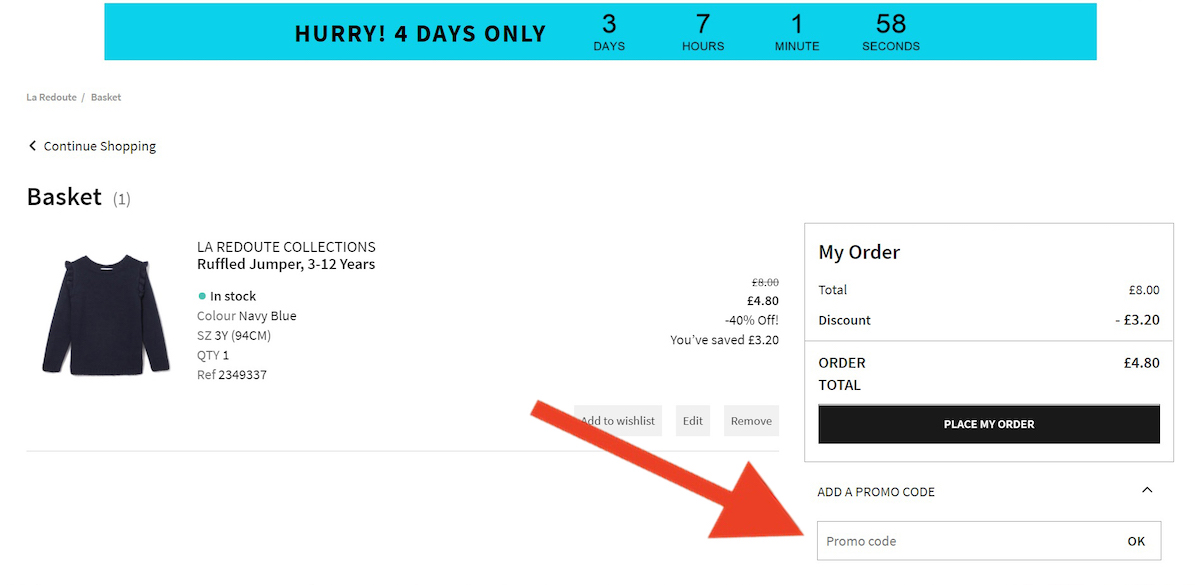 Browse through our selection of La Redoute discount codes and copy the La Redoute voucher code of your choice.
Open the La Redoute UK website; Browse for the products you wish to buy, and add them to your shopping basket.
Click on the shopping basket in the top right corner to view your basket.
While in the basket, spot the "Add a promo code" text box.
Paste the copied La Redoute discount code and click ok.
The discount should be applied immediately.
Place the order and continue with the payment.
Frequently Asked Questions
How long does delivery take?
Orders shipped via standard delivery can take anywhere from 3 to seven days. The same goes for the free click & collect service.
Standard delivery for heavier items may take 3-14 days. Delivery times of custom made-to-order beds/sofas will vary depending on the product and take anywhere between six to 12 weeks.
How does Easy3 work?
Easy3 is a flexible way of paying for the shopping on the La Redoute website. Without spending an additional price, you split the cost into three payments. Easy3 has 0% interest, and you will not be charged a fee as well. The best part, it has no minimum order value. However, you will be charged interest if you skip monthly payments.
Does La Redoute offer student discounts?
Currently, La Redoute doesn't offer any student discount. However, it has several offers and sales that can help save money on La Redoute dresses, cushions, rugs, home decor, and other items. You can also use our La Redoute promo codes or sign up for their newsletter and be the first to know when a sale goes online.
Is there a La Redoute NHS discount?
Unfortunately, La Redoute doesn't offer any special discounts for health workers. For now, you can make use of the La Redoute discount codes for extra savings. We will update this page if the brand releases an NHS discount. Keep an eye out for more information.
Can I get the new customer discount at La Redoute?
La Redoute no longer offers the one-off discount for new customers. However, there are plenty of discounts and sales that La Redoute provides on a daily basis. If they reintroduce the scheme, you can find the information on our La Redoute page. Meanwhile, you can take advantage of our La Redoute voucher codes and see if you can save money on your shopping.