Wendy Wu Holidays specializes in conducting holidays to a number of destinations in Asia. With over 20 years of experience in conducting tours, Wendy Wu Holidays boasts of award-winning escorts, full protection with ABTA and AWOL, and end-to-end travel services, starting from visa processing to bookings and tour conducting.
Wendy Wu has offices in UK, Australia, China, and New Zealand. They conduct escorted tours to India, China, Japan, Vietnam, Cambodia, Burma, and Sri Lanka, and many more destinations in Asia, as well as places like Chile, Peru, Brazil, and more in South America.
With our Wendy Wu Holidays deals and discount codes available on our website, discover Asia and South America without breaking your bank.
Wendy Wu Tours UK has won Best Specialist Tour Operator 11 years running at the Globe Travel Awards, the 'Oscars of the Travel Industry'. They have won many other awards at the British Travel Awards and were considered the most influential poll of consumer opinion in travel.
Enjoy the freedom of selection from amazing destinations at your convenience 
Sometimes, you want to go on a holiday, but you get overwhelmed with so many choices of places to choose from. If you consult with your friends for your holiday destination, they will advise you of their favorite places that they have visited already. Your taste of traveling can be totally different, therefore, you should invest your money in holiday wisely. Wendy Wu Tours UK gives you that flexibility of choice with the widest variety of destinations from which you can choose your favorite place. This booking process is hassle-free and you can explore all the locations and their specialties from Wendy Wu Tours UK's website, it will save your time and money. They have a promise to make your trip enjoyable and memorable.
Enjoy a tailor-made tour in your own way with Wendy Wu Tours UK
Wendy Wu Tours gives you the facility to travel with a tailor-made tour where you can enjoy a flexible itinerary with the freedom to do, go, see and experience whatever you want without the stress of organizing it yourself. This is the opportunity to create a memorable holiday of your life that you've always dreamed of. They design your ideal itinerary with their expertise and a harmonious blend of your ideas and desires. Their tailor-made travel experts will help you make the most of your time and budget. You design the itinerary and they will create it.
If you are planning a summer/winter holiday, don't forget to book it through Wendy Wu Tours UK, you will be more than happy with their services and plans for your holiday. Don't be late, visit them now and explore your favorite holiday destination!
How to use Wendy Wu Tours voucher codes (Image)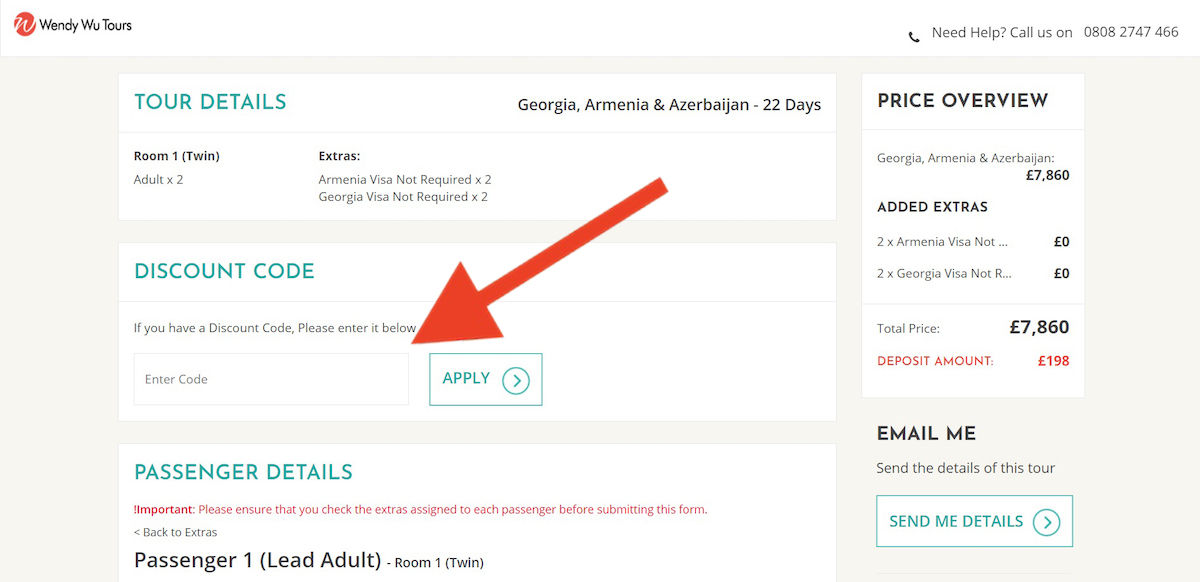 [ratingwidget]
Hello! I am Axel, tripplo.com's travel tips expert, travel savings expert and founder. It's me who publish and update most of the content and discounts on tripplo.com!