The world is a great big, bright, beautiful place. These 29 places are some of the most beautiful and offer some of the best colours in nature. Some of these colours are muted, but others are strikingly brilliant. Some of these amazing colours are not easy to find in nature, so checking out this list is going to help you find the best places to visit if you are interested in being able to see the beauty of the world. There are literally places all around the globe.
Travelling is one of the most popular pastimes, regardless of where you are from. It is something that you are going to enjoy no matter where you are going or where you live. Looking up the colourful places near you might just show you the places you have already been to, but there could also be a number of new places for you to explore. If you do not have any of these beautiful places near you, you can certainly start planning your next holiday to see them.
Blue Lagoon
WHERE: Grindavík, Iceland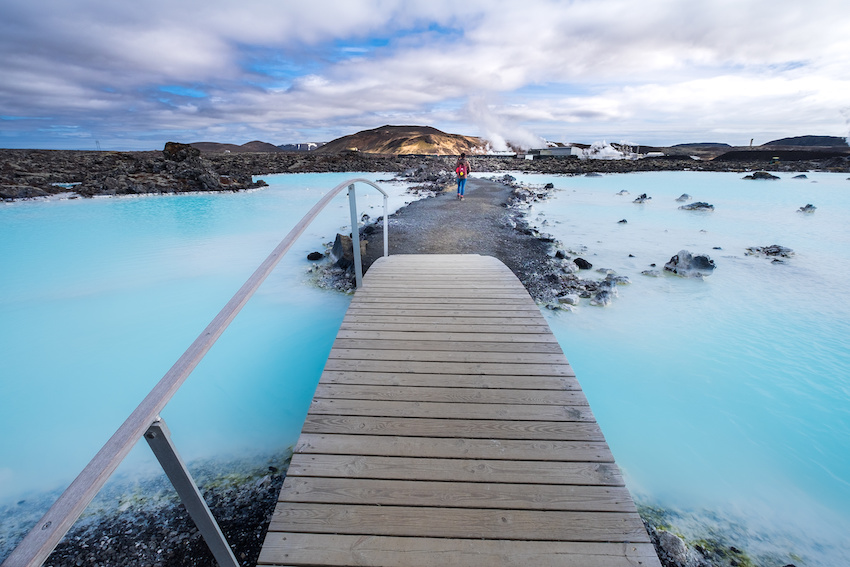 The Blue Lagoon in Iceland is one of the most serene and interesting places that you can travel to. If you love the colour blue, this is one place that you should certainly visit. The landscape features a number of different blue hues. It offers some scenery that is simply breathtaking and so beautiful. You certainly won't be disappointed if you choose to travel to the area. It is even known as one of the 25 Wonders of the World. If you are a fan of popular culture, you might enjoy checking out the place where the creature from the Blue Lagoon was first created.
Cinque Terre
WHERE: Rio Maggiore, Italy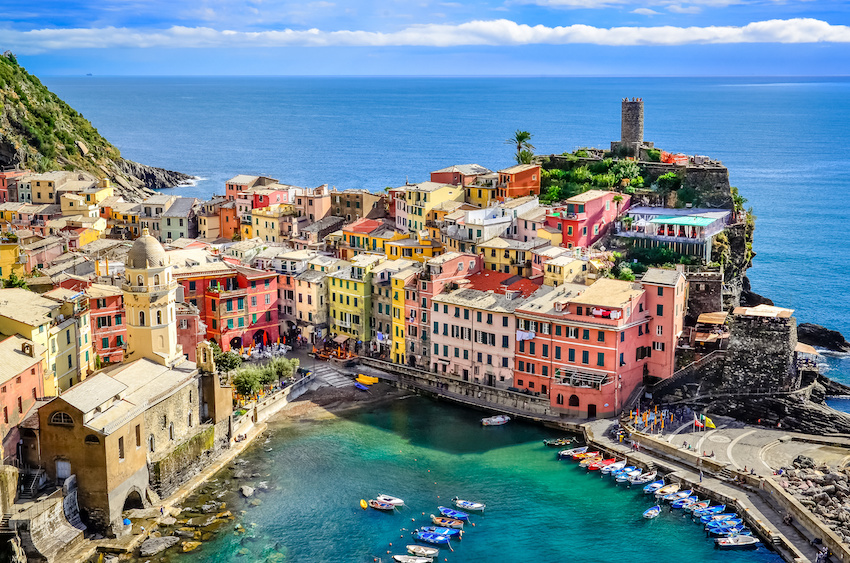 Cinque Terre is the type of village where dreams are made. This village features a number of colourful houses of all hues that are perched on the cliffside. It is a gorgeous place to visit and an even more beautiful place to call home. Cinque Terre is known as the 'Five Lands'. There are actually five villages that are a part of this colourful creation throughout Italy. Rio Maggiore is often hailed as the most beautiful, which is why it made a list. While visiting, you might even be able to stay in one of these beautiful and brightly painted homes. They are available to rent through a number of travel agents.
Bathala Island
WHERE: Maldives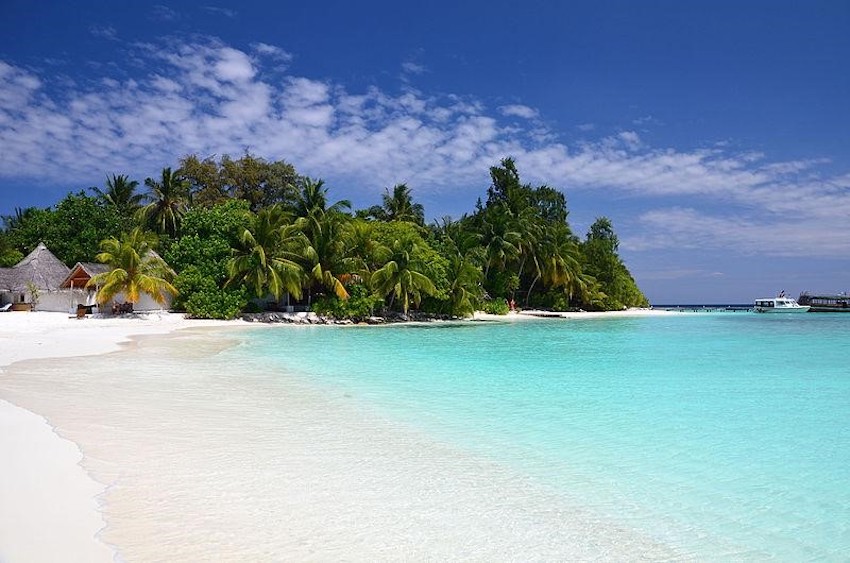 The Maldives are a unique place to visit, known for their beautiful oceans and beaches. This is one place where you can see bright greens and blues that light up the skyline and make everything seem as if it were too beautiful to be real. Looking at pictures, one can easily mistake this piece of reality as a scene from a movie because it is just too perfect to comprehend. Today, Bathala Island is home to one of the most unique resorts that were once only a playground for the rich and famous. Here you will see the beautiful white sandy beaches, the blue-green ocean waters, and the contrast of the green palm trees.
Yellowstone National Park
WHERE: Montana, United States of America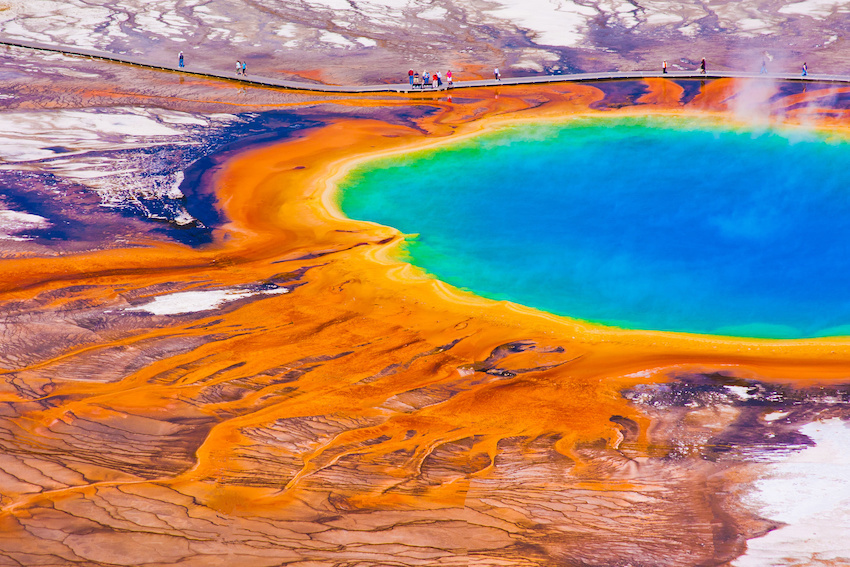 Yellowstone National Park offers you the chance to see a wide range of colours. There are places where you can catch beautiful purples at sunset, other places with beautiful blue waters, and still places that show off the oranges and natural colours of the canyon. Some of the places seem too beautiful to be real and, honestly, look more fake than what you might have imagined. With so many amazing colours and places to see, you'll want to make sure that you check out Yellowstone at some point in your life. Be sure to spend time in the park to look at the different sights and to see the many different, spectacular images in nature with a wide range of different colours for you to see.
Glass Beach
WHERE: Fort Bragg, California, United States of America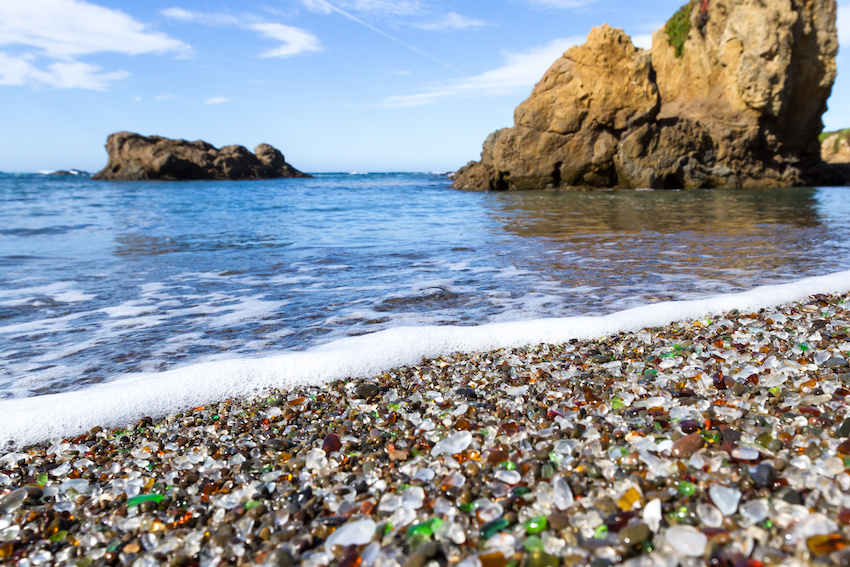 Glass Beach is a breathtaking sight thanks to the sea glass that covers the beach. This is another place that you will want to make sure that you get to see in your lifetime. It is a nice, comfortable beach to relax on and enjoy the ocean, and as you look at the ground around you, you can see a ton of beautiful sea glass. You get to see a wide range of colours too. Make sure that you travel with a small baby food jar or plastic bag so that you can take a few of these beautiful glass stones with you. Your friends will love seeing them if they have not visited the beach.
Pamukkale
WHERE: Denizli, Turkey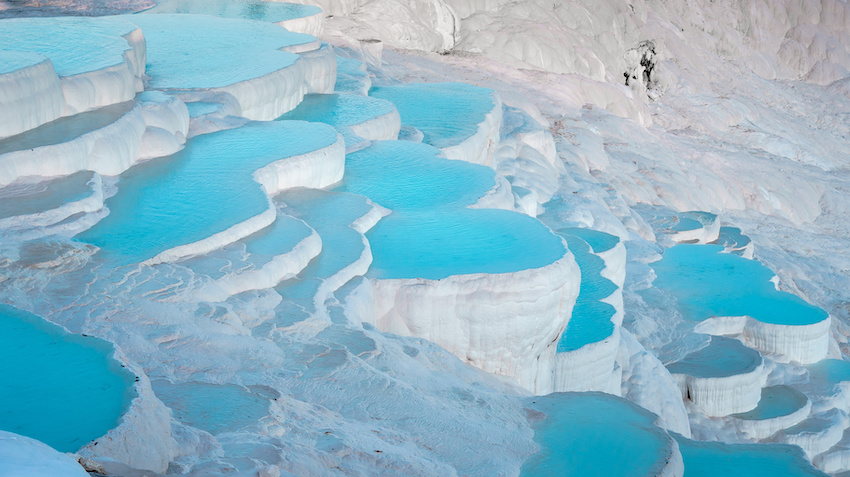 Pamukkale is one of the UNESCO World Heritage sites, and part of the reason for this is that it is a stunningly beautiful escape from the monotony around you. The literal translation of this place is "cotton palace," and for a reason!
There are bright white rock formations with salt and hot springs that all offer stunning landscapes that are picture-perfect. In addition, there are a lot of other colours that you can see if you are visiting at sunrise or sunset. There are beautiful whites, turquoises, blues, greens, and a wide range of additional colours.
And if you plan to travel further in Turkey, it is worth visiting Cappadocia and experiencing an unforgettable hot air balloon ride.
Big Island
WHERE: Hawaii, United States of America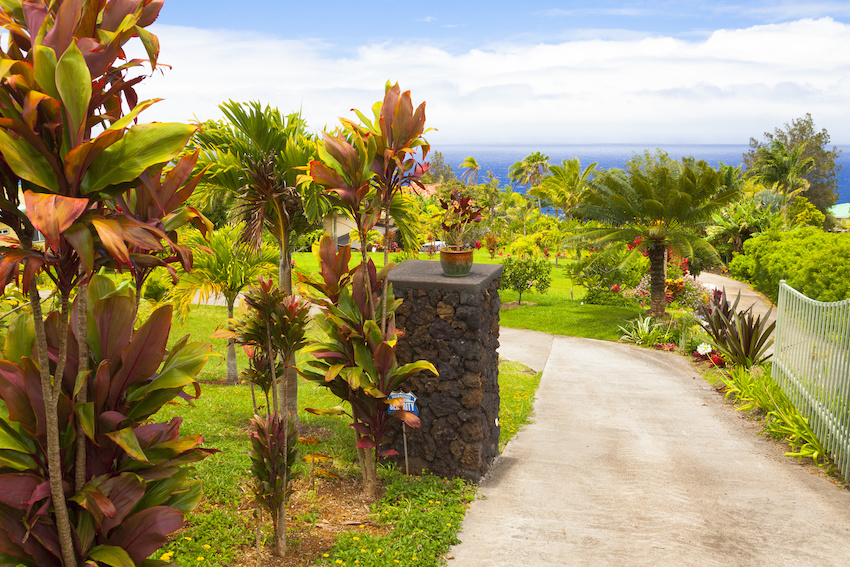 The beauty that one sees on the Big Island in Hawaii in the Pacific Ocean makes it one of the most striking and interesting locations in all of the world. It is a gorgeous place to live and visit. Those visiting will love the frequent rainbows and the blue oceans with the reds of the mountains as the backdrop. The sights that you see are simply breathtaking and so full of colour. You will enjoy the mountains, beaches, oceans and different colours.
Crystal Cave
WHERE: Skaftafell, Iceland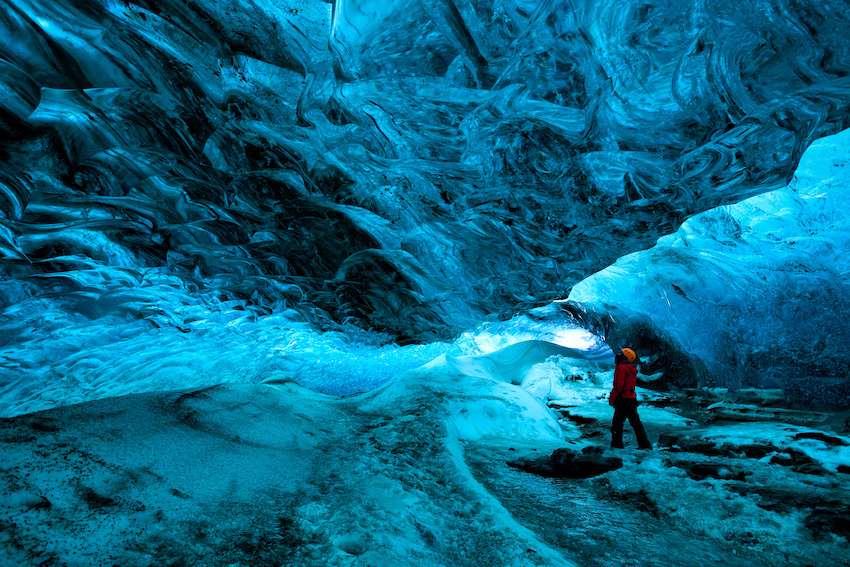 Crystal Cave in Iceland is one of the most amazing places on earth. When you visit you will be stunned by all of the different colours. The caves are works of art with beautiful blue and green hues that can be seen. It is stunning and amazing that such a small place can have such amazing beauty! These caves are actually made out of ice, and that is part of the reason that they are so amazing looking. You will be able to enjoy a beautiful blue with a sparkle that is not really seen very often.
Longji Rice Terraces
WHERE: Longsheng County, China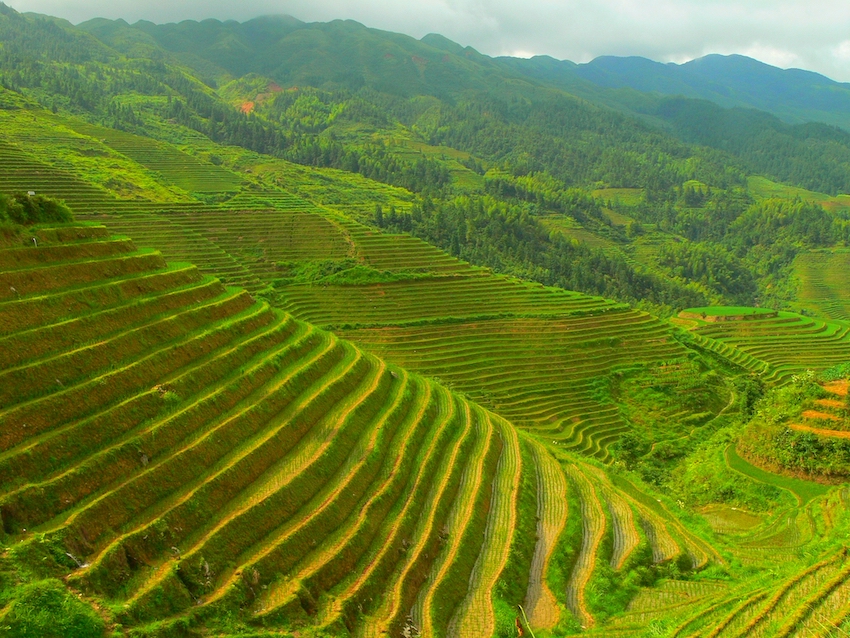 The Longji Rice Terraces in China are one of the most beautiful places in the entire world. These rolling green hills covered in bright colours are very pleasing to the eye. The colours are bright, and the month of April is the most beautiful time of the year to visit. Construction for these terraces actually started in 1271 during the Yuan Dynasty. While you are there, you can take in some culture and learn about the native peoples of China in these remote villages.
Amazon Rainforest
WHERE: Brazil, Peru and Colombia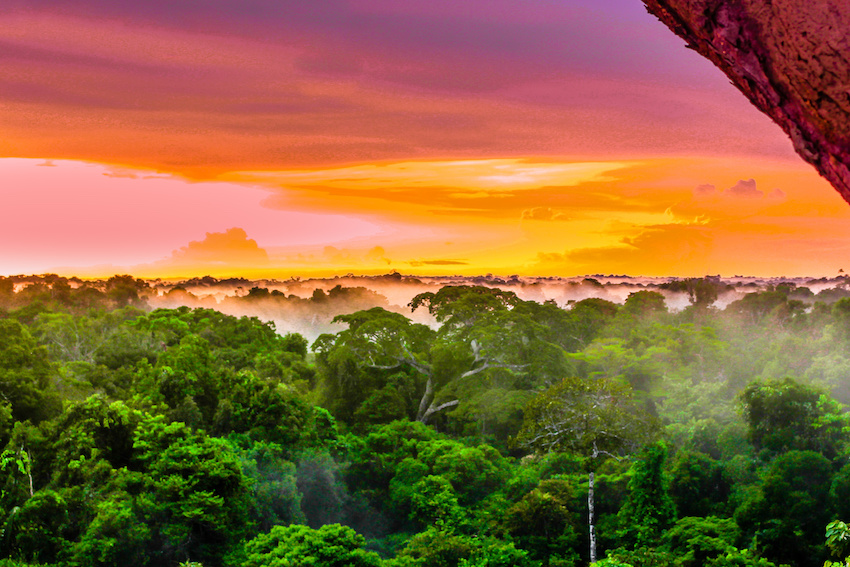 The Amazon Rainforest runs through South America and offers not only colourful plant life but also some of the world's most colourful animals and birds. The best part is that you can see a wide variety of colours while you are visiting. The lush greens, bright purples, blues and yellows are just some of the colours that you will see as you are wandering through.
Machu Picchu
WHERE: Peru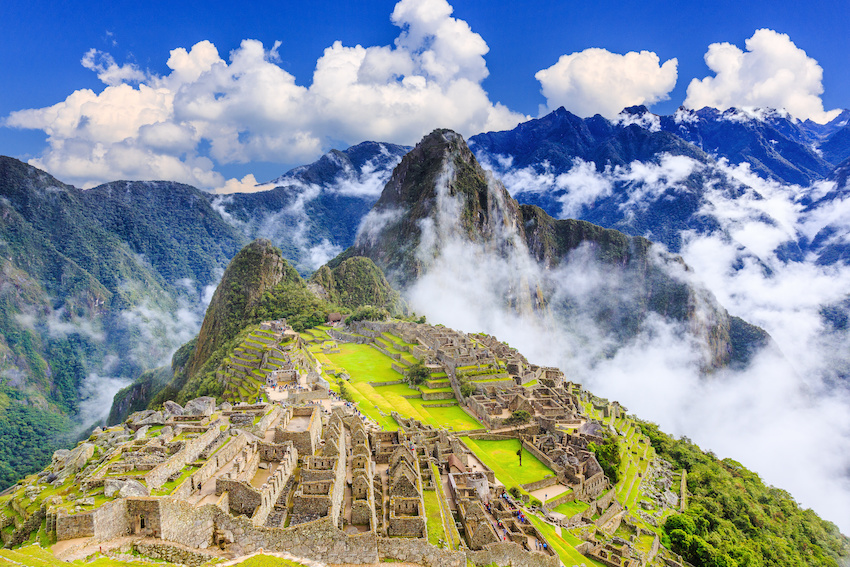 Machu Picchu is one of the most amazing places in the world. This site offers amazing ancient ruins that are situated between the Andean Mountains. The landscapes are beautiful and offer many different colours and a lot of beauty. Archaeologists believe that around 1200 people lived in these ruins that the Inca people called home. There are so many unique aspects of the ruins that show how the people from that time lived.
Carlsbad Caverns
WHERE: Carlsbad, Eddy County, New Mexico, United States of America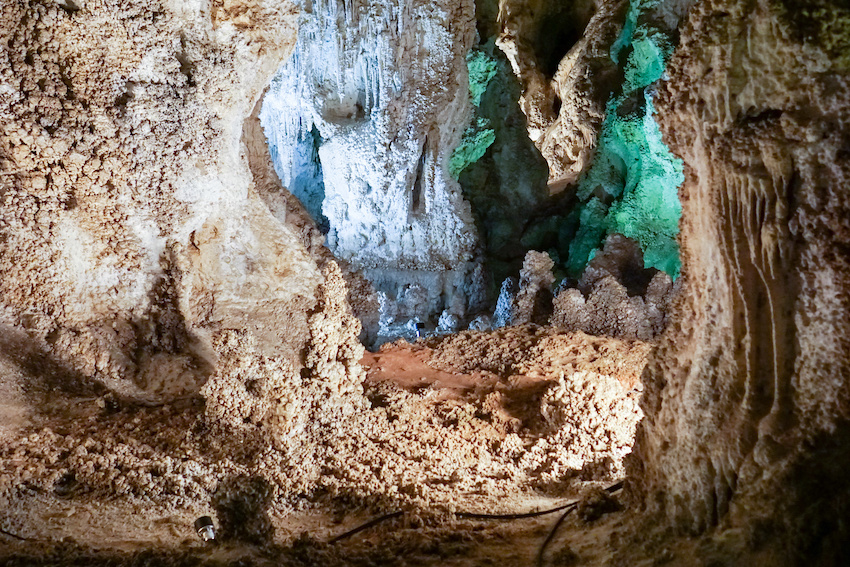 Carlsbad Caverns are a magical place in the United States in the Southwest. There is a wide range of colours that you can see. There are bright blues and beautiful orange hues that shine into the caverns, based on what time of the day you are visiting. Carlsbad Caverns are located in the Carlsbad Caverns National Park. There is a wide range of desert plant life and animals that add some bright colours to the landscape.
Galapagos Islands
WHERE: Ecuador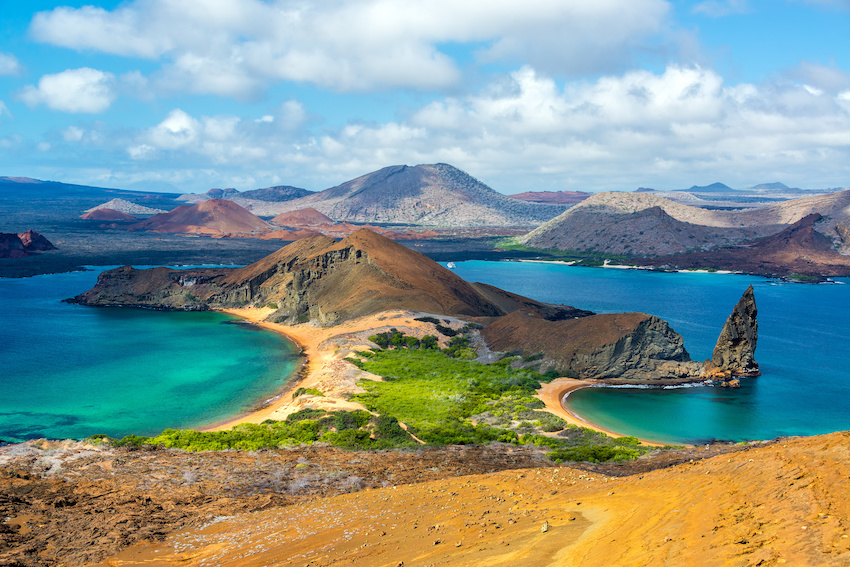 Off the coast of Ecuador is one of the most beautiful places in the entire world. Galapagos Islands are one of those amazing sights that you just have to see. There is a wide range of vibrant colours and some of the brightest blues. The wildlife adds layers of beauty to the pristine landscape and makes it something that will truly amaze everyone. There is a wide range of different types of vacations that you can take on the island.
Lake Retba (Pink Lake)
WHERE: Cap Vert Peninsula, Senegal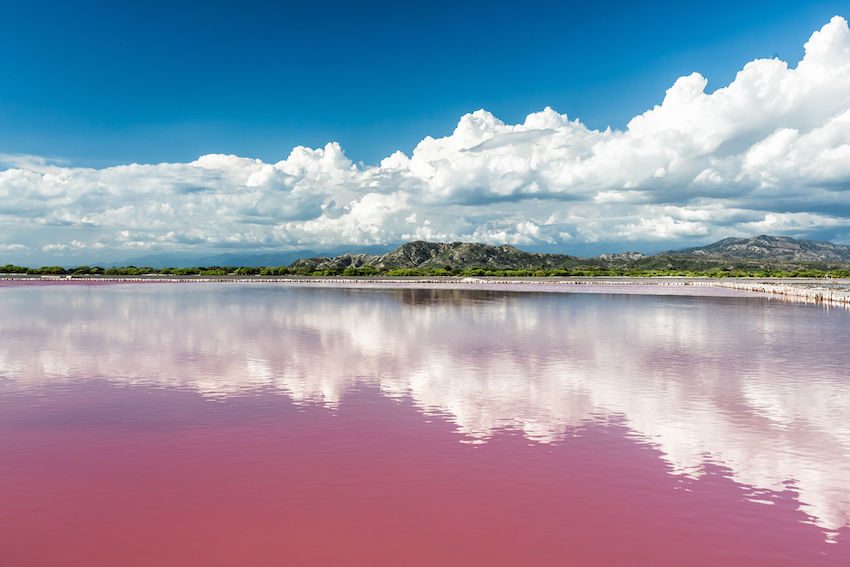 Lake Retba is known as 'The Pink Lake of Senegal'. It is one of the world's most unique sites. There are so many beautiful shades of pink in the lake because of the high salt content and the algae that live there. This might be not the deepest lake in the world but definitely one of the best places to go if you are looking to see the world's most colourful places, and the colours that you will see here will take your breath away.
Socotra Island
WHERE: Republic of Yemen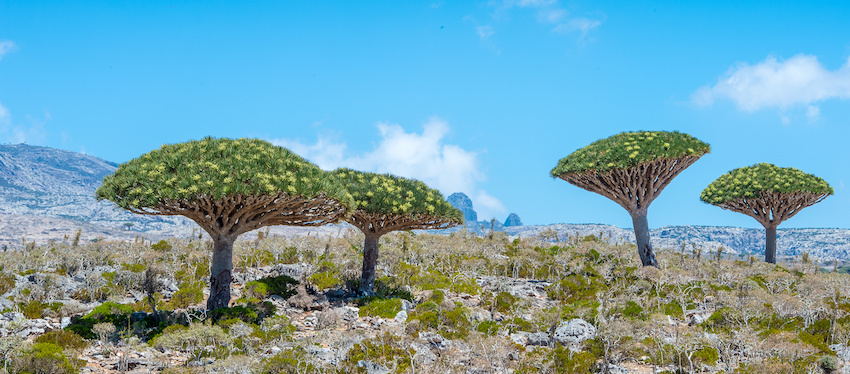 Socotra is home to the dragon blood tree that offers some of the most beautiful colours. There are vibrant green leaves and trunks that appear to be almost red. The lakes and sandy areas that surround Socotra are a great way to see all of the colours that you can find in nature. One of the most beautiful things about this area is the bright pink flowers that offer some more colour to the landscape.
Coastline of Victoria
WHERE: Victoria, Australia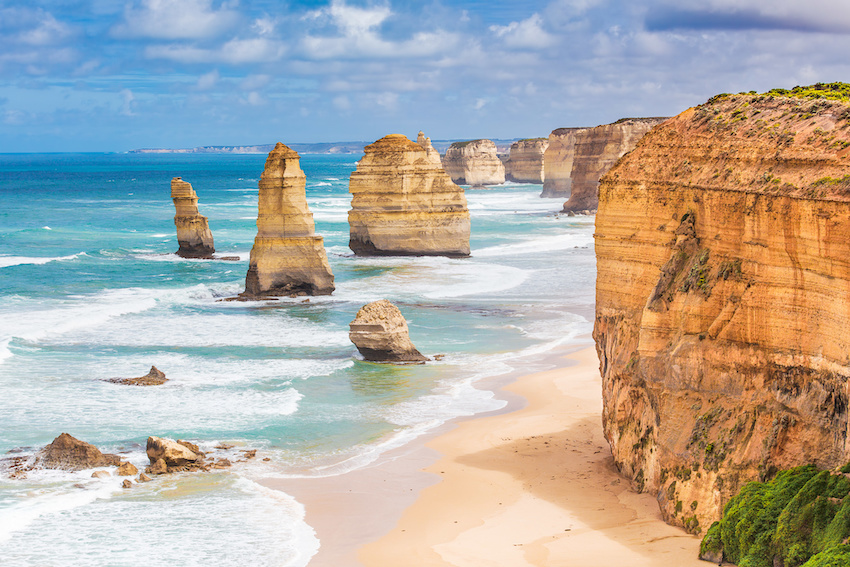 Victoria, Australia, is probably not the first place that you think of when you are hoping for a colourful landscape. However, it is one of the most colourful places, where you can view some of the most spectacular sunsets in the world. There are so many different, amazing sights to see that you are sure to be impressed as you discover just what a colourful part of the world this is.
Rainbow Mountains
WHERE: Cusco, Peru and Gansu, China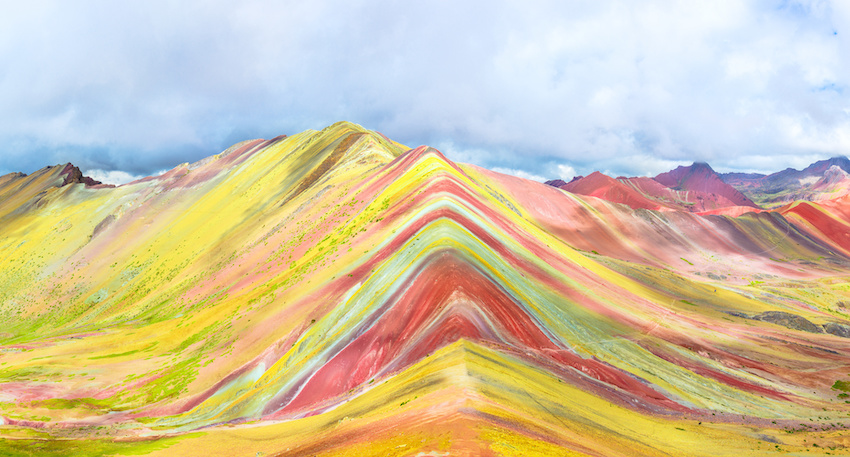 The Rainbow Mountains are one of the most amazing landscapes in all of the world. They offer the beauty of a rainbow on the side of a mountain. The Rainbow Mountains were originally called the Vinicunca, which is part of the Andes Mountain range. These colours are not seen anywhere else in the world in nature. This makes this spot one of the most popular tourist destinations and a place that many people fly thousands of miles to see.
Havasupai Falls
WHERE: Grand Canyon, Arizona, United States of America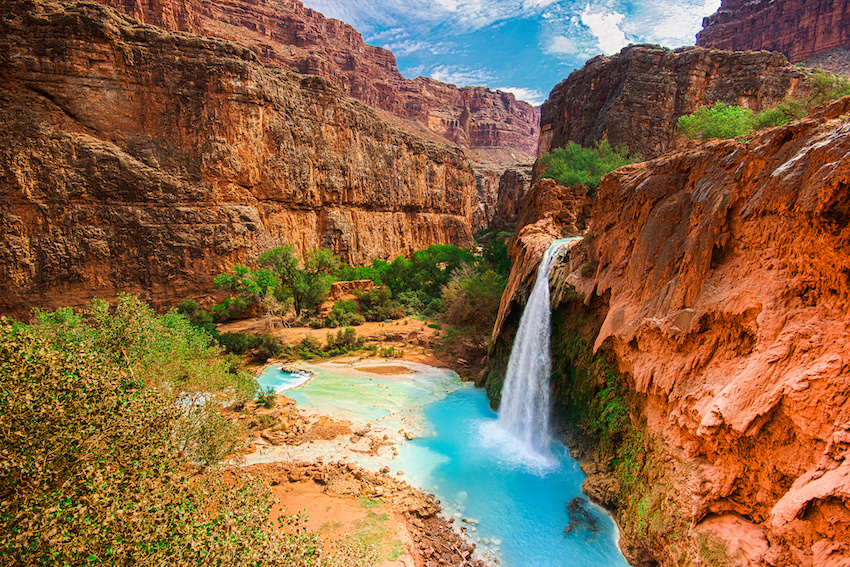 Havasupai Falls is a spectacular place to visit if you are hoping to see a lot of colours in nature. You will notice that the sky seems just a little bit bluer here; the water reflects the blueness of the sky and appears to be turquoise. You also have the white of the cascading waterfalls and the brown and red of the cliffs that surround the area. Plus, there are a lot of bright green trees, and the Colorado River, and you may even encounter rare wildlife that you might have never seen in the city!
Cherry Blossoms of Washington DC
WHERE: Washington D.C., United States of America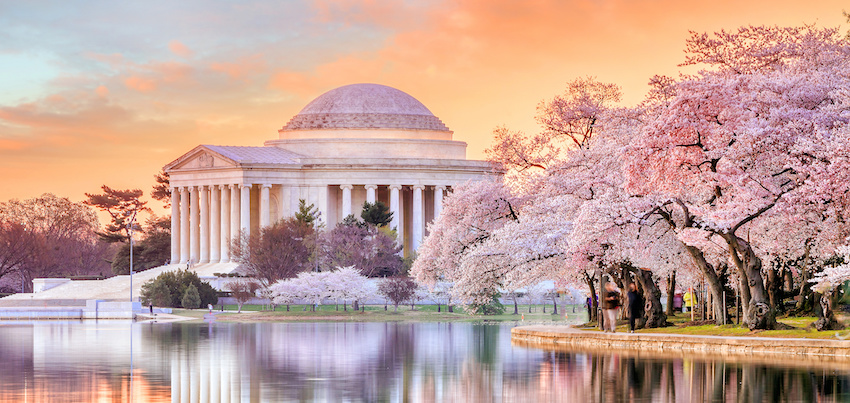 Each spring in Washington D.C., the cherry blossom trees are in bloom, and they offer one of the most amazing sights in all of the United States of America. The cherry blossom trees only bloom during one season, so it is dependent upon when you are travelling to ensure that you are there at the right time. The colours range from pale to bright pink; this gives you something spectacular to see.
Lavender Fields of Provence
WHERE: Provence, France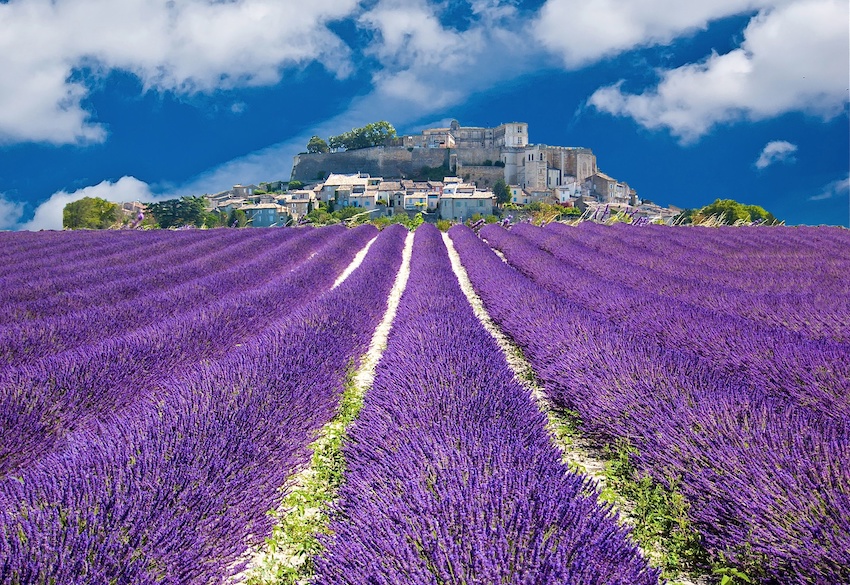 The lavender fields that are in Provence, France, offer one of the most purple landscapes in all of the world. This is where you should go if you love the colour purple because you are surrounded by purple hues when you visit here. The lavender is best seen when in bloom, and the best time to see this is during the summer months. In addition, you can check out the different colours that are offered. Photograph enthusiasts will find this spot a perfect place for a professional photo shoot.
Kawachi Fuji Gardens
WHERE: Kitakyushu, Japan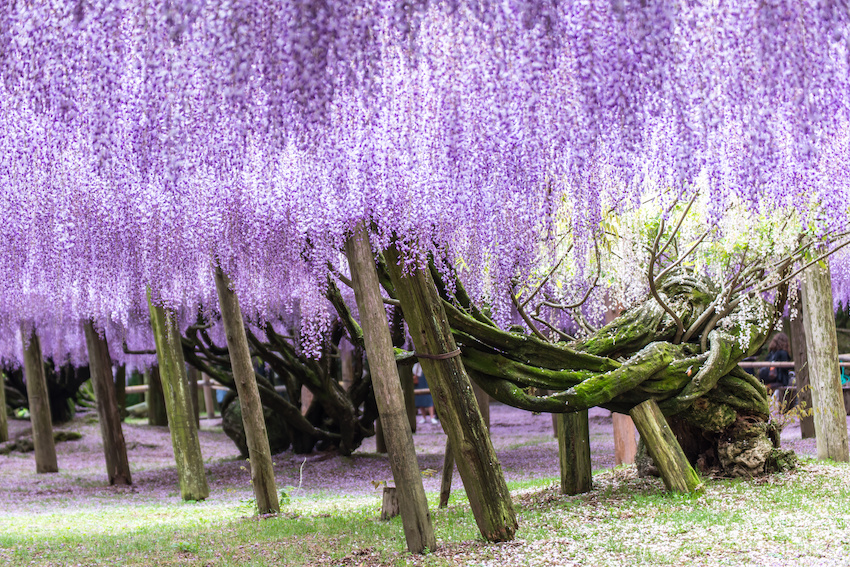 Kawachi Fuji Garden is also known as Wisteria Garden. This place is one that has a wide range of colours and plant life that you are not going to see anywhere else in the world. The gardens are open to the public at certain times, and you have to pay to go in and see them completely. They are definitely worth taking the time to see if you are visiting Japan. The wisteria flowers that you see here are unlike those that you will see anywhere else in the world.
Tunnel of Love
WHERE: Klevan, Ukraine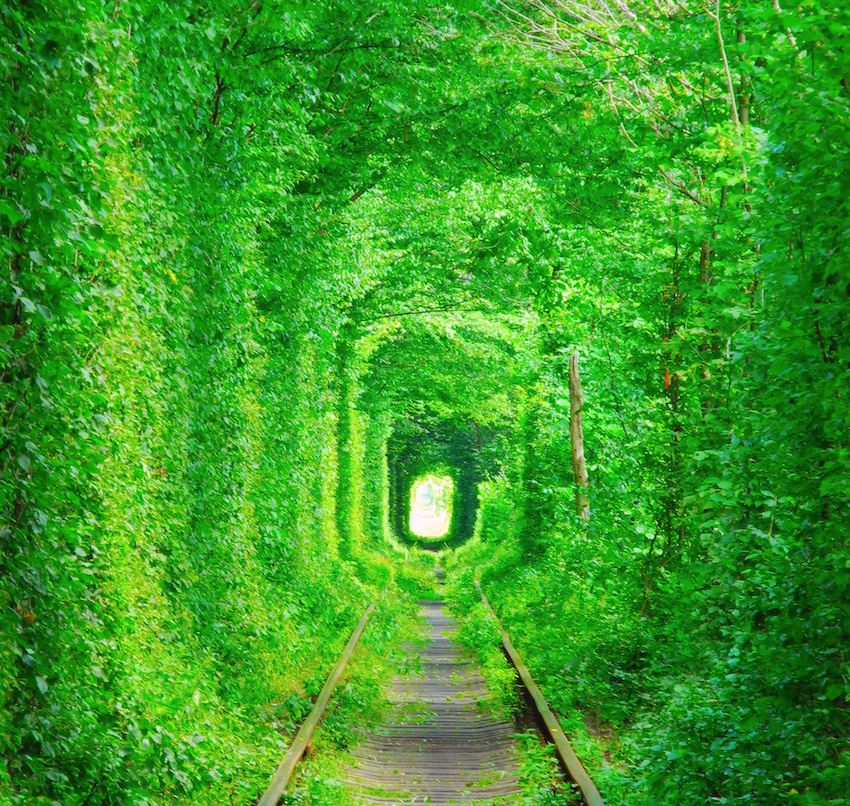 The Tunnel of Love in Ukraine is one of the most scenic train routes in the world. This is literally a tunnel of foliage that one can ride a train through. It is a beautiful and romantic place to visit any time of the year, but in the autumn, it is spectacular as you get to see it as the leaves change colour. It actually looks like a spectacular natural tunnel from your childhood dreams…the perfect place to get lost for a day.
Canola Fields of Victoria
WHERE: Victoria, Australia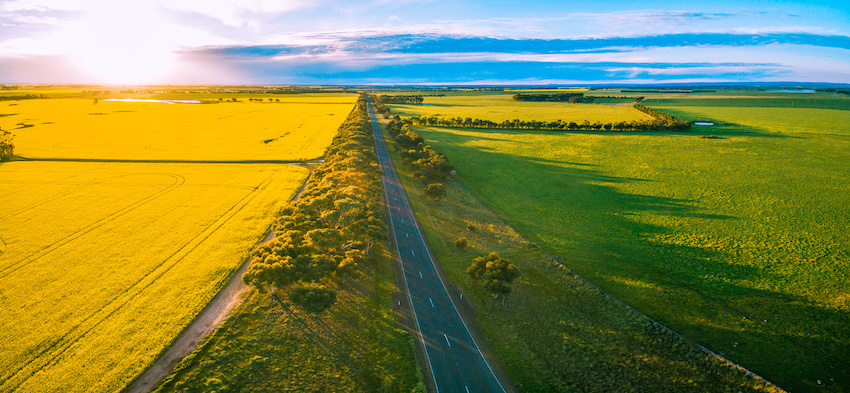 The Canola Fields are one of the most spectacular yellow places to see in nature. The colours are bright and vibrant and something that you are going to really enjoy. There are few places in the world where you can view this bright yellow in nature. It is a startling contrast to the otherwise bleak landscape that surrounds the fields. They are one of the most colourful places in the world. The fields are filled with these delightful wildflowers.
Kliluk Spotted Lake
WHERE: Osoyoos, British Columbia, Canada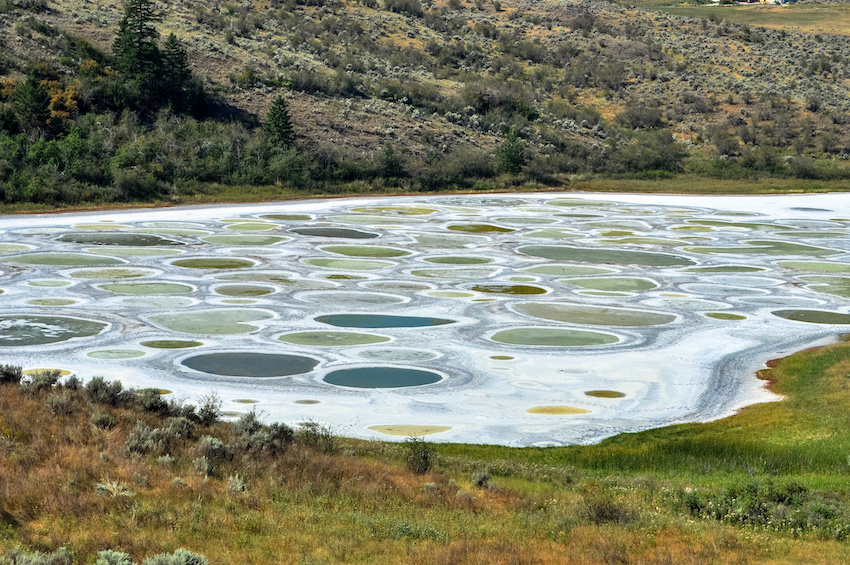 The Kliluk Spotted Lake is a unique natural phenomenon that offers spectators something interesting and not previously seen. The lake actually appears to have a leopard-like appearance. There is a wide range of different types of images that get conjured up when you see this lake, but most of them are out of this world as this lake is completely unique and unlike anything that you have seen anywhere else. The high concentration of minerals in the water is what leads to these unique spots. The minerals that are found are calcium, magnesium sulphate and sodium sulphate.
Five Flower Lake
WHERE: Jiuzhaigou, China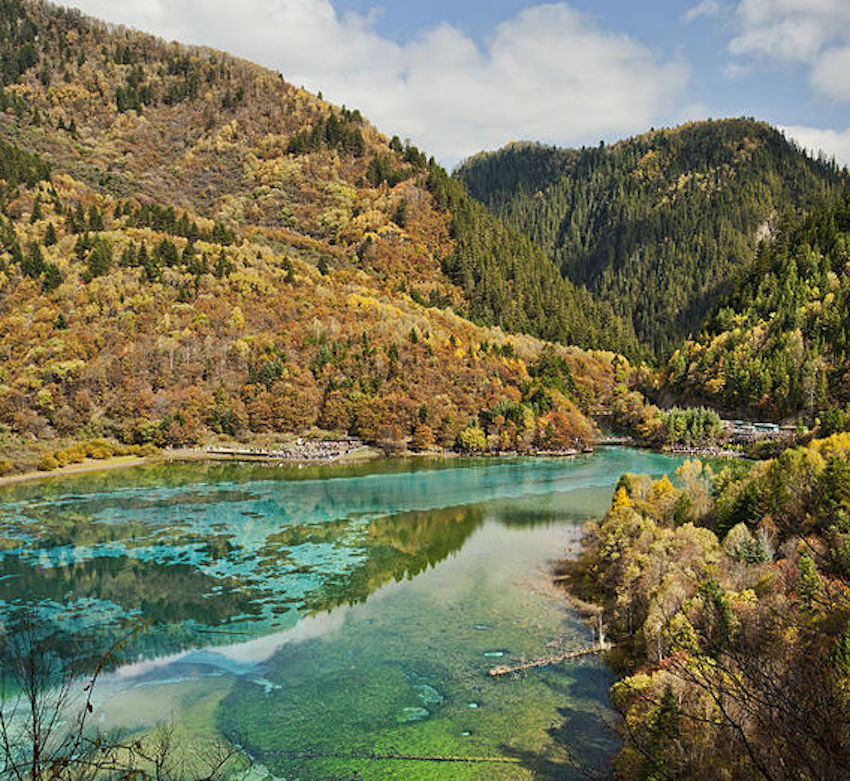 The beauty of Five Flower Lake is a beauty that everyone can agree upon. It is truly a beautiful place where you can see an amazing assortment of colours in nature. The bottom of the lake features ancient tree trunks that are crisscrossed, but because of the beautiful clear water, you can actually see them when you are looking at the lake. There are many different colours that can be seen here, including red, a series of blues, greens, and many more. It is a gorgeous place to go and check out.
Waitomo Glowworm Caves
WHERE: Waitomo, New Zealand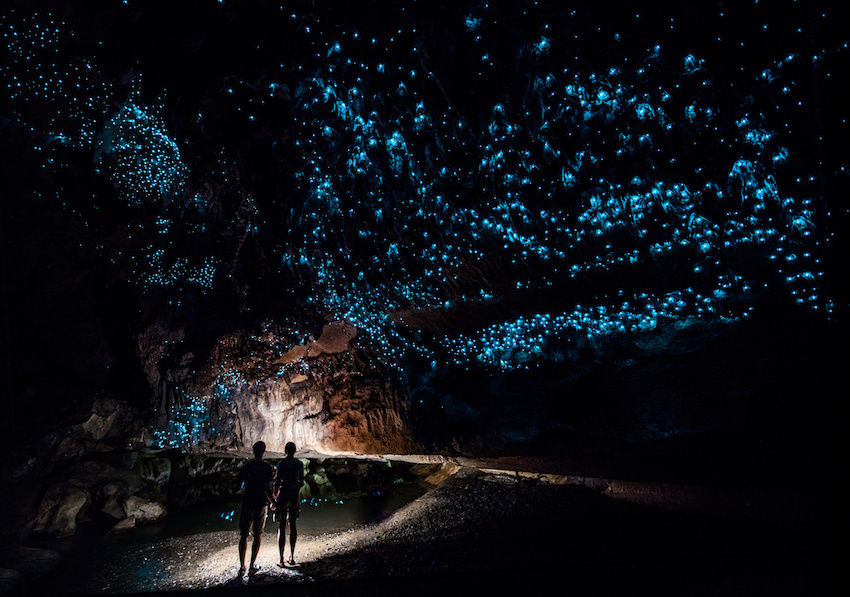 The Waitomo Caves are one of the more beautiful caves in the world. These caves have a lot of glow worms, which light up the area, and you can see that there is a beautiful blue colour glowing. The glow-worm species that is present is one that is only seen in New Zealand. They are the Arachnocampa Luminosa. If you are going to see these caves, you will want to consider one of the tours that teach you about the history of the caves themselves.
In case you are staying longer, we recommend you take a trip to New Zealand's south island to camp in Fiordland national park. It is one of the New Zealand attractions that cannot be missed when you are there!
Banff National Park
WHERE: Alberta's Rockies, Alberta, Canada
One of the most beautiful places in the world is located in the Canadian Rockies – the Banff National Park. It is one of five national parks located in the area, and it features a majestic view of the mountains. There you will have a chance to witness all the possible natural wonders from magnificent mountains to coloured lakes. Make sure to arrive there early in the morning not to miss out on any activities like camping, skiing, riding a bike, or hiking.
Don't forget to go for a boat trip on either Moraine Lake or Lake Louise on a sunny day.
Verdon Gorge
WHERE: Alpes-de-Haute-Provence, France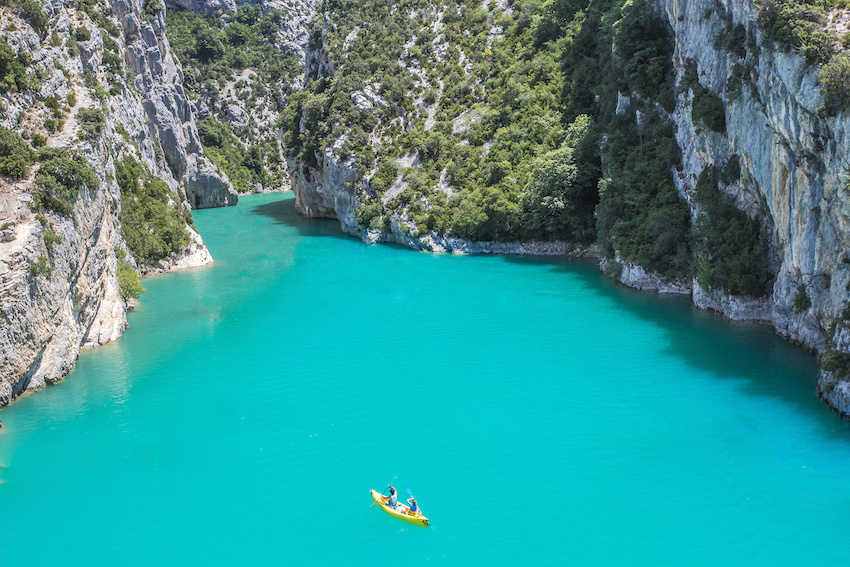 The Verdon Gorge is one of the most beautiful landscapes in all of France. You can see the beautiful greens and blues in the water. There are also gorgeous colours in the canyon. The Verdon River formed the Gorge over many years. The water is bottomless here and actually reaches a depth of 700 metres in some areas. There are a number of distinguishable features that truly make this one of the most beautiful and serene places in the world.
The gorgeous waters of Verdon Gorge attract millions of visitors yearly to do all sorts of activities, ranging from rock climbing to something easier like enjoying a walk on many scenic hiking trails.
Northern Lights
WHERE: Norway, Sweden, Finland, Canada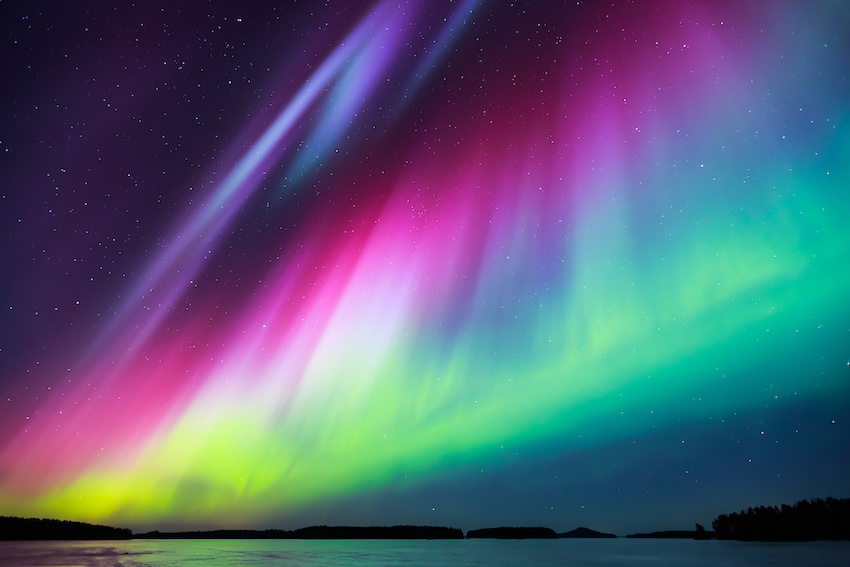 One of the seven natural wonders that you must see once in your lifetime are the Northern Lights in Norway – a true splendour of nature. They are a gorgeous green and make the night sky light up as if there was a magical light show taking place. The stars seem to shine brighter when the Northern Lights appear, which means that the entire area seems to glow and light up like never before. Norway has long periods of night and very short days from the beginning of September until the middle of March. This is the best time to take advantage of the longer nights and see the beauty that the Northern Lights have to offer.
Plan an extended trip to Norway to visit magnificent fjords, get to know the culture and learn local traditions.
Plitvice Lakes National Park
WHERE: Croatia
Croatia is one of the most beautiful places in the world and is quite popular among avid travellers. The Plitvice Lakes National Park is one of the oldest national parks and its greenery is overwhelming. There are seven routes in total that you can take. Whichever way you choose, you won't regret it for a minute! When walking, you can plan your route to visit all three viewpoints and take the most Instagram-like photos.
Vatnajökull National Park
WHERE: Iceland
Vatnajökull National Park was added to the UNESCO World Heritage List only recently, in 2019. It takes up 14% of the whole of Iceland which equals 14,141 sq km. It is a truly vast area, featuring jagged mountains. Due to its enormous size, it is better to stay in Iceland at least for a week to discover mountain peaks, active volcanoes, and glacier rivers.
If you are into taking hiking trails, it is probably best to arrive there during the winter season. However, if you want to see waterfalls at their full beauty – plan your trip during the summer season. While summer offers you longer days to explore the national park, in winter you can take part in exploring ice caves.
Conclusion
Making a list of the most beautiful places in the world is quite challenging as there are still so many locations worth seeing at least once in a lifetime. The problem you may face is difficulty in efficiently planning the route and booking everything for a reasonable price. Therefore, we encourage you to explore our sections to find the biggest and latest discounts for the products or services you need to make your trip unforgettable.
Whether you are looking for discounted hotel booking or an ideal group promotion allowing you to rent bikes for a day – Tripplo has it all!
Hello! I am Axel, tripplo.com's travel tips expert, travel savings expert and founder. It's me who publish and update most of the content and discounts on tripplo.com!