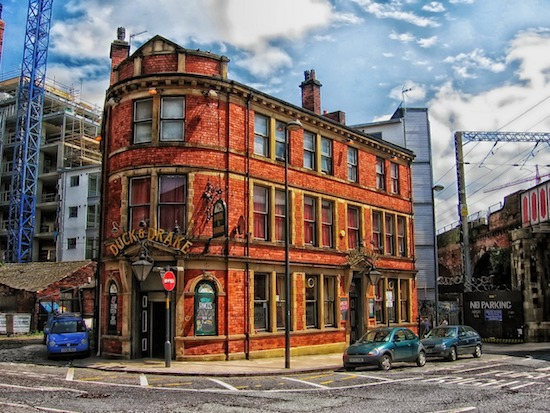 Go to one of England's oldest cinemas
The cinema Hyde Park Picture House, which was built in 1914, is in Leeds. The cinema is today one of England's oldest ones and much of the interior from the early 1900's still remains. For example, the special Edwardian balcony has been preserved and the cinema is the only one in England that has retained its gaslight. Antique cinemas like Hyde Park Picture House are very unusual and to go and see a movie here a truly special experience. Tickets can be purchased on site or online.
Take a walk in the beautiful Roundhay Park
Roundhay Park is located just outside of Leeds and it's is an incredibly beautiful park in the winter as well as the summer. It has beautiful green areas with lakes and minor rivers, beautiful plants, and more. There are plenty of promenades and you can walk around the park in different natural environments. In some places you can get a nice view over all of Leeds. There is also a café with a beautiful view of the Waterloo Lake. During the summer it's also possible to buy ice cream.
Get a change of climate at Tropical World
Tropical World is located in Roundhay Park and is an excellent place for those who'd like a change from the British environment and make a trip through all kinds of climates of the world. Here you can walk around different buildings with everything from desert to rainforest climate. There is also a good chance to encounter various exotic animals, such as bats and snakes. Everything is indoors so you'll enjoy yourself regardless of the weather at Tropical World.
Go back in time at Ilkley Toy Museum
At Ilkley Toy Museum you can take a trip back in time and see a collection of various toys. You might find a doll, teddy bear or toy that you recognize from back in the day. If you have children with you, it is a great opportunity to let them know that you haven't always been able to entertain yourself with iPads, smartphones and video games. The collection consists of toys that stretches as far back as 350 years B.C. and there's a lot to learn about how children used to play a very long time ago.
Go go-karting at Pole Position Indoor Karting
Anyone who enjoys a fast paced experience should visit the Pole Position Indoor Karting, which is a go-kart center in Leeds. The race track is a total 580 meters long and if you really hit the gas, some go-kart cars will often reach speeds of over 80 km/h. Pole Position Indoor Karting isn't suitable for everyone, but those who appreciate speed and action will likely have a good time here. Children are allowed to drive with a parent's consent, making it an enjoyable experience for the whole family.
Did you like the Leeds tips? Then please share this article on Facebook :)