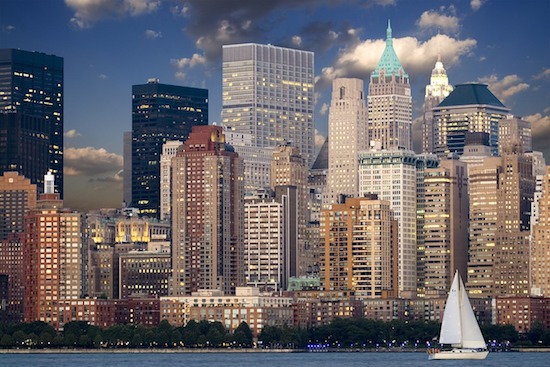 Experience the buzz of Times Square
With all its colourful, luminous billboards and the constant buzz of people, Times Square is something you just can not miss during your visit to New York. Along with attractions like the Statue of Liberty and the Empire State Building, Times Square is a place that has become a symbol of New York and it's hard not to be impressed by what the area has to offer. When visiting Times Square there's a lot to do, with everything from Broadway entertainment to shopping. Among other finds are Hershey's chocolate shop, Madame Tussaud's, and the Disney store, as well as a range of other businesses from a number of world famous brands.
Visit the National September 11 Memorial & Museum
Most people who lived in the early 2000s will likely remember where they were as attacks on the twin towers of the World Trade Center September 11, 2001 took place. On the site where the two twin towers once stood is now a fine memorial consisting of two large holes. Along the edges there is flowing water and railings, and around it are engraved all the names of those who perished during the attacks. Then in May 2014, it also became a museum where among other things on display are objects such as vehicles, clothing and debris from the attacks. The memory is not only dedicated to the September 11 attacks in 2001 but also the bombing of the World Trade Center in 1993.
Go shopping at Century 21
Whether you're shopping for ordinary clothes or fancy clothes, the prices in the United States are usually considerably lower than at home in Europe. For those who do not want to spend hours shopping and looking around different stores, but would rather visit a really big at the same time, there are really big department stores in New York. One of the bigger chains that has a really wide range of clothing is Century 21. You can find clothes for women, men and children from both well-known and some lesser-known brands at really good prices. One of the largest Century 21 stores is located at Ground Zero in Manhattan and in total there are six floors crammed with clothes, shoes and accessories. If you are a family looking to take some clothes home from the United States, just open up your wallet and go shopping at Century 21.
Go to a flea market
If you like to browse flea markets at home, don't miss the chance to do it when visiting New York. Going to a flea market abroad is usually a very exotic experience and it sometimes offers up things for sale which may differ quite a lot from what we are accustomed to finding in the garage at home. There are several different "Flea Markets" in New York and common to them all is that there are plenty of unique and exciting things to buy. Two of the major markets are the Brooklyn Flea and Greenflea where they tend to have up to a hundred different vendors. Brooklyn Flea is open on Saturdays and Sundays between the hours of 10:00 to 18:00. Greenflea is also open from 10:00 am at the weekends, but closes half an hour earlier at 17.30. More information on New York's various flea markets can be found online.
Visit the Museum of the Moving Image
One very popular museum that both New Yorkers and tourists rank highly is the Museum of the Moving Image. As the name suggests, the museum is all about moving image and its history with all that implies. Among other things one can see exhibits on live television, videos, music videos, cartoons and video games. The focus is very much on the actual process of producing moving images with everything from licensing and marketing to makeup and props. It is full of interactive activities, games, and many other things that are perfect for the whole family. The Museum of the Moving Image is a very interesting and fascinating museum and all of its content will keep you busy for several hours.
Relax among the greenery of the New York Botanical Garden
After walking among Manhattan's bustling streets, it might be nice to relax among some greenery and get away from the most central parts of New York. One of the places where you can relax among the plants and flowers is the New York Botanical Garden. The Botanical Garden is located up in the Bronx at Southern Boulevard and the site is over a hundred hectares with over one million living plants. Moreover, it is in the botanical garden that you'll find some of the leading laboratories in the United States and amongst others, the pharmaceutical company Pfizer have a large plant laboratory here. The environments you face when you walk around the park are very different and there is so much to see and learn about the different plants and their importance in history.
See what the Europeans who immigrated to the US at Ellis Island were met by
Most of us are probably familiar with the great emigration from Europe to the United States during the 1800s and 1900s, and perhaps have even read books and stories of people who left their homes in Europe to start a new life across the Atlantic. Over fifty million Europeans in total emigrated to the United States. If you want to get a better understanding of the type of environment that these people were met with when they came to America and learn more about the great European immigration to the United States in the 1800s and 1900s, do not miss a visit Ellis Island. On the Ellis Island is the old station of arrival where they received a large portion of all the emigrants who arrived by boat across the Atlantic from 1892 to 1954. Here you can enjoy images and stories of all the people who passed through the building before they were either to go further into the country or were sent back because of chronic diseases. In order to reach Ellis Island, you can take one of the boats that regularly departs from Manhattan.
Meet celebrities from around the world
There are always a lot of celebrities in New York and if you're lucky, you might run into a celebrity on the city streets. If, however, you want to guarantee you'll meet numerous celebrities and be absolutely sure that they'll agree to have a photograph taken with you then you should visit Madame Tussauds Wax Museum. Although you may already have visited Madame Tussauds in London or elsewhere, there are several new faces on New York's own waxworks to familiarize yourself with. Here you'll find well-known people such as Britney Spears, George W. Bush and Jack Sparrow. In addition to all the wax dolls,you can walk around and watch them as you can sit down to see the movies in 4D.
Entertainment at Rockefeller
In the city centre, one of the main national and historic landmarks is New York's Rockefeller Center. The Rockefeller Center is like its own little city in the great New York and includes a total of twenty-one buildings in the complex. For visitors are here very much to amuse themselves and to find including cinemas, shops and restaurants. In winter you can see the classic big Christmas tree and the ice rink being built every year. If you visit the Rockefeller Center, you shouldn't be surprised to see some kind of TV broadcast, as the major US television networks are often broadcasting from the site. Besides shopping, cinema and restaurants, you will find many other things that might be interesting. Among other things, there is the FDNY (Fire Department, City of New York), with a so-called FDNY Fire Zone in the area where you can learn more about fire safety and the fire service. If you have children, take them to the FDNY Fire Zone—they'll get the opportunity to meet real firefighters and entertain themselves with various interactive exhibits.
History of fashion at the Fashion Institute of Technology Museum
If you're interested in clothes and fashion, be sure to visit the Fashion Institute of Technology (FIT) Museum. This is just as the name suggests, a museum that belongs to the University Fashion Institute of Technology (FIT) and the various exhibits at the museum organized because usually students. Its presentations include mainly textiles, clothing and accessories from the different eras. The permanent collection available at the museum contains a total of 50,000 different items of clothing and accessories from the 1700s onwards. There are three sections with varying content to explore, so expect to spend at least an hour in this fascinating museum. Admission is completely free.
Join a guided tour of Brooklyn Brewery
You might not be all that familiar with it, but home brewed beer from the Brooklyn Brewery is extremely popular in Northern Europe and it's a fact that Sweden has the second highest sales figures after New York. The beer from Brooklyn is drunk more in Sweden than, say, Washington and Boston. Whether one is a beer enthusiast or not, it might be very interesting to visit the brewery in Brooklyn and go on a guided tour to see the process of making home brewed beer. The guided tours are free and held on Saturday and Sunday afternoons. If you have other things on weekend afternoons, you can come here on Friday and Saturday evenings and instead join in the brewery's "happy hours" and various tastings.
Walk along The Highline
Walking longer distances in New York without having to stop to wait for the green man at a pedestrian crossing every few metres is not easy. In addition to Central Park, there are few places in the city that give an opportunity to take longer walks without constantly having to stop. One attraction that along with Central Park makes it possible to walk without barriers is The Highline. The Highline is an old railroad track that was previously used to move the train from the city's industrial areas, but which is now a long park, full of plants and artistic works. The High Line is about 2.3 kilometres long and along the promenade you'll get to see over three hundred species of plants, water fountains, exhibitions that weave together art and nature, stunning views of New York and in some places also glimpses of Hudson river.
Visit a rooftop bar
A really cool experience that you really shouldn't miss when in New York is to visit one of the city's rooftop bars. A rooftop bar is a great place to sit down and get something to drink while enjoying a fantastic view of New York City. The number of rooftop bars in central New York is over 40, so there are plenty to choose from. For more information about different rooftop bars in New York, visit this page.
Get a different experience at Mission Escape Games
There are several web services online where previous visitors and tourists can write reviews on various attractions and places they have visited. One of the New York attractions that ranks highly on these sites is Mission Escape Games. Mission Escape Games is like a big puzzle game where you work in a group to solve problems and think logically to get through a path. You are given clues and codes that you will use to manage the different steps in order to get out before the time is up. You can either go as a larger group or on your own through the course, or you can be divided into groups with other visitors. Mission Escape Games is a really fun activity that is different from anything else you usually do when visiting a big city and may well be one of the highlights.
See a New York Yankees game
There is little doubt that baseball is not a particularly popular sport in Europe. Probably only a thousandth of Europeans have ever actually sat down and watched a great baseball game on TV. In the United States it is the exact opposite, and baseball is a very popular sport to see both live and in the comfort of your living room. When you visit New York, it is a great chance to try this sport and take part in the experience of seeing it performed in a large arena. The New York Yankees are one of America's biggest and most popular baseball teams and to see a game is something that many Americans around the country can only dream of. Games are played at Yankee Stadium, which takes in about 50,000 spectators, and during game days there's often a really great atmosphere in the stands. Sitting in the stadium, watching baseball and enjoying a few hot dogs and other goodies with several thousand Americans is truly a unique experience. Tickets can be booked online and it is not a bad idea to have everything booked and ready before you leave Europe.