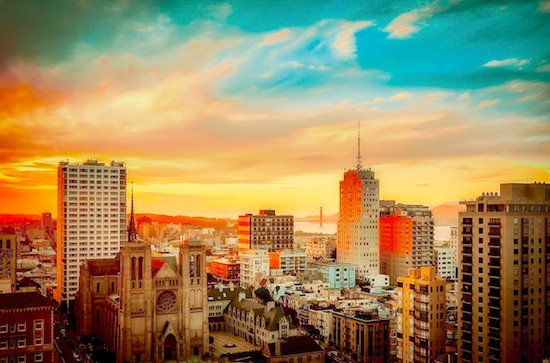 Chinatown
San Francisco is a very multicultural city, which is particularly evident since the people who live here have very different roots. There are also different districts influenced by different cultures that further prove this. The neighborhood where it's perhaps the most evident that people come from a different culture is Chinatown. Most people have probably seen and visited Chinatown in other cities, but the fact is that San Francisco's Chinatown is something truly extraordinary. This is the largest Chinatown available outside of Asia and it's also America's oldest. In an exotic environment here you can walk around among the special architecture and do everything from shopping for fun souvenirs to eating an affordable dinner at one of the restaurants that are in the district. If you visit San Francisco for a Chinese festival, you really shouldn't miss seeing how one of these is celebrated on the streets.
Alcatraz
Most people have probably read about Alcatraz in books or seen any of those films where the world-famous, but also unknown, prison plays an important role in the plot. Nowadays, the prison has been completely disbanded and the island is one of San Francisco's top tourist attractions. There is much to see and explore on Alcatraz. Perhaps the best thing to do in order to get an understanding of what it was like to be imprisoned on the island is to take a closer look at the various prison cells, or to stand and look out over the water to see how hopeless it actually was to try to escape. You can also take part in various stories from the prison's history and there is lots of interesting information about the various escape attempts that have taken place. Alcatraz can be reached only by boat. These regularly depart from Fisherman's Wharf and the price for a day trip is about $30.
Fisherman's Wharf
Fisherman's Wharf is the perfect place to visit when you are tired of San Francisco's vibrant streets and instead want to get a feeling of the city's seafront parts. You can in a cosy harbour environment walk around here and relax amongst the boats and boathouses, whilst at the same time being able to look out over the fascinating Golden Gate strait. The Fisherman's Wharf also has several restaurants, small shops and various museums. It is from here that the boats to Alcatraz depart.
Golden Gate National Recreation Area
If you want to get closer to the sea and be able to walk around with your feet in the Golden Gate strait of water, you should get to the Golden Gate National Recreation Area. This is a large natural area located on the other side of the Golden Gate Bridge, which is the opposite side from San Francisco city centre. The Golden Gate National Recreation Area has everything you need for some real outdoor activities, including walking trails, campsites, picnic areas and beautiful beaches with magnificent views of the Golden Gate Bridge. If you are interested in history, you shouldn't miss the historical buildings and sites from the early 1900s when the area was a military facility.
See a baseball game at AT&T Park
Baseball is a very American sport and even if you do not have much interest in sports, it can be an exciting and different experience to see the spectacle that unfolds at a baseball game in the United States. When visiting San Francisco, one should not miss the chance to experience what it's like when the city's premier baseball team the San Francisco Giants play their games. San Francisco Giants play at AT&T Park, which is one of America's premier ballparks. The stadium is considered to have a very pleasant atmosphere that blends the new with the old, and in addition most Americans think that the arena has the best variety of food. To be able to go to a baseball game in San Francisco, it's necessary to visit the city during the current baseball season, which lasts from April to October. Going to a game usually costs around $70-150 per ticket. This may seem a bit expensive for going to see a sporting event, but since it's in San Francisco, it might be your first and last chance to see a baseball game in the US. This might make it feel worth paying a little bit more.
Walt Disney Family Museum
The Walt Disney Family Museum a very interesting museum that tells the story of Walt Disney and how he created his great life's work. Here, among other things, you'll learn more about how Walt Disney created well-known characters such as Mickey Mouse and Goofy, and also how the Walt Disney Company became one of the world's largest media and entertainment companies. The museum is suitable for families with children, but whether or not you have children with you while on your trip to San Francisco, a visit to The Walt Disney Family Museum is very likely to be a hit. The Walt Disney Family Museum is open every day from 10:00 to 18:00 and to enter costs between about $12 and $20, depending on the number of young visitors, students, adults or seniors. Children under six years old enter free of charge.
Take the cable car
One of the symbols, along with the Golden Gate Bridge, that usually appears in photographs, postcards and films from San Francisco is the classic cable car. Cable trams have been in San Francisco since the late 1800s, and over the years they have carried the city's residents and visitors up and down the steep streets. As a tourist and visitors to the city, you should really make sure to try travelling by this mode of transport. To go in the cable car is a special experience that occasionally gives fantastic views over the city. It is not as fast as getting around by car or bus, but if you're not in a hurry to reach your destination, it is a very pleasant and relaxing way to travel on the streets of San Francisco. Unfortunately, it is not that cheap to take the cable car system. A single ticket costs about $7 and a one-day pass costs about $20.Because it's not just a means of transportation but also a tourist attraction, it's therefore well worth the money.
Visit the Cable Car Museum
Don't just ride the cable cars—you should also learn more about them and their history during a visit to the Cable Car Museum. At the museum, among other things, you can look at the historical models of cable cars, get an understanding of how the cable trolley system works and how they have been used in San Francisco over the years. For example, you'll get to see how the cable car route was affected during the San Francisco earthquake. The museum is open seven days a week between the hours of 10:00 to 18:00 from April 1 to 30 September and between the hours of 10:00 to 17:00 from October 1 to March 31. Enterance to the museum is free.