The Chopin Museum
The Chopin Museum (Muzeum Fryderyka Chopina) is a very nice and interesting museum to visit. Warsaw was the hometown of the great and renowned composer Frederic Chopin, and it was here that he lived and worked. At the museum, you'll learn a lot about Frederic Chopin as a person, but you'll especially learn about his work and the music he created. Among other things, you can see Chopin's last piano, valuable manuscripts and personal letters. There are also plenty of "listening stations" where you can relax for a while and enjoy the great composer's superb music. It's worth knowing that the museum is interactive and even older children can appreciate what's on display. Whether you're a fan of classical music or you just have a bit of an interest in European history, the museum is well worth a visit.
The Royal Castle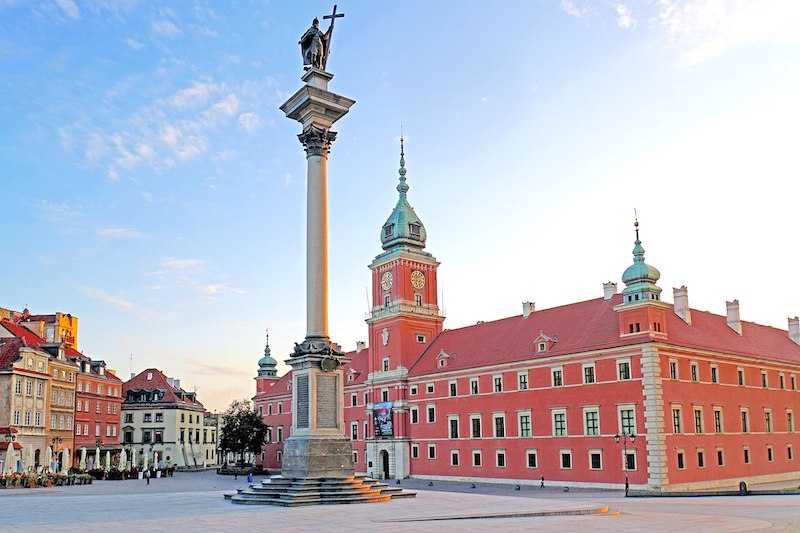 The Royal Castle in Warsaw is a very beautiful building both inside and outside, and should definitely be visited during your Warsaw stay. Since the castle was almost completely razed to the ground during World War II, it is not the original building that stands in Warsaw today. Instead, the castle was rebuilt using other demolition waste that the Germans left behind and has become at least as beautiful as it was before the war. Previously, the castle was home to Poland's kings and it's therefore full of interesting objects, such as paintings, carpets, coins and medals, and luxurious furnishings from the time when Poland was a monarchy. Among other things, you can view the floor the king himself lived in, which is a very impressive part of the castle. The different objects are partly in the castle's different rooms, but many of them are exhibited in many galleries. It is excellent to go here on your own, but as with many other attractions, the experience is ten times better if you have a guide who can tell you all about what you're seeing. Hiring a guide at the castle is not very expensive and it is highly recommended. It's also worth knowing that it's completely free to enter the castle on Sunday.
The Old Town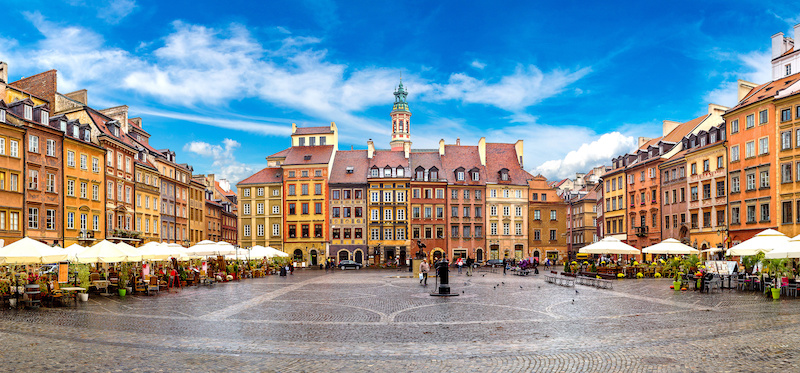 The Old Town in Warsaw, with its cobbled streets and old houses, is a charming place to wander around in. Just like the castle, this part of town was very recently rebuilt after it had been completely destroyed during World War II. Thankfully, they've done a very good job and have really managed to recreate Warsaw in the way that it once was. Perhaps the most charming part of the old town is the main square, Rynek Starego Miasta. The square is the natural centre of the city with several activities and a lively atmosphere. Here you will find everything from talented street artists to galleries and beautiful churches and buildings. It is also full of nice restaurants and bars that you can settle in for a relaxing break and recharge for the next adventure in Warsaw.
Lazienki Park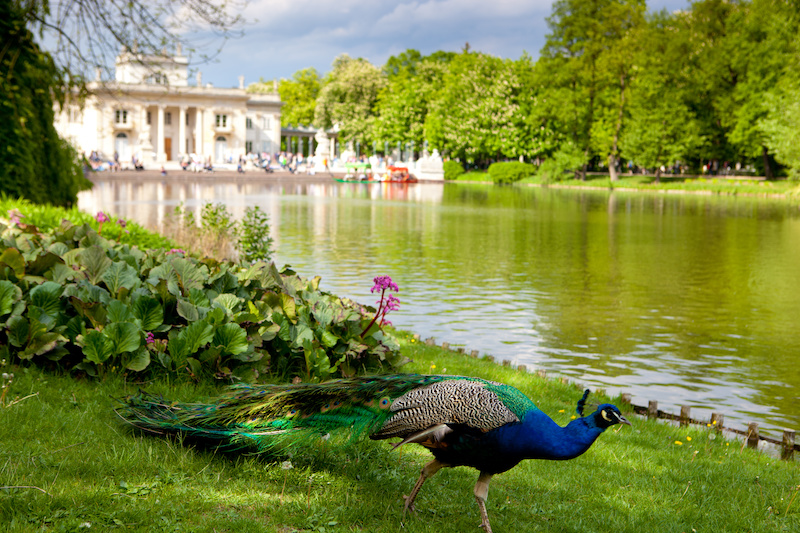 Lazienki Park is like a little oasis in Warsaw, with a very central location. In this beautiful park you can walk around or just sit down among all the greenery and take it easy for a while. It has a rich flora and fauna ranging from inquisitive birds and squirrels to beautiful trees and flowers. It also has Lazienki Palace, a large amphitheatre and a statue of Frederic Chopin, as well as a number of other buildings. With all the buildings and monuments, it is not hard to feel the historic atmosphere when you walk around the park. If you take your time and read on for all the park's attractions, there are really a lot of interesting things to learn. For those who want to eat or drink, there is a cafeteria in the middle of the park. Prices are not too high and the pleasant surroundings of the park are a great place to settle in for another little relaxation before once again setting out on the intense streets of Warsaw.
The Copernicus Science Center
Visiting the Copernicus Science Centre can become one of Warsaw's best experiences. Whether you are old or young, a science geek or not, it's highly likely that you'll be able to enjoy yourself here. The Copernicus Science Centre is a fully interactive science centre, which means that you get to learn how scientific and technical things work by touching, watching and listening. There is so much to see and with constantly changing exhibitions and themes, one can easily spend several hours at the science centre. In addition to interactive activities and exhibitions, there is also a planetarium. If you want to see a film at the planetarium, it's best to book tickets online before you visit to be sure that you'll get seats.
The National Museum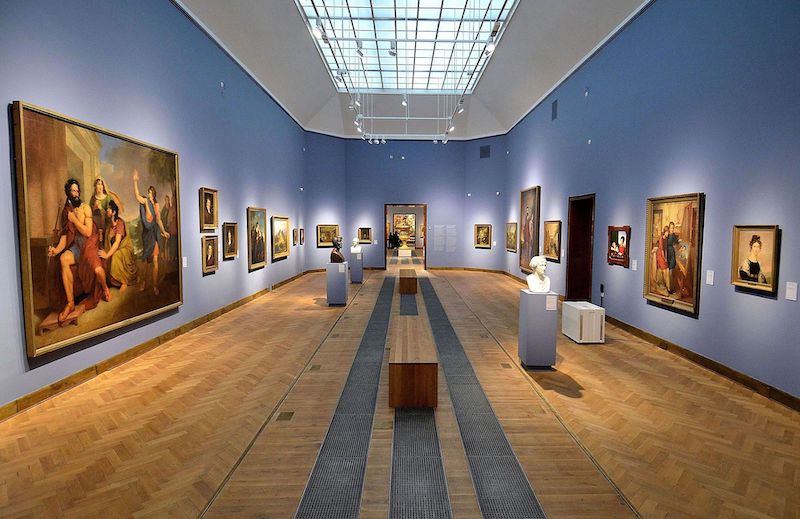 The National Museum (Muzeum Narodowe) is the largest museum in Warsaw. The museum features a large collection of Polish art with paintings and sculptures from the 1500s onwards. There is also a large collection of antique art and art from artists with roots all over the world. Among other things, there are paintings by Adolf Hitler. In addition to physical objects, it is also possible to observe all the art students sitting painting in the different malls, which gives a special and pleasant atmosphere to the museum. If you're looking for more information about the art on display, there is also the option to rent an audio guide. This is recommended as the "regular" information at the museum is pretty sketchy. At the National Museum there's also a souvenir shop and a restaurant. The museum is open every day of the week except on Mondays. On Tuesdays there is free entry to the permanent exhibitions.
Warsaw Ghetto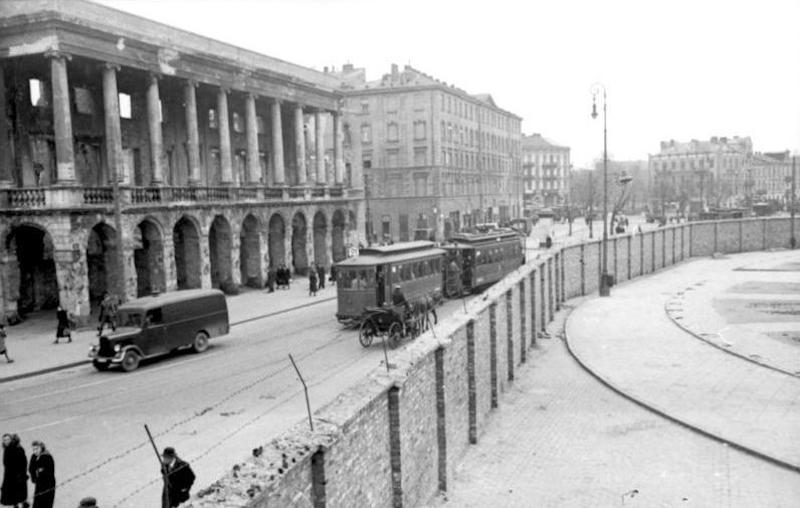 Warsaw Ghetto was home to nearly 500,000 Jews during World War II. Here the Jews lived in appalling conditions before being systematically transported to various death camps around Europe. Conditions were so bad that some 100,000 of them died of hunger or disease before they had even left the ghetto. If you're in Warsaw, you should not miss the opportunity to visit the ghetto to look for the remnants that are left and try to get a better understanding of what it was like to live in these horrific blocks. Visitors can see the remains of the ghetto walls, its synagogue, the Jewish cemetery and other historic and cultural sites. For those who want in-depth information about the various parts of the ghetto and to hear heartbreaking stories of the different fates of the Jews, there is the opportunity to take a guided tour. When taking a guided tour, it usually also includes a visit to the Jewish Historical Institute, where among other things you can see various exhibitions and films about the ghetto.
The Opera House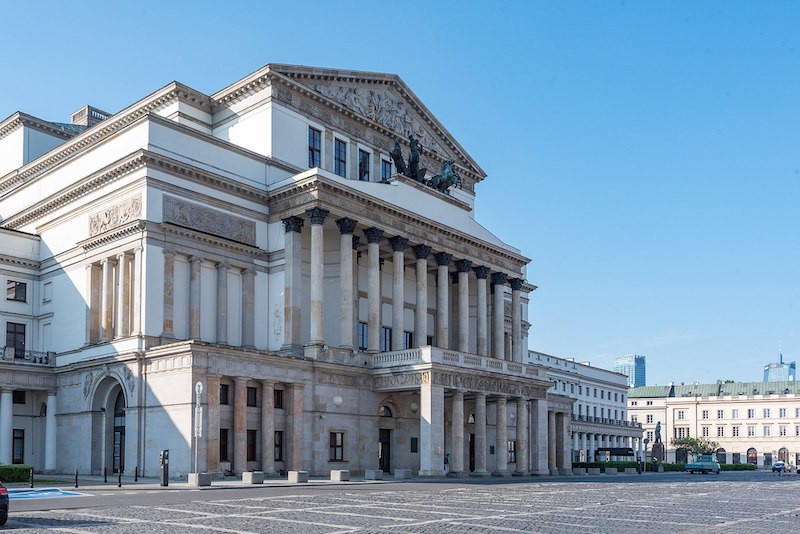 The Opera House (Teatr Wielki) is a large and impressive building which is situated in the middle of Warsaw. The Opera House is known for having very good acoustics and also for being very beautiful on the outside as well as inside. The Opera House was opened back in 1833 and the first set was the Barber of Seville (Rossini). After the Second World War, the Opera House was left in ruins, but was rebuilt in 1965. It was the world's largest theatre building. Today, the Opera House has constantly changing performances with everything from classical pieces to modern compositions. In addition to opera, there are also different theatrical productions in the building. The world-renowned Polish ballet can also be seen here. There is also a theatre museum which is the first and only of its kind in Poland. At the museum, there are 200,000 different objects all associated with opera and theatre. Among other things, there is a large collection of beautiful costumes and photographs. If you want to attend an opera or theatre performance in Warsaw, it is better to pre-book tickets online. It may be possible to get tickets at short notice, but to be sure of getting a place, it is best to be there on time. Tickets are not particularly expensive, especially not if you're content to sit back from the scene—then it can cost as little as $60 for a seat.
St. Anne's Church
St. Anne's Church (Kosciol Świętej Anny) is one of the many beautiful churches of Poland. The church is built in the Baroque style and the architecture is very beautiful. Decorations and details are incredibly well-made both outside and inside. Twice a day baroque music is played on the organ (it takes about half an hour). Among the Poles, it's very popular to get married in the church, which is usually done on Saturdays. If you want to see a Polish wedding ceremony, you should definitely come here on a Saturday, but if you want to be able to see as much as possible of the Church, it is better to come here another day. Something that can be a very special and enjoyable experience is to visit the church during a trade show, where the atmosphere is something extraordinary.
The Powazki Cemetary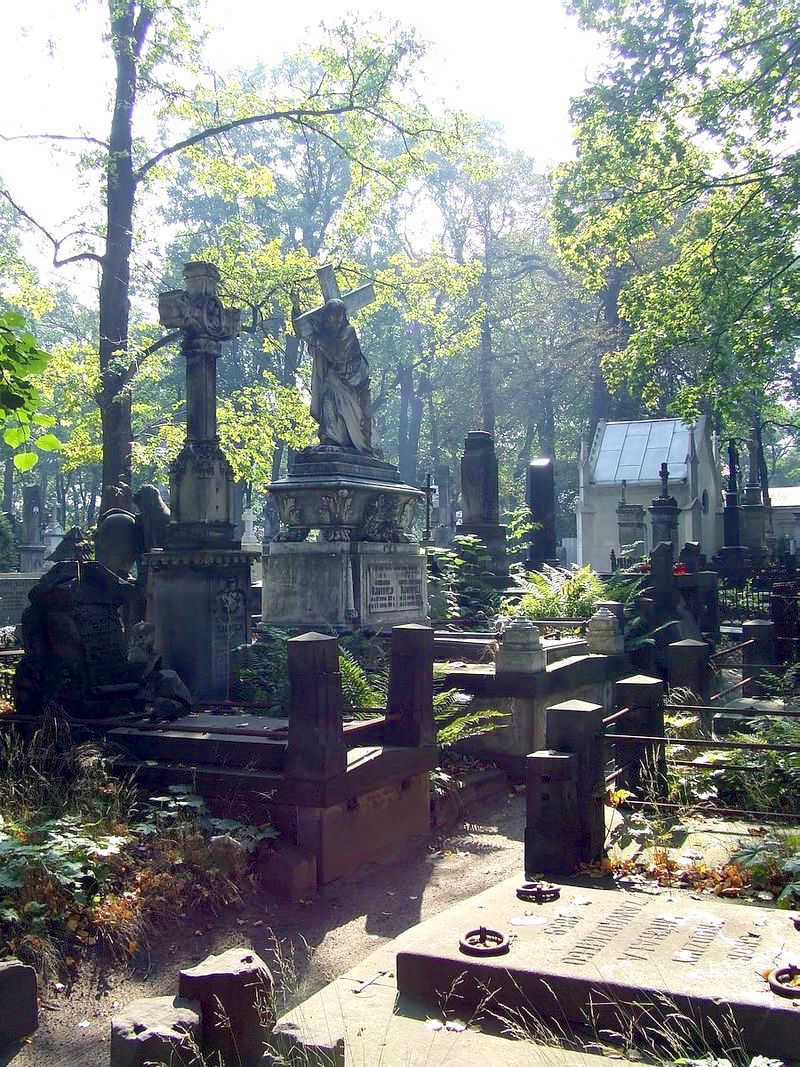 The Powazki Cemetery (Cmentarz Powązkowski) is the oldest and largest cemetery in Warsaw. It is very well located with many large trees and greenery. Many of the graves are beautifully adorned with statues and various decorations. During religious festivals, and especially on All Saints Day, the cemetery is filled with lights and flowers and thousands of people flock here to visit their loved ones' graves. Even during ordinary days, there are a lot of candles and flowers and plenty to go around. Adjacent to the cemetery is the Jewish Cemetery (Cmentarz żydowski) that definitely should not be missed. The Jewish Cemetery is very different from the Powazki Cemetery as the Jewish cemetery in principle consists entirely of tombstones that have fallen over and that nobody takes care of. This cemetery looks like an eerie reminder that most of Warsaw's Jews were exterminated during World War II.
The Palace of Culture
The Palace of Culture (Palac Kultury i Nauki) was a gift from Stalin to the Polish people and was built in the early 1950s. Many Poles still hate this building for what it stood for. However, there is a lot to do here for those who choose to visit the building. Among other things, you can pay a small sum of money to ride up in the lift to the thirtieth floor, from where you get a great view. On a clear and sunny day, you can see almost all of Warsaw. Inside the building there are several museums, cinemas and theatres, as well as some restaurants and bars. In the palace halls there are ongoing regular exhibitions and the hustle and bustle of the building is constant.
Fotoplastikon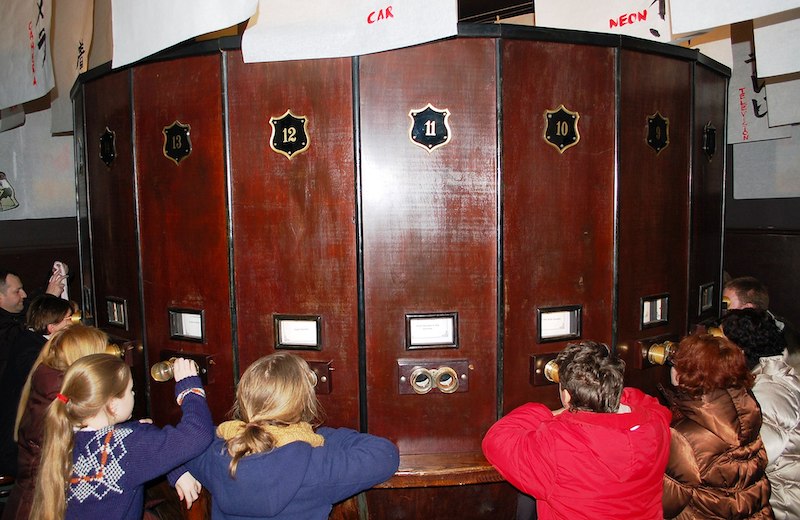 A popular place that was ranked highly by former Warsaw visitors is Fotoplastikon. At Fotoplastikon Warsaw you can see stereoscopic images of the city's history. With the three-dimensional effect, you can see unique images of everything from how the city looked before, during and after World War II to how Warsaw changed during the Soviet period. The pictures are very old and it gives you a special feeling to know that several generations have lived in these environments and shared the same views in their lifetime. Thanks to its unique technology, you'll experience more than just standing in the middle of the picture. In addition to the three-dimensional effect, you'll get to hear music and sounds in the background of each picture frame. Fotoplastikon is not that big and a visit will therefore take less than an hour. Getting to see these old and very special images is a different experience and something not to be missed during your stay in Warsaw.
Hop On/Hop Off Bus Tour
One of the best ways to see Warsaw and get to and from all of the different tourist destinations is to take an adventure with the hop on/hop off bus tour. These tours run every half hour or hour and then you can get off of one bus and get back on another later after you have seen the attractions. They are a great way to be able to actually see many things in one day without having to get out maps or figure out how to get to and from each place by taxi. The hop on/hop off bus tours offer visitors a quick way to board and get transportation to a wide variety of different attractions while they are in Warsaw.
Beer Tasting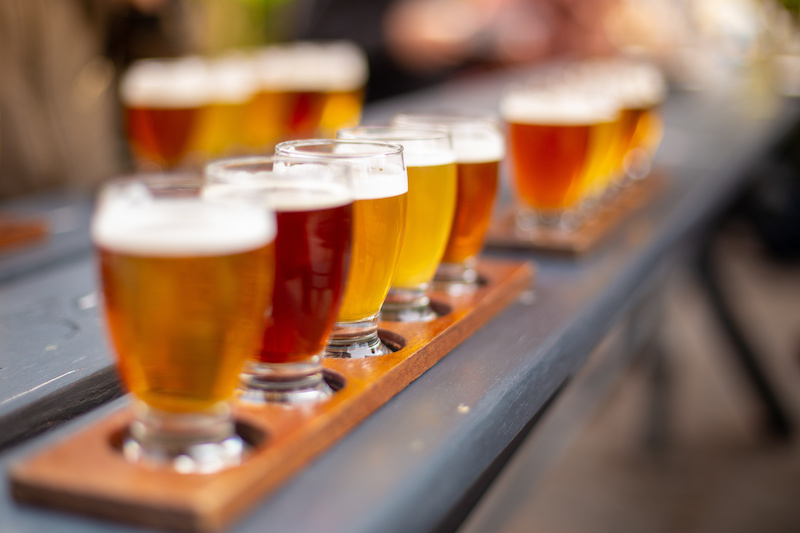 While Poland is likely not the first place that you think of when thinking about beer, it is a great place to explore some of the local brews and relax after a long day of site-seeing. There are a number of different breweries and places to enjoy beer or you can even book a beer tasting tour that takes you to different breweries and allows you to sample different beers while not having to worry about different transportation or having to find the breweries on your own. Some of the highlights from Warsaw include: LECH Visitors Center at Poznan Brewery, TYSKIE Browary Ksiazece and TYSKIE Brovarium at Tychy Brewery, and ZYWIEC Brewery Museum.
Warsaw Uprising Museum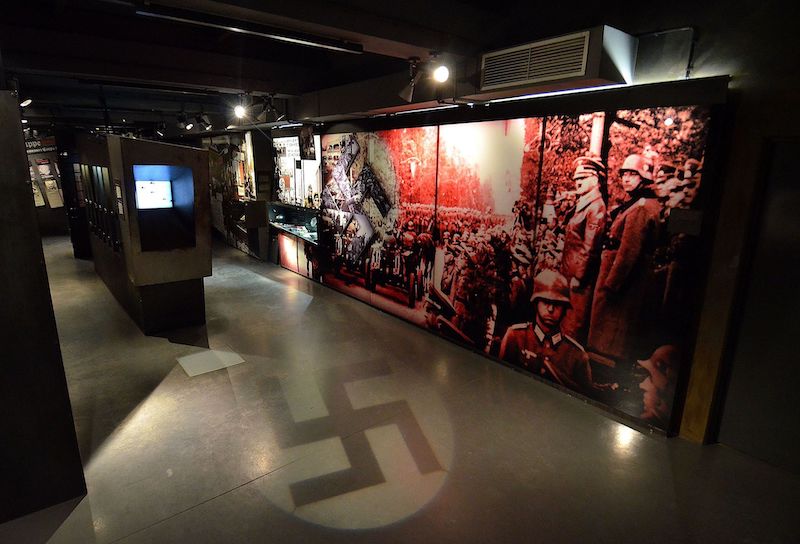 The Warsaw Uprising Museum is dedicated to sharing the history of the 1944 Warsaw Ghetto Uprising. The museum was actually founded in 1983 but it was not built at the time. It would not be until July 31, 2004 on the sixtieth anniversary of the event that the museum actually opened its doors. It is a tribute to the people who lived in Warsaw, Poland at the time and who fought and died to try and keep Warsaw independent from Nazi control. The Polish Resistance Army tried to keep themselves free by fighting in a fight that ultimately ended in death for many.
Vodka Tasting
Another popular pastime in Warsaw is drinking vodka. One of the most popular tourist activities that the locals sometimes enjoy as well are the vodka tasting tours. These tours take you to a few different pubs where you get to taste some of the finest vodkas that Poland has to offer. While you are there you are going to learn about the history of vodka production and how this is a part of Polish traditions. Then you are going to get to taste an assortment of vodkas. When you are tasting at least one of your samples will be from a fruit flavored vodka. Plus, if you have booked one of these tours, they are going to be feeding you some traditional Polish snacks to eat with your vodka.
POLIN Museum
The POLIN Museum offers the unique history of the Polish Jews. It is actually located on the site of the former Warsaw Ghetto. It is relating to the arrival of the Jews when they were forced to leave their homes in Germany and into Poland. The museum was opened in 2013. One of the most powerful exhibits in POLIN is the area that is dedicated to the Jewish community that had lived and flourished in Warsaw for a thousand years prior to the occupation of the Nazis. The idea for the museum came in 1995 and land was set aside at the time for this purpose.
The Wolf's Lair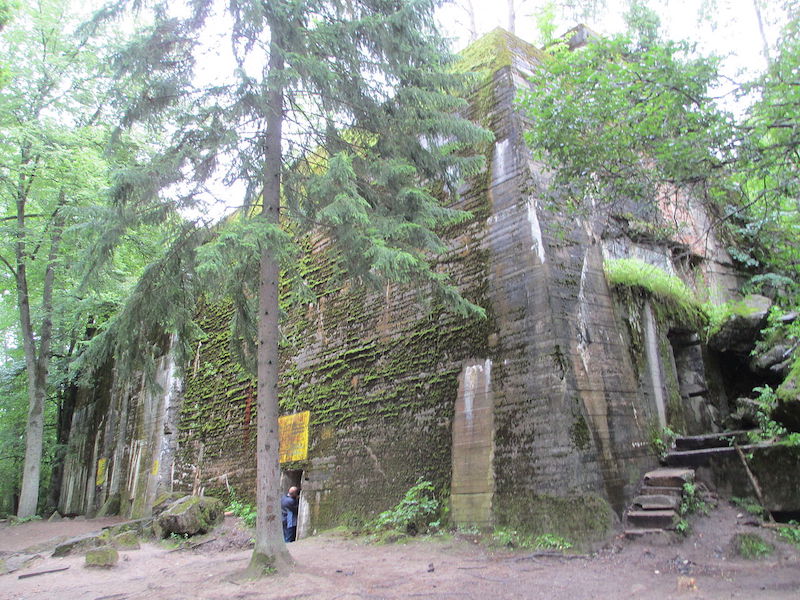 The Wolf's Lair is where Adolf Hitler had his first Eastern Front headquarters for the military in World War II. This is the first place that the Nazis occupied and where all of the executive orders and decisions were made. It was one of several Fuhrerhauptquartiere or Fuhrer Headquarters that were throughout Eastern Europe at the time. The Wolf's Lair was built in 1941 with a specific purpose and intention in mind in that it was built for the start of Operation Barbarossa which was the invasion of the Soviet Union.
Sailing
One of the best ways to enjoy the outdoors in Warsaw, Poland is through a sailing experience. There are a wide range of different sailing experiences that you can have while being able to enjoy the beauty of nature and the outdoors. One of the best things about the area is that they offer so many places where you can sail and the winds here are a sailor's dream.
Pub Crawl
One of the most popular forms of nighttime entertainment in Warsaw is a pub crawl. When you are in a pub crawl, you basically get to travel to a number of different pubs where you get to have a drink or two at. You will end the night at one of the most popular nightclubs where you can drink and dance to the latest trends in music in Warsaw. This is a great way for adults to unwind after a long day and a great way to really be able to experience a ton of alcohol driven fun.
Explore the Jewish Heritage
The story of the Jewish population in Warsaw is a unique one that is filled with both innovation and joy and immense sorrow and sadness. While you are in Warsaw it is a great idea to take the opportunity to learn about Jewish heritage and to familiarize yourself with some of the things that have made the Jewish people survive and thrive even after the horrific events that took place during the Holocaust. You can experience traditional Jewish treats and eats, see beautiful synagogues, and learn from local Jews about what their heritage means to them.
Wilanow Palace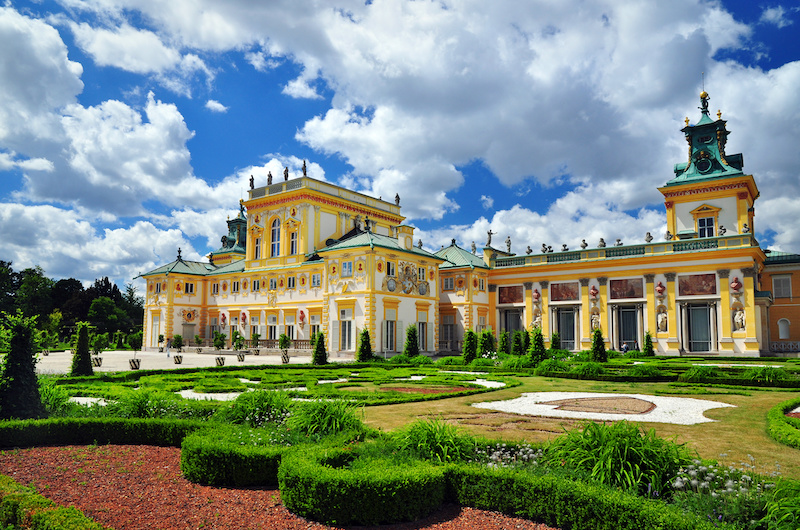 Wilanow Palace is also known by the name Wilanowski Palace. It is a unique palace in the middle of Warsaw in the Wilanow district. This palace was able to surprisingly remain standing even after both of the world wars which is quite impressive seeing that Poland was under attack. This palace serves as a reminder of what was happening in the Polish states before the 18th century. Today it is hailed as being one of the most important monuments in Poland. The palace has had a museum since 1805 that is dedicated to celebrate the royal and art history of Poland. There are also ongoing festivals and events at the palace.
Polish Food Tasting
There are a number of ways that you can enjoy Polish food tasting. One of the ways that is most popular is to go to local cafes and restaurants and to ask what dish they specialize in and then to order and try it. If you are adventurous, you can also ask what their more unique and Polish flavors are and choose dishes that incorporate these. However, if you have no idea where to get started, there are a wide range of different food tours that you can enjoy while you are in Warsaw.
Warsaw City Exploration Game
One of the most amazing adventures that you can take in Warsaw is to explore the Warsaw City Exploration Game. There are prizes and the game is perfect for everyone who is interested in learning about the rich history of Warsaw. The game takes you on an adventure through the city and to some of the city's most popular site-seeing destinations. The best part is that just for going on the adventure you get to win prizes which can be enjoyed during your stay and long after you return home. Plus, you get to see Warsaw in a new way and experience so many places that you might not have otherwise visited.
Photography
While you are in Warsaw, you will want to make sure that you have a camera on hand. There are so many incredible places to see. Just remember to be respectful. If someone lost their life somewhere, it is probably best that you are not taking funny selfies. It is important to be reverent and to take the pictures that you would want taken if your loved ones had lost their life here. Also, remember to always follow rules and to not take photographs in places where photographs are not allowed.
Consider Firing a Gun at a Shooting Range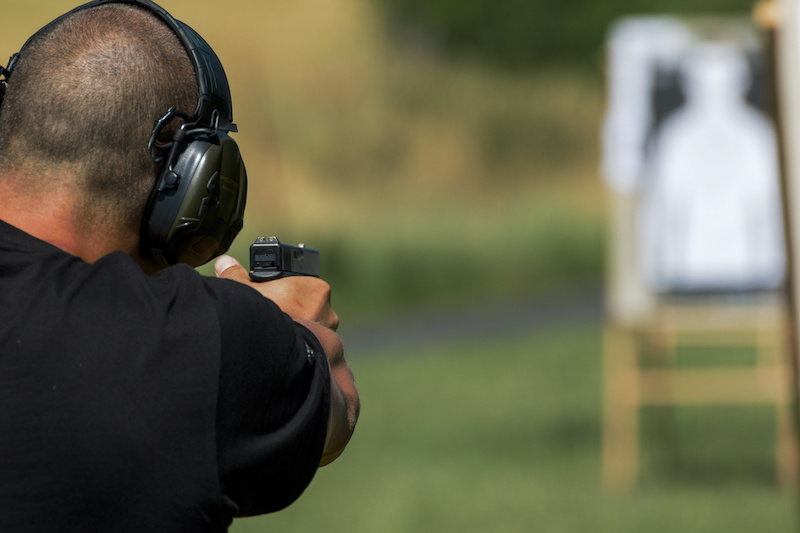 While not one of the most popular excursions, many people love that Warsaw has no shortage of shooting ranges where you can go and check out some of the Polish made firearms. There are many choices for different ranges that offer a variety of packages. Since you are probably not traveling with your weapon, you will want to call and make sure that you can rent a firearm where you are going.
Walking Tours
Warsaw is a beautiful city with so much to see and do. The best way to be able to explore the city is by taking a walking tour through the city. There are so many places that you can go and things that you can see on a walking tour that it is easy to enjoy your time in the city by simply walking around. Since Warsaw is an old city, it can be fun for kids to spot the old and the new and to discuss the different time periods and the history for the places that you are seeing.
Worthwhile Day Trips from Warsaw, Poland
When you are visiting Warsaw, Poland there are a few attractions that are certainly worth your time if you are willing to take a day trip outside of the city.
Auschwitz Concentration Camp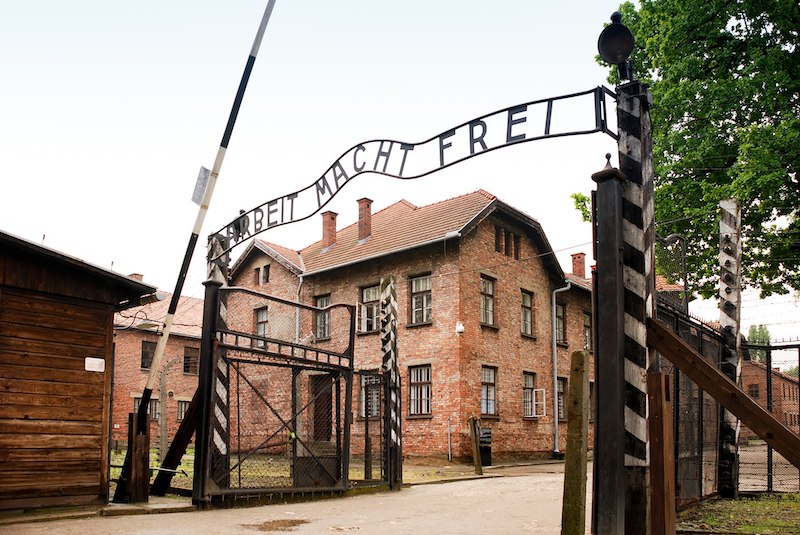 One of the most popular tourist destinations in all of Poland is Auschwitz Concentration Camp. You can get from Warsaw to Auschwitz by train. The train ride takes 4 hours and 49 minutes. It is a place where you are to show reverence and truly consider the horrors that took place here when Hitler and the Nazis had control of Germany. Auschwitz Concentration Camp is really an area where there are over 40 different concentration and extermination camps in one place. When you first arrive you will see where the Train to Oswiecim delivered the people to the camp. Next you will walk through Auschwitz I which is where the administrative duties took place. This is where the vast majority of the visitors will arrive, just as it was the main place where prisoners were first took to be processed. Finally you will take a journey to Auschwitz II which is the place where the death camp once stood and many Jews lost their lives during the Holocaust.
Majdanek Concentration Camp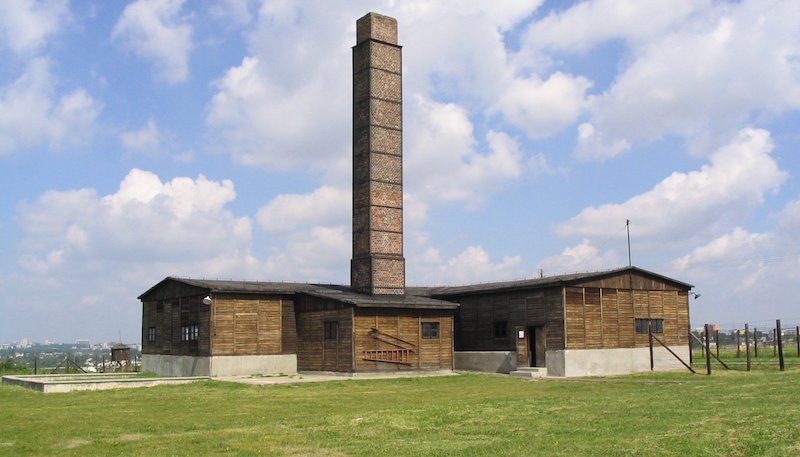 As Poland was one of the main areas where Hitler and the Nazis forced the Jews to live and then die, it is a place of many different attractions and points of interest from the Holocaust. To get from Warsaw to the Majdanek Concentration camps the train ride is just 4 hours and 40 minutes. Majdanek Concentration Camp was a concentration and extermination camp. It was one of the places where the Jews would be shipped when it was determined that the time had come to end their lives. While not as famous at Auschwitz, it is believed that more Jews met their death at the different extermination camps than at Auschwitz. The very reason that we have likely not heard of these other camps is that they did not have the amount of survivors after the war that Auschwitz did.
Treblinka Extermination Camp
Treblinka Extermination Camp was a camp where many Jews met their fate and were put to death by the hands of the Nazis. To get to Treblinka Extermination Camp from Warsaw the train ride lasts 1 hour and 9 minutes. It is located in a forest that is just northeast of Warsaw. This camp was operating during the deadliest phase of the Final Solution between July 23, 1942 until October 19, 1943. During this time around 700,000 to 900,000 Jews were killed in the gas chambers here. However, it was not just Jews who died in Treblinka. In fact, around 2,000 Romani people were killed as well. This was the camp where the most Jews would die during the Holocaust.
Kazimierz Dolny Art Town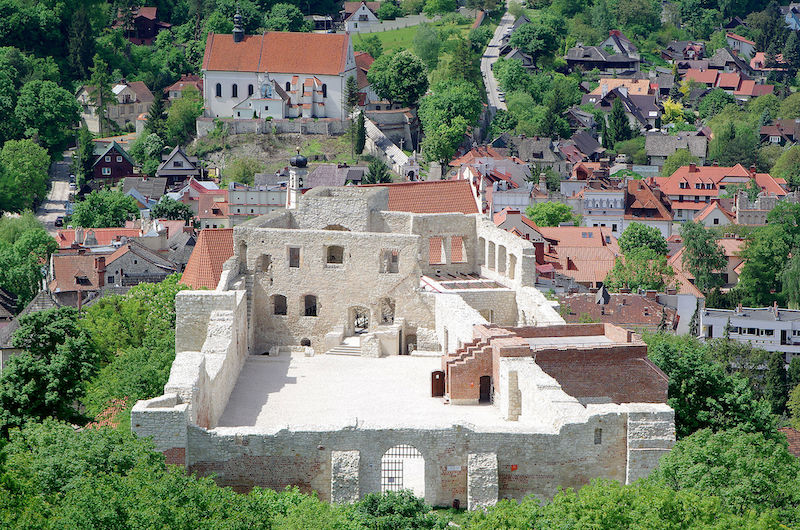 One of the most beautiful places in all of Poland is Kazimierz. Kazimierz is easy to get to from Warsaw with a train ride that lasts 2 hours and 35 minutes. This town is known for its beautiful architecture and for being the center of a lot of art movements that have happened in the region. There are many day trips and tours that leave from Warsaw and it is certainly a place that you should consider visiting if you love art. There are so many beautiful and unique sites to see that you will wonder why more people have not heard about Kazimierz throughout the world.
Lublin Old Town
Lublin is one of the other cities that is close to Warsaw in Poland. The train ride from Warsaw to Lublin is 3 hours and 35 minutes. It is the perfect place to visit if you want to take a day trip where you can relax, get some delicious Polish treats, and enjoy some shopping of simple activities. This area is beautiful and has a number of unique buildings that you are sure to love exploring. Lublin is really the perfect day trip from Warsaw and a great way to spend a day relaxing the body and mind in between seeing some of the different sites that show the darker history of Warsaw.
Krakow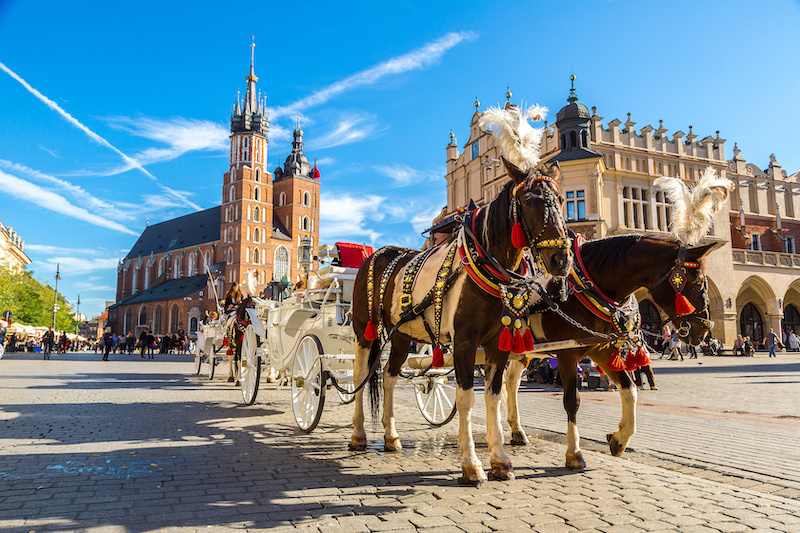 Krakow is close to Warsaw and definitely worth the 2 hour and 18 minute trip by train. There are several things that you will want to take the time to see while you are there. Learn about salt mining and the history of salt at Wieliczka Salt Mine. Learn about the religious history of Poland by visiting St. Mary's Basilica. Walk around the main square and check out the beautiful architecture and statues. There are museums and other places to visit as well. Simply put, it is a great idea to consider spending the day in Krakow.
Mazovian Folk Tour
The Mazovian Folk Tour is a great day trip that you can take from Warsaw, Poland. You will travel to western Mazovia where you can actually see the cultural shift and experience life in a unique culture. There is a great display of folk art at the museum and so many traditionally built country houses in an open air type of museum where you are free to explore. In addition, you can see the baroque style palace that is in Nieborow and in Arkadia you can view a beautiful garden that is fashioned in the English style. This day trip will not just teach you about the history of the people, but it will allow you to experience the culture of the people.