As you could probably guess, there are plenty of things to do in Madrid, Spain! There are many cool places like old and contemporary art museums, historic buildings, botanical gardens, restaurants, cafes, and more. Here are some of our suggestions that will make it possible to learn about Spanish life and culture and have a great time!
Walk Around the Royal Palace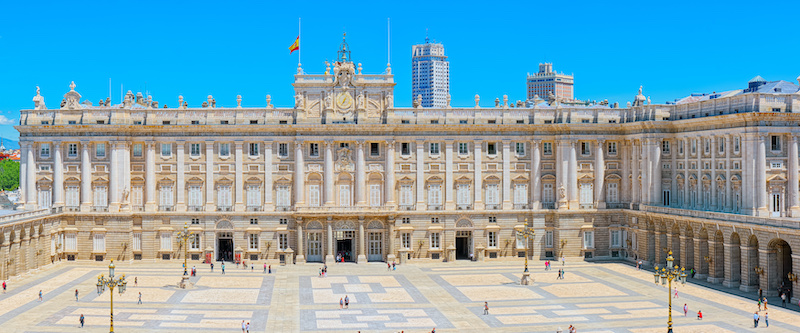 The royal palace, Palacio Real de Madrid, completed in 1755, is the largest royal palace in western Europe. Despite its name, the Spanish royal family doesn't live there anymore, and the palace is now just an official residence, used for ceremonial occasions. Only parts of the castle are open to the public, and you are not allowed to take any pictures of the interior.
On the inside, however, you will find plenty of antique furniture, wallpaper and art. Very beautiful and stylish, with lots of gold and crystal. And don't miss a look at all the magnificent chandeliers. To make the most of the visit, it is best to rent an audio guide, which is also available in English. There are also informative signs to show you where you are, so you won't get lost. The exterior of the castle is also really grand, and you can stroll around the huge park or visit the cathedral nearby.
Visit the Genuine Egyptian Temple of Templo de Debod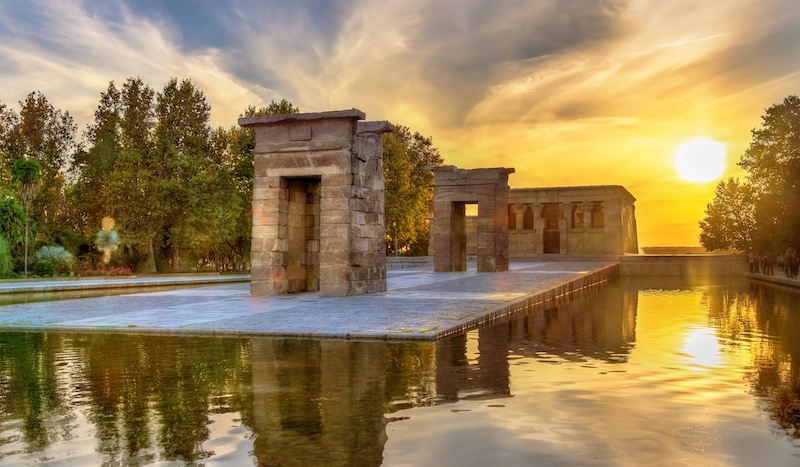 Templo de Debod is an ancient Egyptian temple originally built in Aswan in the time before the birth of Christ. When constructing the Aswan Dam in the 1960s, many ancient buildings and monuments were threatened. So, UNESCO asked for help from the rest of the world to save these treasures, and Spain helped save the temples of Abu Simbel. As a sign of gratitude, the Egyptian government agreed to move the Debod temple to Madrid, near the Royal Palace. It was opened to the public in 1972.
This temple is one of the few Egyptian monuments that one can see outside Egypt and the only of its kind in Spain. Many visitors arrive at the temple in the late afternoon or early evening and wait until the sun begins to set to see how the red-coloured light illuminates the historic building in a way that can only be described as magical. Being able to see a carefully rebuilt Egyptian temple in one of the biggest European cities is a completely unique experience, and spending a few hours at Templo de Debod (especially at dusk) will give you a sense of its millennial history. Don't forget to bring the camera!
Enjoy a Picnic in the Greenery of Parque del Buen Retiro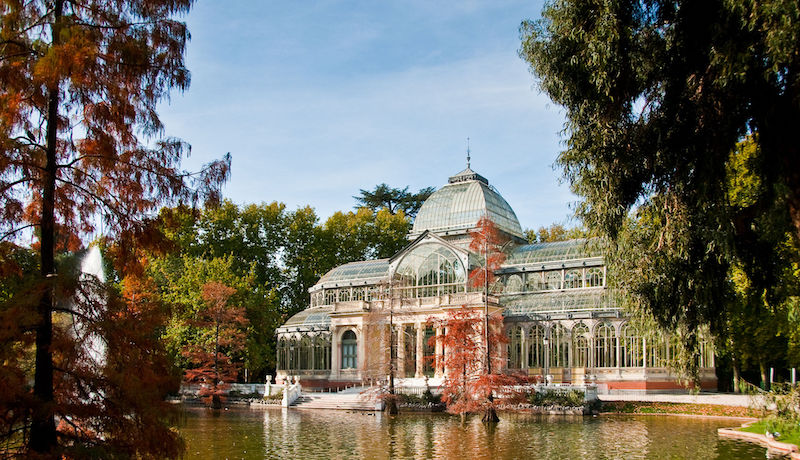 Parque del Buen Retiro, or simply El Retiro park, in the heart of Madrid, is the city's largest park, with an area of 130 hectares. This place was first a royal hunting park in the early 17th century. Ever since the time of Queen Isabella II in the late 19th century, the park has been open to the public, and it has become a favourite for Madrid residents and visitors alike who are looking for a moment of relaxation among the trees and gardens.
The park is a mix of different styles, and here you will find gardens in French style but also areas that are lusher and wilder. There are plenty of activities, and besides strolling around, you can rent a rowing boat for a romantic tour on the pond or relax with a picnic on the green fields. It is also worth visiting a beautiful conservatory called The Palacio de Cristal (the crystal palace). There are also several cosy cafes and restaurants to choose from, and you should definitely go to at least a few ones when you visit Madrid!
Shop at Gran Vía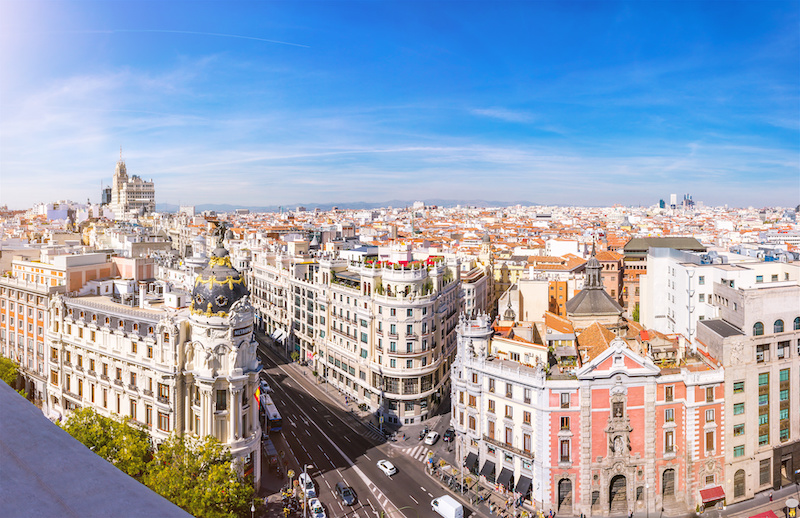 Gran Vía is Madrid's largest and most exclusive shopping street. Here you will find all the major brands, all in a row. But there are also many nightclubs, cinemas and hotels. This is the street that never sleeps and a given starting point for anyone who wants to experience Madrid's nightlife. Several of the cinemas and theatres have been converted to shopping centres – here you can find most of everything you need and more. The sidewalks are wide, so it is pleasant to have a walking tour along the street even though there can be a lot of people.
The street itself is over 100 years old, and many of the buildings have truly stunning architecture. Gran Vía No. 28 is the old headquarters of the Spanish telecom agency Telefónica. The Telefónica building, when it was built in 1929, was one of Europe's first skyscrapers and, with its 88 metres, it was also Madrid's tallest building for a long time.
Looking for a hotel to stay at in Madrid? Then you should visit our page with Hotels.com discount codes and offers to get the best price possible.
Visit the Vibrant Puerta del Sol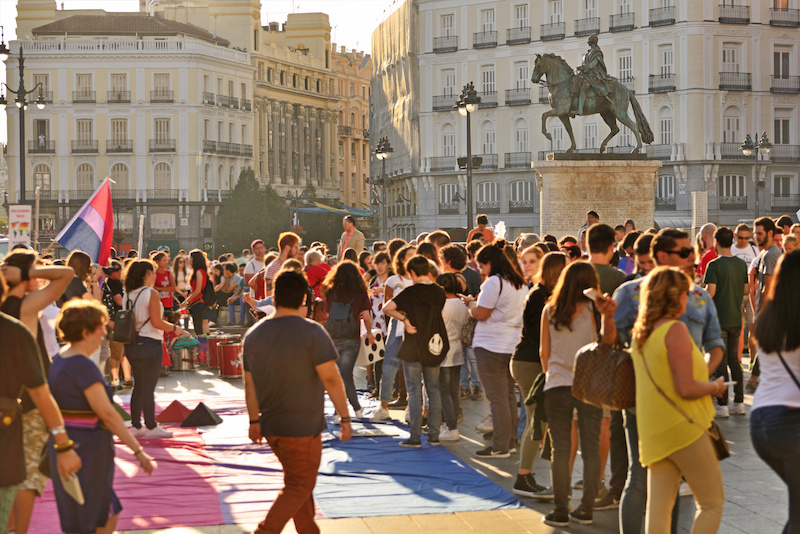 Puerta del Sol, or the Gate of the Sun, is a very large square full of life and activity. It is a natural gathering place for people, both tourists and locals. In the middle of the square, there is a metro station, and around it, you can get involved in many activities. You can have your picture taken with various dressed-up cartoon characters, such as Mickey Mouse or Bart Simpson, much like in Disneyland. Other than that, there are various street performances and simply a lot of life, energy and a metropolitan pulse.
It is a place full of life and movement. Surrounding the square are several fast-food chains, shopping streets and ordinary restaurants. This square is a hub, where lots of people pass through on their way somewhere else. This is also where people gather for political speeches and demonstrations. When something happens in the Spanish capital, it often happens in the area around Puerta del Sol.
Bargain at El Rastro Flea Market in La Latina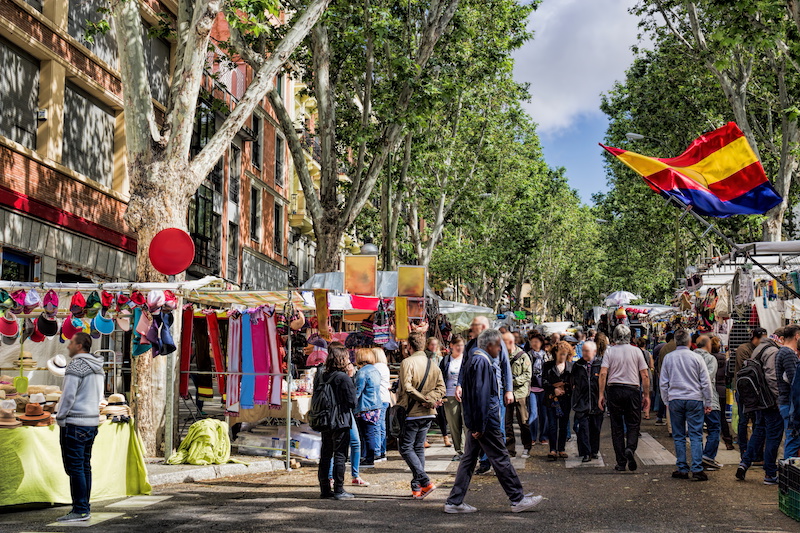 El Rastro flea market in La Latina can be really fun to visit, especially if you enjoy watching crowds or love to bargain. However, it is only open on Sundays, and it is most recommended to go there on Sunday mornings. While the market is on, it can be really crowded, but the crowd is part of the charm of El Rastro. Here you will find hundreds of small stalls selling everything under the sun, everything you can find at a regular market of this kind, but just more of everything.
One can find used clothes for 1 euro, various kinds of leather goods, knick-knacks, shawls, and much more. But there's also a lot of new stuff on the market. It really is a mix. To be able to find the real bargains, you have to be there early and have plenty of patience. However, many come here only to experience the mood and people-watch. On the streets around the market, there are also several good smaller shops selling furniture and antique items. These are open during the weekdays as well.
Be Amazed by the Royal Basilica of San Francisco el Grande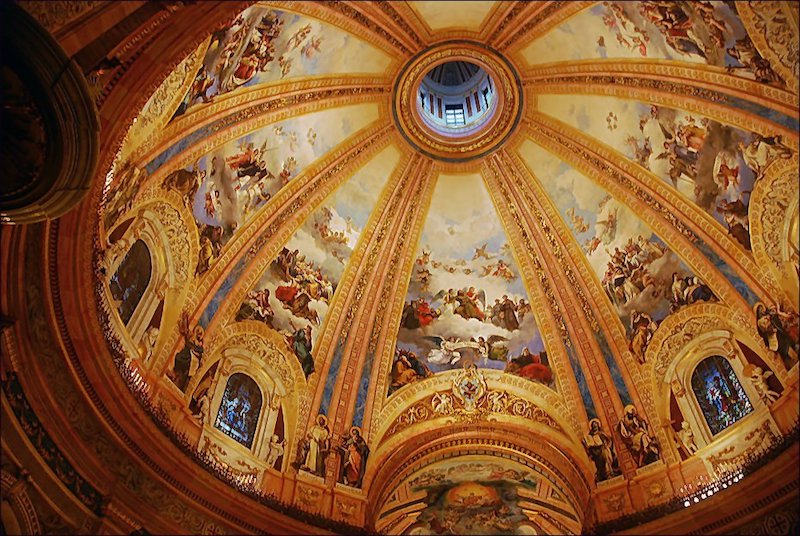 The Royal Basilica of San Francisco el Grande is a very beautiful Catholic Church from the 18th century. The gorgeous dome of the church alone makes the visit well worth it for many. It is 33 metres in diameter and 58 metres high and resembles the dome of the Pantheon in Rome. In Spain, it is the largest of its kind and strikes visitors with awe.
Inside the church, there is plenty of fine art to look at, including paintings by Goya and Zurbaran. For those who really want to learn about the history of the church and its cultural value, there are guided tours with knowledgeable guides for you to book. Just keep in mind you aren't allowed to take pictures inside the cathedral, and you must pay a small entrance fee.
Have Fun with Your Family at Parque de Atracciones de Madrid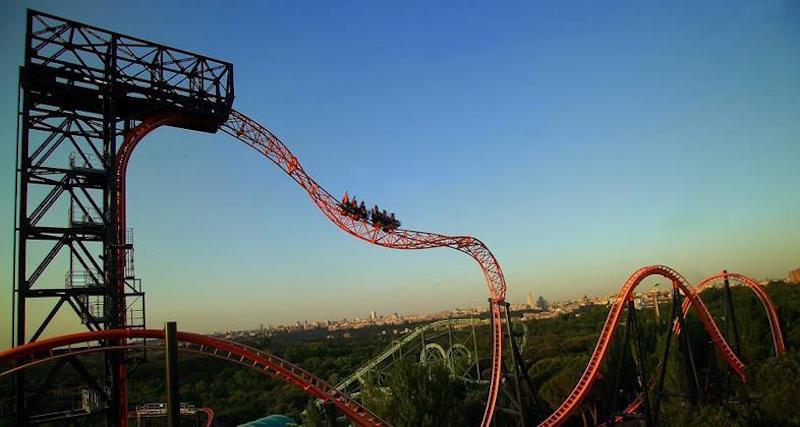 Parque de Atracciones de Madrid is an amusement park suitable for the whole family. There are over 40 different rides, and they have been spread out into five areas with different themes. On the one hand, you can find the usual rides, such as roller coasters, the Viking ship, swing rides and water splash. But there are also unique attractions you will not find anywhere else. Among other things, there is an area entirely dedicated to children's favourite characters from Nickelodeon.
For smaller children, there is also plenty to do with bumper cars, merry-go-rounds and a mini roller coaster. If you pay a little extra, you can cut in line to avoid the long queues. You can easily get here by Metro; the park is right next to Batan station. In the park, you will also find everything you'd expect when it comes to restaurants and cafes.
Enjoy the Greenery and Beautiful Flowers in the Royal Botanical Garden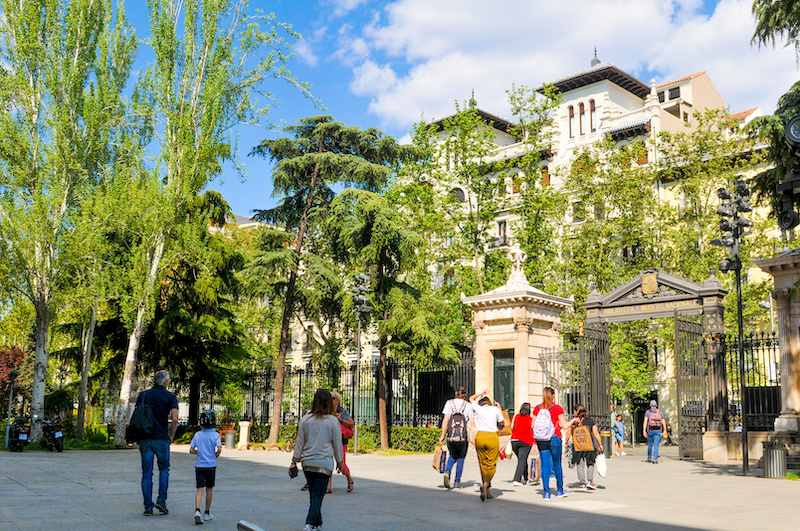 The Royal Botanical Garden (Real Jardin Botánico) is located quite close to the Prado Museum. The garden was moved to its current location in 1781, and since then, one of Europe's most impressive collections of different plants and flowers has been created there. The park itself is more than 8 hectares, and there are about 5,000 different plant species here.
The Botanical Garden of Madrid was instrumental in introducing the flower Dahlia to Europe after it was exported from its homeland Mexico. From here, seeds were sent to England, France and Italy in the early 19th century and ever since then, the Dahlia has been one of our most popular ornamental plants. The Botanical Garden of Madrid has been central to spreading knowledge and teaching about plants, including supporting expeditions to discover new species. Inside the park, you can see a triumphal arch erected in the honour of Charles III.
Enjoy the Best of Spanish Sweets at Chocolatería San Ginés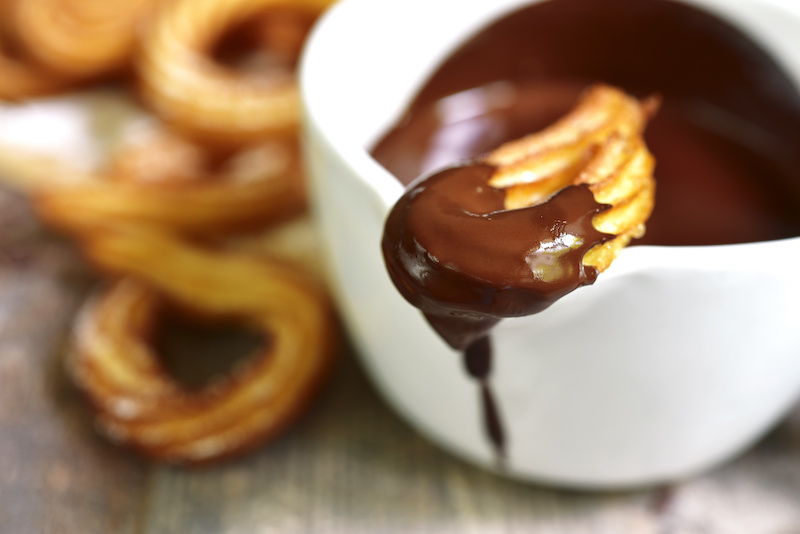 The Chocolatería San Ginés has served hot chocolate and churros to visitors with a sweet tooth since 1894. They still attract quite the crowd. You can also drink delicious coffee here and try a wide range of delicious cakes. But the vast majority of visitors come here for the chocolate and to experience a part of Spanish history. No matter what you choose, it's an unforgettable experience to have coffee at a cafe with such a huge turnover of customers.
The waiters are both quick as lightning and very skilled, which is truly needed there. The chocolate is typically Spanish, thick and dark. Churros are a kind of deep-fried dough cake, much like oblong Donuts. You will enjoy them the most by dipping them in the chocolate. The portion can be quite big for one person, so if you're not that hungry, you can always order one serving and share it with a friend.
Photograph the Beautiful Puerta de Alcalá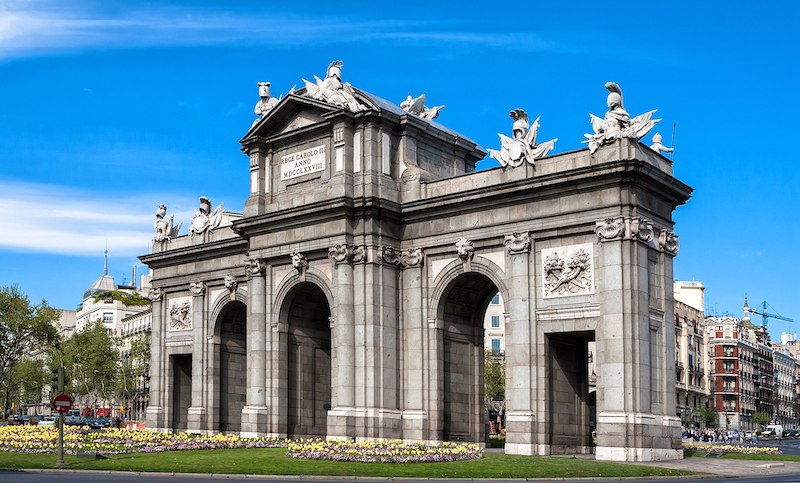 The Puerta de Alcalá is an ancient monument that stands near the entrance of El Retiro Park, at the Plaza de la Independencia square. Originally it was a city gate built in the late 18th century, and this was the road to the street named Alcalá. Previously, there was a smaller gate here that King Charles III replaced with the current one. It is a lovely monument with three larger arches and two smaller gates.
If you can plan a visit in the evening, the monument will show its full splendour, as it's illuminated in a beautiful way that lets you take impressive pictures and enjoy the lovely atmosphere. Apart from that, there are several nice cafes around the park. And nearby, there are also several opportunities to rent a bicycle and explore the area around the park from the bike seat.
See the City From Above with Teleférico de Madrid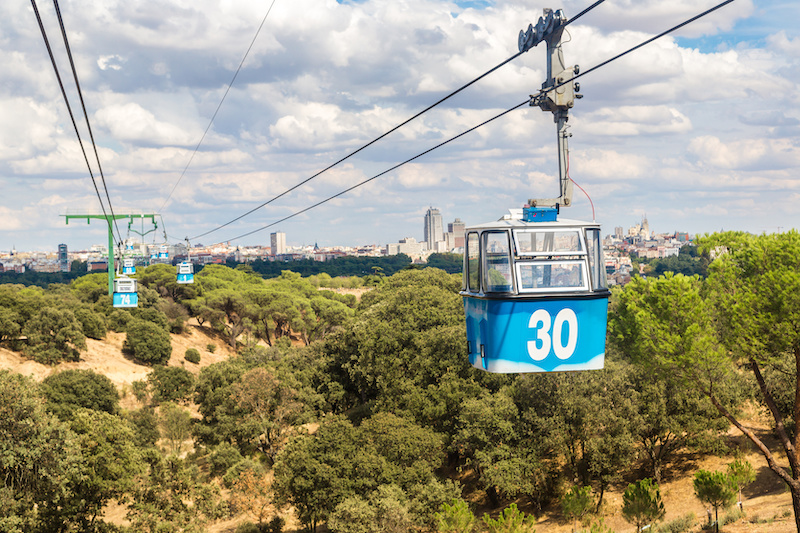 Teleférico de Madrid is the name of the city's cable car where you ride in a comfortable cabin between the Paseo del Pintor Rosales Street near Argüelles metro station all the way to the Casa de Campo Park. It is a unique way of getting to see many of the other sights in Madrid from a new perspective, and it's an excellent opportunity to enjoy stunning panoramic views and take amazing pictures.
It is possible to purchase both one-way or round-trip tickets, and the journey one way takes about 10 minutes. At its highest, you are about 40 metres above the ground. Once in the park, you can enjoy a nice view and eat or drink something delicious at one of the restaurants near the cable car station.
Eat Like Ernest Hemingway at Sobrino de Botín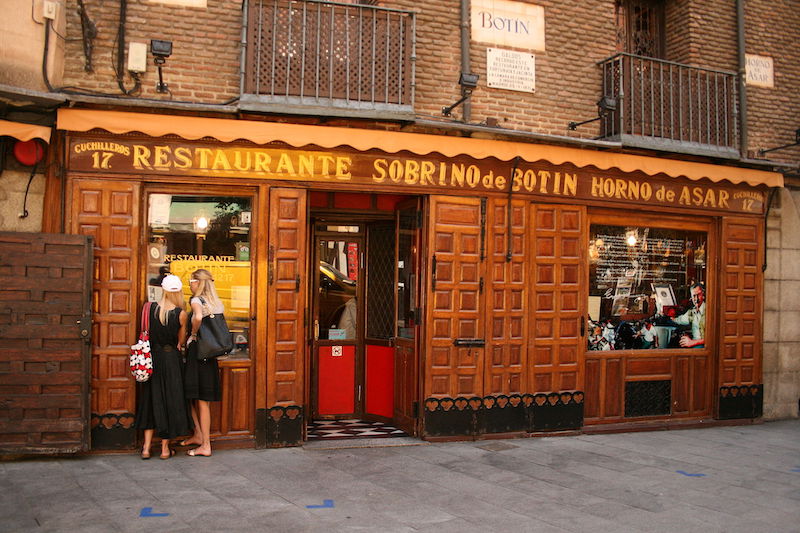 Sobrino de Botín is one of the world's oldest restaurants. It was opened in 1725 and is a very popular place for fine dining in Madrid. The food has a good reputation, and their most famous speciality is the roasted suckling pig. It is said that this was Ernest Hemingway's favourite dish, and he mentions it in his book "The Sun Also Rises". Other celebrities who used to eat here include Goya, who worked as a waiter here before his breakthrough and Graham Greene.
You get a full dinner for two for around 100 euros, which is not bad at all. This is, however, a place to go primarily for the experience of eating in a restaurant with such a history. It can often be crowded, and you should book a table well in advance if you want to be sure not to miss out on Sobrino de Botín during your Madrid visit.
Visit "the Jungle" at Madrid Train Station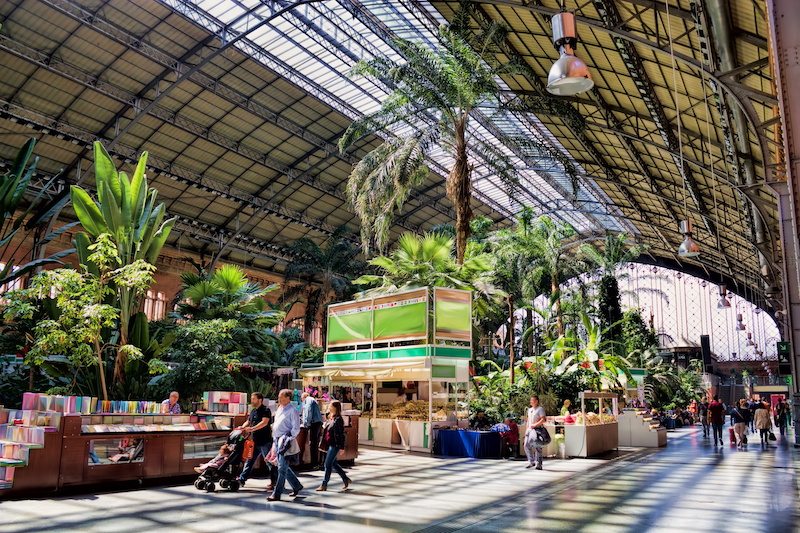 A train station is usually not considered a tourist sight in itself. But at the central station Atocha in Madrid, you can see something you will be guaranteed not to have seen at any other station. Here you will find a whole jungle! The architect Rafael Moneo decided, when it was time to renovate the station, to decorate it with a huge greenhouse of 4000 square metres.
In this artificial indoor jungle, you will find a large number of plant species and even fish and turtles. This makes the train station well worth a visit even if you are not coming or going by train. If you have a train to catch, just make sure not to lose track of time and get lost in the jungle.
Take a Day Trip to the Castle El Escorial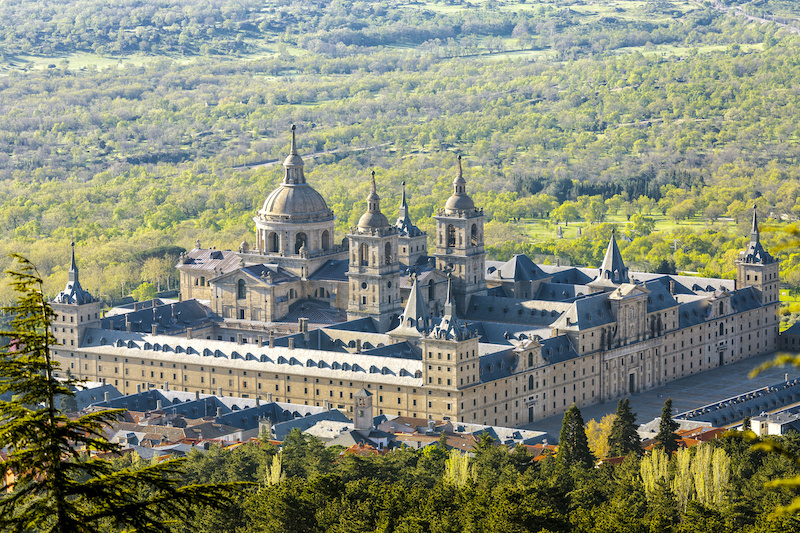 About 45 km northwest of Madrid, you will find the magnificent Royal Site of San Lorenzo de El Escorial, which is one of the most popular day trips you can take during a visit to Madrid. The castle was built during the reign of King Philip II and was completed in 1584. Exactly 400 years later, in 1984, the castle was designed as a World Heritage Site by UNESCO.
Here you can wander through several large halls and a mausoleum where many Spanish monarchs are buried. There is also a beautiful library and a large garden. This is one of Europe's most impressive castles, fully comparable to the Palace of Versailles, and one should definitely spend a full day on a visit to El Escorial. You can book buses or private cars to get there from Madrid.
Visit the Museum of Ham
Museo del Jamón (Carrera de San Jerónimo 6) is perhaps not so much a museum as it is a tribute to all sorts of hams, cheeses and sausages that Madrid has to offer. Everything hangs on hooks on the walls and from ceilings or rests high on the shelves.
The Museo del Jamón is a classic bar and shop in the old-fashioned setting that simply specialises in ham. If you love cold cuts, sausages and cheese, you cannot miss out on this ham paradise. And whatever you do, don't leave the Museo del Jamón without having tried the world-famous Spanish air-dried ham – jamón serrano.
Go Skiing in Valdesquí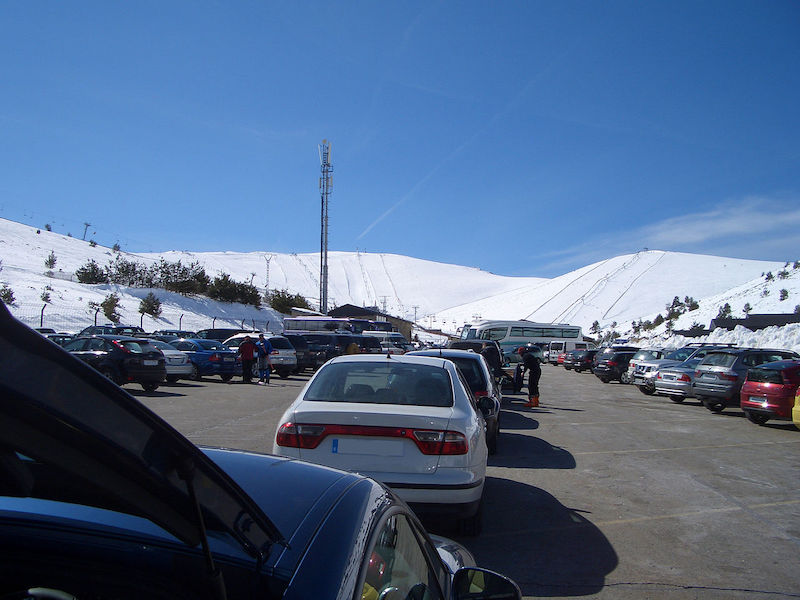 Alpine skiing is perhaps not the first thing you think of when you think about Madrid, but in the mountains surrounding the city, there are several places where you can ski, and the nearest ski resort is called Valdesquí. When the season is right, you can ski or snowboard at a complete facility with 27 different slopes with different levels of difficulty.
Here you will find everything else that belongs to a ski resort, such as hotels, restaurants and bars. For those who want to visit Valdesquí, you can get there by car, or you can go by train to nearby Cotos and then take the bus to the last bit to Valdesquí.
Visit a Cafe in a Convent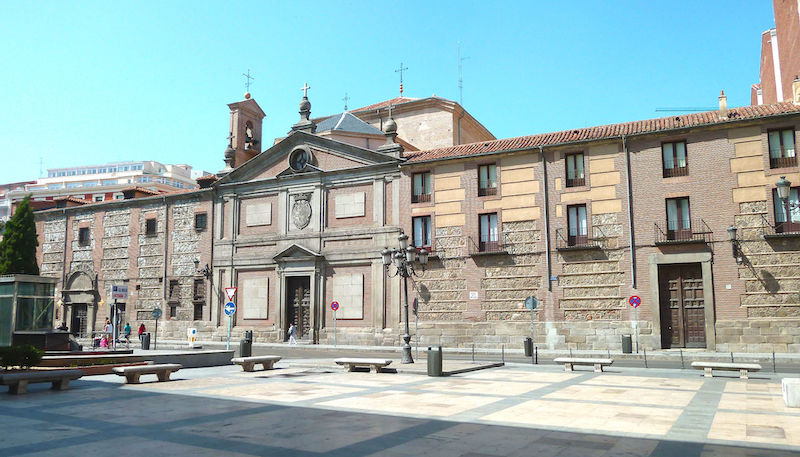 If you are looking for a different experience during your stay in Madrid, we warmly recommend a visit to the wonderful convent "Las Descalzas Reales". The nuns of this historic convent not only engage in godly activities but also happen to be awesome at baking cakes and pastries that taste absolutely divine.
Take a break from the big city noise, beer and tapas plates and enjoy the tranquillity of a lush little convent right in the middle of Madrid. Many locals do not even know that the convent is open to the public, and few tourists have ever set foot in the flowering garden, so here you are guaranteed to be left alone.
Enjoy a Walk in Parque de El Capricho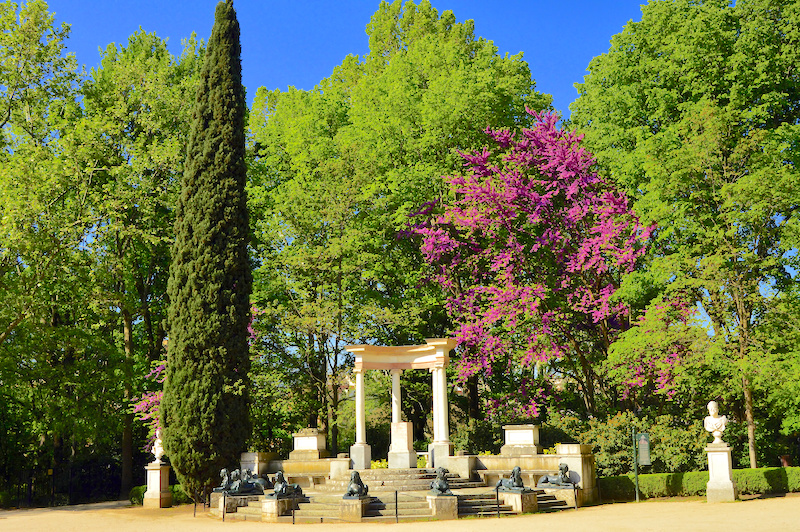 Thanks to the park being slightly outside the city centre, it is not that common for tourists to visit the beautiful Parque de El Capricho. This is undoubtedly one of the finest parks in Madrid, with a combination of French, Italian and English architectural styles. Take a stroll among Greek columns and ruins, a large lake with black swans, a palace, a rose garden and a labyrinth created by well-groomed trees and shrubs.
The Parque de El Capricho was built in the 19th century by Duke Pedro Téllez-Girón as a gift to his wife, the Duchess of Osuna. Unfortunately, the Duchess died before the gardens were completed. The park is open all year round, and during the summer, there are concerts and theatrical performances.
Get a Good Rest in a Real 16th-Century Turkish Bath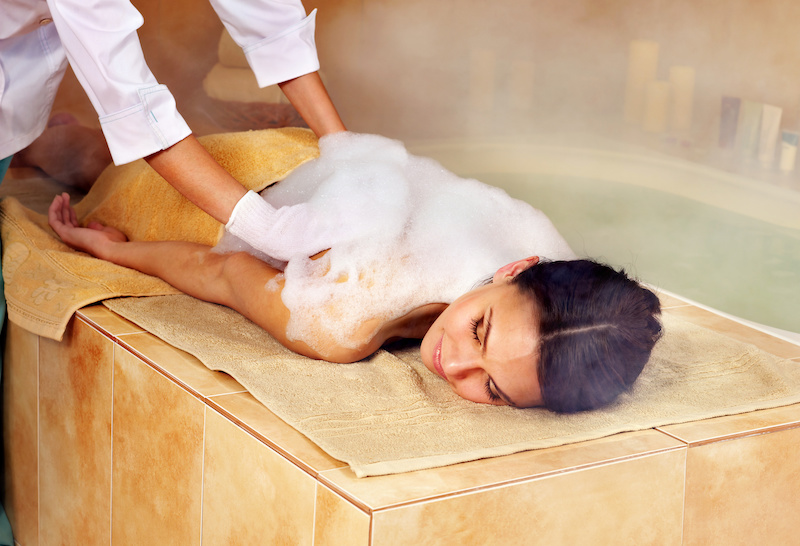 Give your muscles a bit of rest in a lovely warm water pool, take a steam or enjoy a relaxing massage at Hammam Al Andalus. Here you will experience a real Arabic spa built on top of the ruins of a 16th-century hammam. The place is visited frequently by Madrid residents and is therefore relatively inexpensive. Take the opportunity of pampering yourself for a couple of hours, especially after a long day of shopping and sightseeing.
The best idea is to make an appointment in advance via hammamalandalus.com. It's best to visit the place during the holidays, so you can avoid the largest crowds. You will find the Hammam Al Ándalus on Calle de Atocha in central Madrid.
Walk Around the Famous Plaza Mayor
A visit to the famous Plaza Mayor has to appear on the list of the best things to do in Madrid! It is the city's main square, located in the oldest part of the city (the Hapsburg Madrid). As Plaza Mayor has a rich history and is always full of life, it is certainly a great starting point for your walking tour around one of the city's most beautiful districts.
You can watch street musicians and artists making their impressive performances, eat or drink something at multiple restaurants and cafes, buy some souvenirs at time-honoured shops, take a picture with the famous statue of King Philip III, and more. Interestingly, there are many events held in Plaza Mayor, including outdoor concerts, a Christmas market in December or a drum parade on Easter. Remember to check the calendar when you're planning to go there!
See the Home Stadium of Real Madrid – Estadio Santiago Bernabéu
If you are a football fan, and especially a Real Madrid supporter, Estadio Santiago Bernabéu is a must on your list of things to do in Madrid. It has been the home stadium of this team since it was built in 1947. What's more, this is the second-largest stadium in the whole of Spain (with the first one being Camp Nou in Barcelona). It is located in the city centre, about 4 km north of Plaza de Cibeles. Its capacity is really impressive – as many as 81,044 people can sit there and watch the game.
Things to Do in Madrid, Spain – Conclusion
As you can see, there are many things to do in Madrid – you can visit lots of places, such as Buen Retiro Park, Chocolatería San Ginés, Royal Basilica of San Francisco el Grande or Palacio de Cristal. Obviously, these are just a few chosen examples, and the list could go on with such other honourable mentions as Paseo del Prado, Mercado de San Miguel, Madrid's City Hall or Thyssen Bornemisza Museum.
No matter if you are into modern art exhibitions, stunning views, or just sitting in cafes and enjoying local foods and drinks, you will certainly find something to do in Madrid. A place worth taking into consideration in your travelling plans!
Hello! I am Axel, tripplo.com's travel tips expert, travel savings expert and founder. It's me who publish and update most of the content and discounts on tripplo.com!