Travel in time to Roman gladiator games at the Colosseum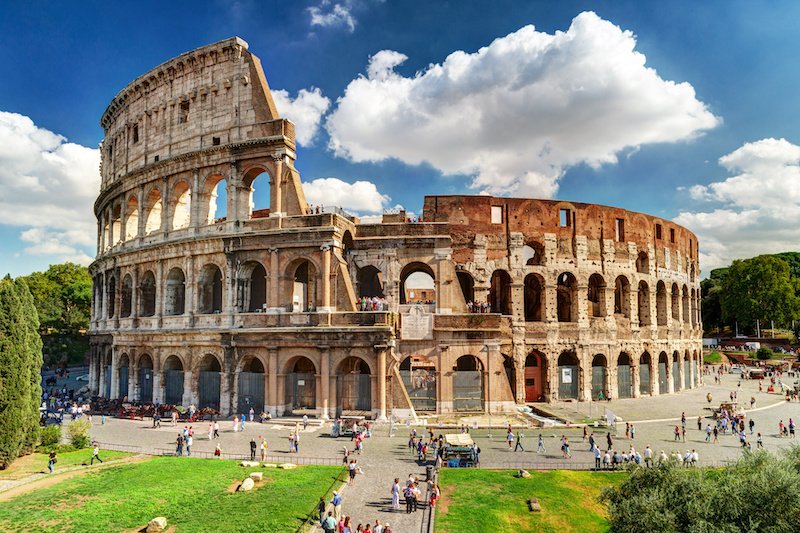 The Colosseum is one of Rome's most famous historical landmarks. The mighty arena was put into operation in the year 80 A.D., and in addition to the famous gladiator games, it was used for theatre, recreating famous battles and public executions. The Colosseum is very well preserved and when you walk around it is easy to imagine what it must have been like when the arena was filled with 65,000 Romans, eager for entertainment. At that time, there were four floors with the most expensive places for the rich at the bottom, while the lower classes of society were referred to the cheaper seats further up. Nowadays there is an exhibition that helps visitors see what the arena looked like when it was in use. The possibility to go on a guided tour is available, alternatively you can settle for a guidebook and explore the Colosseum at your own pace.
Ride the breathtaking roller coaster at the Rainbow Magic land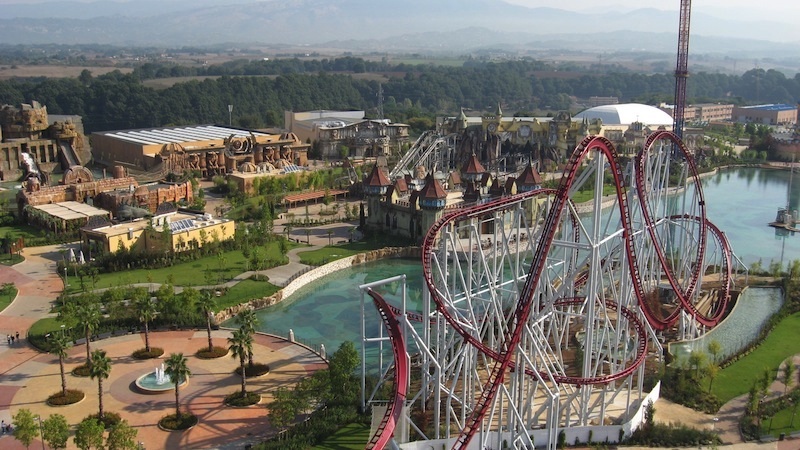 The Rainbow Magic land is an amusement park located a bit outside Rome in Valmontone. You can take their own special buses from the city center, but you can also get there by regular trains and buses. It's full of various rides and activities for all ages. The roller coaster is absolutely amazing, but only for the really brave. Younger children can visit the cartoon characters from Winx in their fairy castle, and even get an autograph. You can also participate in a sea battle with ten boats that have water cannons. The fact is that one day is not enough to see and do everything, so you should plan what you want to spend time on. For those who want to spend several days in the amusement park, there are combination tickets that include both entrance to the park and overnight stay in hotels.
See the mighty St. Peter's Basilica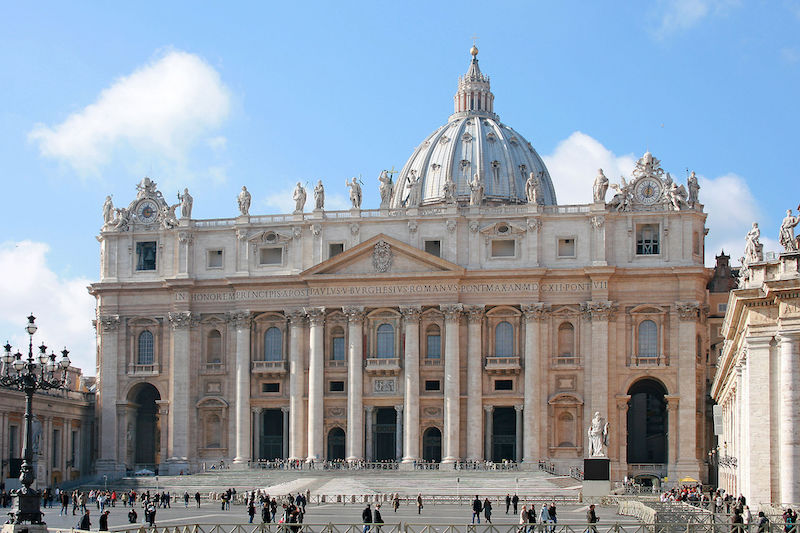 The St. Peter's Basilica is one of the main attractions of Rome and the largest building in the Vatican. It is one of the most important locations for the catholic church. Here Peter, the Apostle, is said to be buried, and also the remains of the first pope. In addition to this, the church contains large amounts of paintings and statues by Italian masters such as Bernini and Michelangelo. The church is estimated to hold up to 60,000 visitors. When visiting St. Peter's Basilica, you can also take the stairs up the church tower and enjoy a fantastic view of Rome. When planning a visit, it is important not to wear shorts or have bare shoulders. Experiencing the Vatican is something no one should miss when you are in Rome and St. Peter's Basilica is one of the main reasons for this.
Let your children play and learn at Explora museum
The Explora museum is an interactive museum that focuses on teaching how the world works to children. Here they can plant carrots (in plastic) and see the different steps of development all the way to the supermarket. In the bank you can print money that you then use to shop in the store. You can see how it feels to be nearsighted, farsighted and astigmatic - with your own eyes. And much more that allows children (and adults) to touch and learn how things work. There are also workshops with special themes where children can participate in activities. On Saturdays you must book in advance. Taking your children to Explora is a way to let them have fun while they are guaranteed to learn something new.
Take a stroll among the animals in Bioparco
Bioparco is Rome's largest zoo. It is in a fairly central location, with plenty of options for getting here. Here you can see all the large animals that you expect to find in a zoo, such as elephants, lions and giraffes. At certain times you can watch the feeding of the animals. In total, there are about 200 different species of animals. In the butterfly house you walk through a tropical jungle full of colorful butterflies. There is also a new, special area for the world's largest lizards - Komodo dragons. These imposing animals are found only at a few zoos in Europe. Periodically there are also special activities, mainly for children. It is a very nice park to stroll around in, full of trees and flowers. You can buy ice cream and food in restaurants or eat your own packed lunch, there are tables and benches.
Bathe all day at Hydromania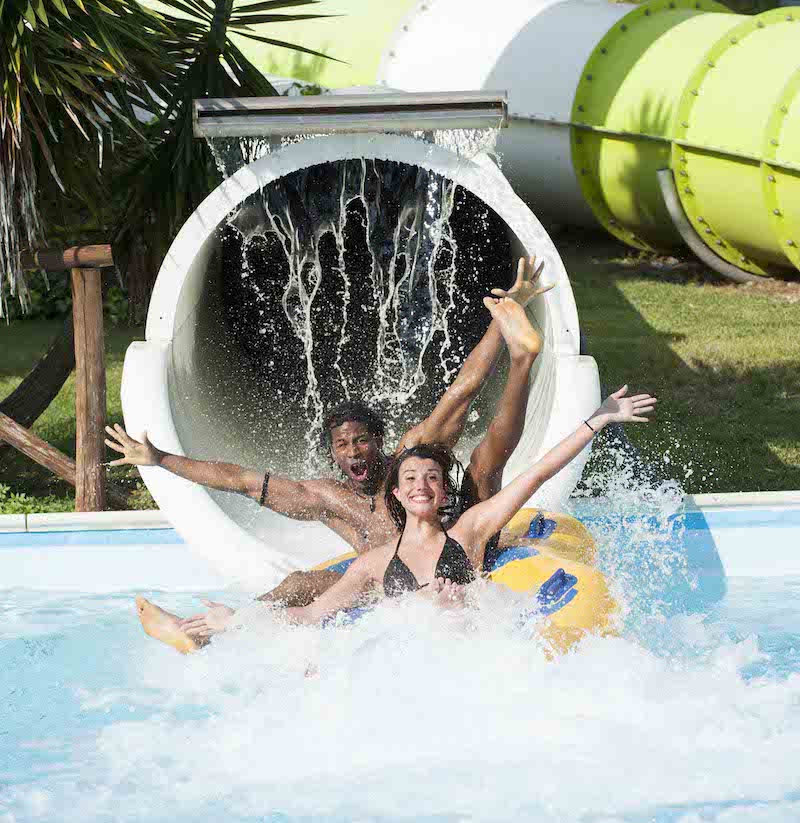 Hydromania is a very large water park located close to Rome. You can take their own bus that runs from Piazza della Repubblica or you can take the metro and bus. Children shorter than 1 meter do not pay entry, and you can also choose the half-day price. The park is full of pools and water slides of different sizes. During the holiday season, the lines for the slides can be quite long, especially on weekends. At the entrance there are lockers for keeping your valuables safe. Around the area there are small restaurants or kiosks where you can eat. You can book a package for hotel and park in one, but most choose to visit Hydromania only for the day.
Walk on Rome's oldest road Appia Antica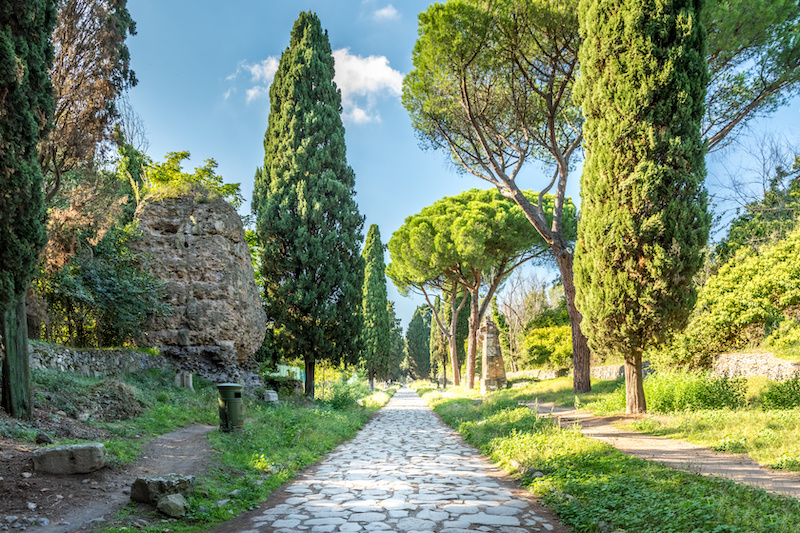 Appian Way Regional Park is a large, protected park of 3,400 hectares. Part of the park consists of the ancient road Via Appia Antica, which is over 2,000 years old. Here you can walk, ride a bike or even take the car. It's a special feeling to walk on such an ancient road. You can easily get here by public transport, there is a bus from the Piramide or Colle Albani metro stations. The best day to visit Via Appia Antica is on Sundays, when the road is off-limits for car traffic. You can also visit various museums and churches. One of the most famous is the Church of St. Sebastiano and its ancient catacombs.
See the life-like wax dolls at the Museo delle Cere (The Wax Museum)
The Museo delle Cere (The Wax Museum) is an interesting place to spend an afternoon. It is the third largest in Europe and was opened as early as the 1950s. Among the models, you will find people like Napoleon Bonaparte, Barack Obama, Pavarotti, Brad Pitt and Francesco Totti. Some are wearing their original clothing. You can also see how these wax figures are made. It is interesting to see all the work that is put into getting these sculptures looking so much like their living models. The museum is divided into various halls with themes - actors, musicians, popes, history, and so on. Although much focus is on famous Italian people, both contemporary and historical, there are also many international wax figures. The wax museum is in the vicinity of Piazza Venezia in central Rome. It is open every day between 9 am and 9 pm.
See the famous paintings of Michelangelo at the Vatican Museums and the Sistine Chapel
The Vatican Museums and the Sistine Chapel are places to spend a lot of time in, they are full of art and history. The chapel is the pope's own private chapel, and it was built in the 15th century. Here you can see Michelangelo's famous ceiling and wall paintings of Creation, which took him almost five years to paint, and The Last Judgment which he painted 20 years later. If you bring a mirror, it's easier to see the paintings on the ceiling. The lines can be quite long, which you can avoid if you buy your ticket online. The Vatican Museums are a collection of different museums connected to the Catholic Church but also historical museums about life in the Vatican and Rome in the Middle Ages. There are several packages with guided tours you can book if you want to visit the Sistine Chapel and some of the Vatican Museums. It may be worth checking if there is any day with a free entry to take advantage of as these happen from time to time.
Are you looking for a nice hotel to stay at while visiting Rome? To get the best price you should check out or page with hotels.com discounts and deals.
Relax in the lovely Villa Borghese
Villa Borghese is a beautiful old park located almost in the middle of Rome. Both buses and metro travel here. Inside the area you can walk, rent bikes and Segway, or simply sit and enjoy the surroundings. The large pine trees provide shade, something you might need during the Italian summer. In the larger lake you can rent a rowing boat. This is a place where the Romans themselves come to take a break from traffic jams and stress. Despite this, it never feels full, the park is so large that there is plenty of room to find a quiet place. Here you will also find Villa Giulia where you can see the fantastic Etruscan exhibition, as well as other museums. It may pay to book in advance online for those who really want to visit any of these museums, but a spontaneous visit is also nice.
Visit the Pantheon - one of the world's most famous temples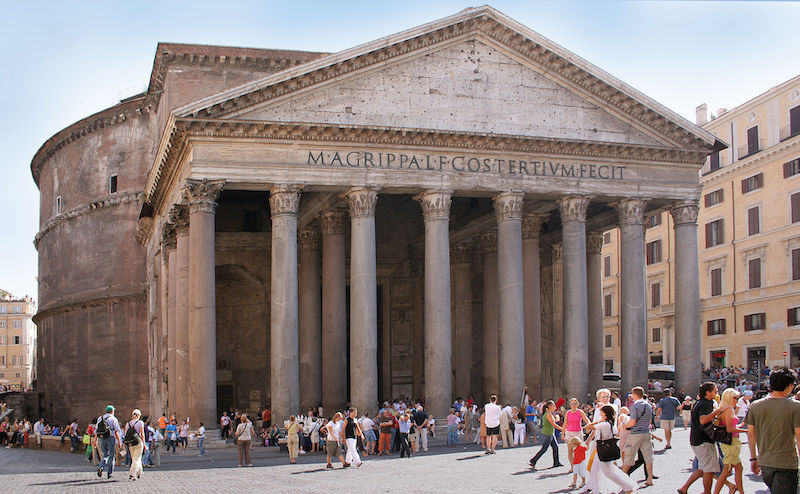 The Pantheon is a must when you're in Rome. It was initially a small temple dedicated to all the gods of Roman mythology and was built almost 2,000 years ago. Like many other old buildings, it has been renovated and rebuilt several times, mainly by Emperor Hadrian in the year 126 A.D. It has been said that the Pantheon was drawn by angels, not men, because it is considered too beautiful to be built by mortals. The huge dome is very impressive, it is the largest masonry dome in the world. This is very impressive given how old it is. It is also one of the world's best-preserved monuments. The reason the Pantheon is so well preserved is that it has always been in use, although in the 6th century it was converted from Roman temple to Catholic Church.
Experience movie history at the Trevi Fountain
Located in the heart of Rome, the Trevi Fountain is a large beautiful fountain. It was designed by Nicola Salvi and was completed in 1762. It depicts the sea god Oceanus with his Tritons. On the sides there are, among other things, sculptures of Abundance and Health. The fountain became very famous when Anita Ekberg bathed in it in the movie La Dolce Vita (1960) and it has appeared in many other Italian films and songs. Tradition says that if you turn your back to the fountain and throw in a coin, you can make a wish. It is estimated that on a regular day, about 3000 euros are thrown into the fountain in this way. During the holiday season there can be quite a lot of people here, but it is well worth a visit. If you can also come back in the evening, the whole fountain is illuminated in a very beautiful way.
Enjoy organic fun in Treja Adventure Park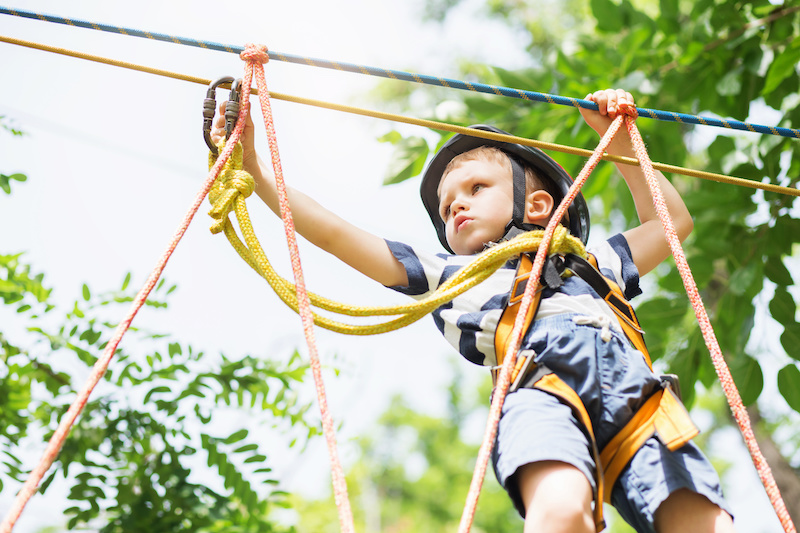 The Treja Adventure Park is the largest adventure park in Lazio and completely eco-friendly. You don't do anything that destroys nature, even though you do climb both up and down the trees. There are trails and activities for all ages, from the very smallest and up to adults. Here the whole family can have an amazing, active day. The park is a fun alternative to traditional amusement parks for those who like outdoor activities. During the summer holidays (June 6 to September 7), the park is open every day, otherwise only Saturdays and Sundays. December to February, the park is closed. It costs nothing to enter the park, and you can eat your own packed lunch. For the various activities you pay separately. To get here from central Rome, you should preferably have a car, but you can also take a bus.
Experience the history of Rome at Castel Sant'angelo
Castel Sant'angelo is located right on the Tiber River in Rome. It was originally built by Emperor Hadrian as a mausoleum for him and his family, around 123 A.D. Later on, the impressive building was used as a papal residence, fortress and prison, while today it is a museum. Here you can see all its interesting history presented. There are ancient paintings and earthenware, antique weapons and much more. You can go up to the top of the castle and see the amazing view and then have a cup of coffee there. It really pays to take an audio guide; you can even listen to it several people at once. As you enter, you gradually go up, there are several floors and lots of different rooms and corners to explore. For anyone interested in Roman history, Castel Sant'angelo is a must.
Experience the daily life of ancient Rome at the Roman Forum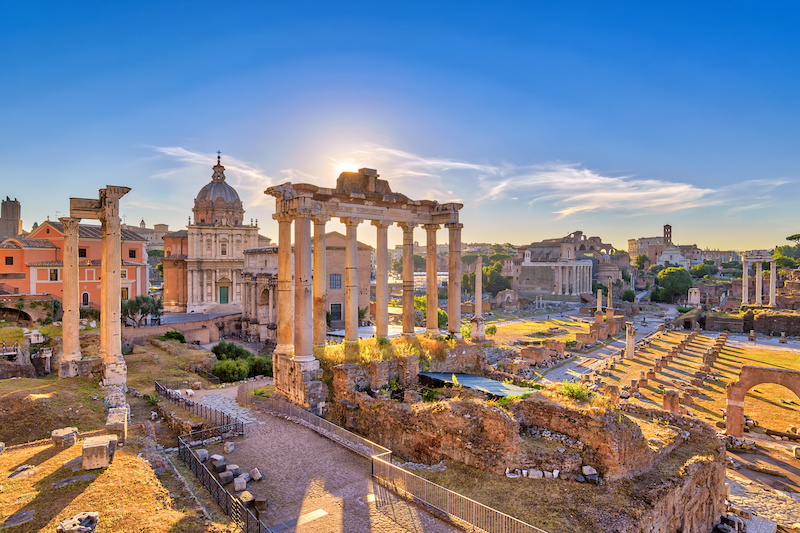 The Roman Forum is located right next to the Colosseum and usually the same ticket can be used for both. This is a huge excavation of ancient Rome, the market square and the public space of Rome. It was here that the main buildings were located, such as the royal palace and the temple of Vesta. Many ruins have been identified, and a great deal has been preserved. Here, too, it is important to either take a guided tour or have a good guidebook with you, as there's plenty to see. Around here, there are also other forums, or marketplaces, but the Roman forum, or Forum Romanum is the largest. Nearby is also the Forum museum where you can see a replica of what the Forum looked like once upon a time. The Roman Forum gives an insight into what day-to-day life of ancient Rome looked like in a way that other monuments cannot.
Take a day of bathing and relaxation at lovely Zoomarine
Zoomarine is a nice water park located a little outside Rome towards the sea. There are buses that go here if you don't have your own car. Here you can calmly spend a whole day without stress. There are various swimming pools, and there are also a couple of water slides. All around the park you will find sun loungers and umbrellas, or benches, which you can take advantage of for free. And then there are the various animal shows - dolphins, parrots and other birds, as well as birds of prey. There are also some other animals that you can see on your own. When it's time to eat, there are several small restaurants and cafes where you can get a bite. Around the park there are also various attractions, both for big and small. Zoomarine is an excellent day trip from Rome for those who want to relax after several intense days of sightseeing.
Climb the Spanish Steps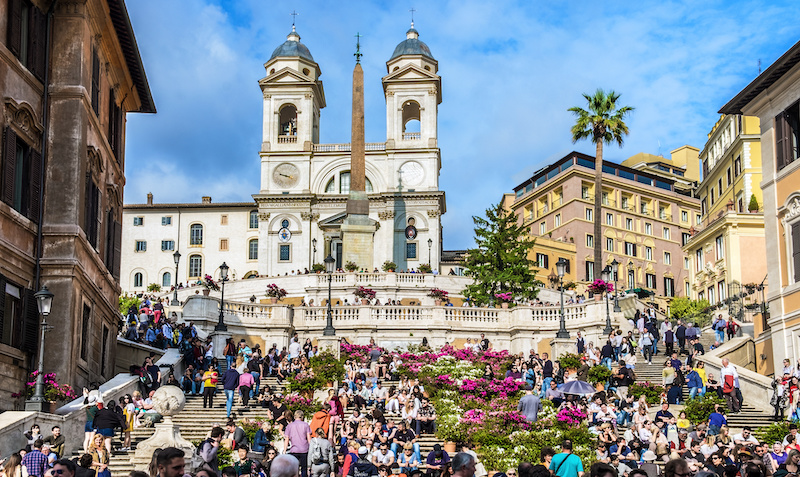 The Spanish Steps are a major tourist attraction, but even the Romans themselves like to come here. Like the Trevi Fountain, the Spanish Steps have been featured in many films and literary works. The long staircase ends in a square where there is a fountain. The staircase is not actually Spanish, it was the French king who donated money to it when it was built in the 18th century. The Square at the base of the stairs is called Piazza De Spagna, and that's most likely from where the name comes. The stairs themselves are very wide and have 138 steps. Both at the top and around the base are nice cafes and restaurants, although prices are quite high in this area. Otherwise, you just sit on a bench and people-watch. All around there are several exclusive stores with several famous brands.
Go to Gladiator School
Going to gladiator school can be an interesting way of spending a day in Rome. Gladiators were an important part of the entertainment in the Colosseum and other smaller arenas. An organization in Rome, the Historic Group of Rome, now organizes gladiator schools where you get to try living the life of a gladiator. They have the same equipment that a gladiator had 2,000 years ago - a tunic, belt and leather gloves. Then you'll get a rudis, a practice sword, in your hand, and can start training. Afterwards, it is possible to participate in a gladiator fight, where you fight other gladiators. For those who don't want to participate, there is a platform where you can watch instead. Gladiator school is a fun role-playing game for those who have seen any of the movies where gladiator games are an important theme.
Experience how a Roman emperor lived at Hadrian's villa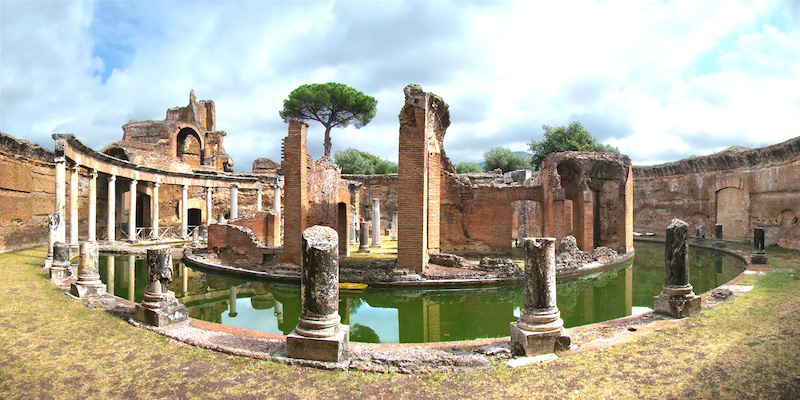 Hadrian's villa is in Tivoli, on the outskirts of Rome. It's a large archaeological excavation that is very interesting to visit. When it was built, around 180 A.D., it was a kind of summer palace for Emperor Hadrian. But Hadrian liked it so well that he spent more and more of his time here and eventually reigned from the palace. The area is large, about a square kilometer and here there were palaces, theater, libraries and much more. All parts have not yet been excavated, but you can see plenty. The palace is absolutely amazing, it is said to be an architectural masterpiece. Lots of art and other objects have also been excavated, these items are shown in, among other places, the Vatican Museums. Hadrian's villa provides a good insight into the luxury and opulence of a Roman emperor.
Relax on the Mediterranean coast at Ostia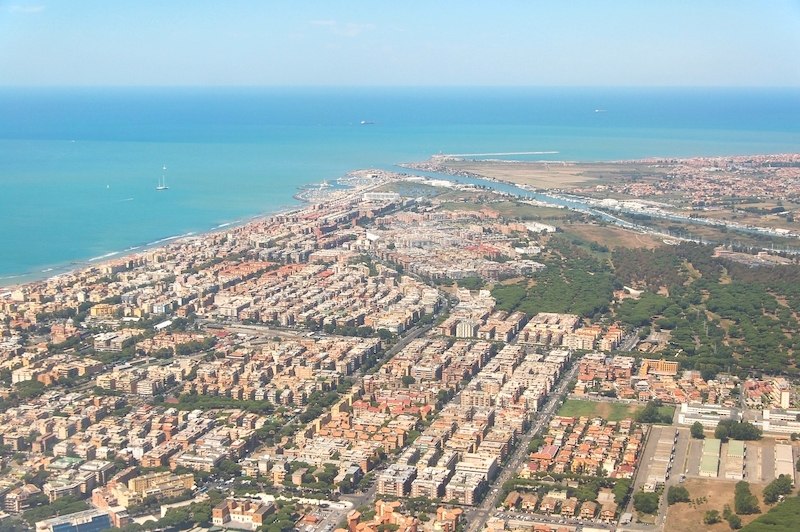 Ostia officially belongs to Rome but is actually a small town right next to the Mediterranean Sea. Here there are several kilometers of lovely sandy beaches where you can swim and relax. Part of the beach is completely free of charge; these public beaches are called Cancello. There are showers, toilets and changing rooms, as well as several places to eat as well as kiosks. There is clean drinking water in a tap, and you can rent sun loungers and beach umbrellas if you wish. Although many come here during the summer days, there is plenty of room because the beaches are so long. A little closer to the city itself there are several establishments with private beaches, one by one on a long line. Here you must pay to get access to the beach, but in return you can enjoy better facilities. It is often cleaner here, since it's private.
Walk around the Quartiere Coppedè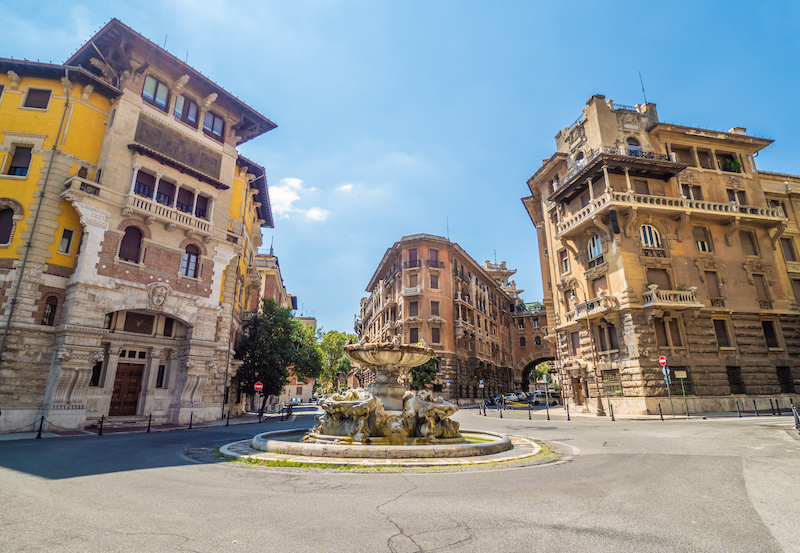 For those who are looking for a less common tourist destination, it is definitely worth making your way to Trieste in the northern part of Rome and visiting the Quartiere Coppedè. This is a whole neighborhood of 31,000 sqm designed by the eccentric architect Coppedè during a ten-year period up until his death in 1927. The architecture of Coppedè is usually included in the style of art nouveau and in the neighborhood you can find a fascinating mix of styles from different periods in time. Influences from the antiquity and the Middle Ages share space with more modern styles in a way that creates a unique kind of mood. Due to its unique design, Quartiere Coppedè has appeared in several films. It's a one-of-a-kind experience to walk around here and visiting the neighborhood is free.
See (the unpleasant) Santa Maria della Concezione Crypts
Santa Maria della Concezione is a Church of the Capuchin order. When they first started using it in 1631, they were ordered to also move the remains of dead monks with them to the new church. Instead of just burying the bones, it was decided to decorate a large crypt under the church with sculptures and decorations entirely made from human bones. In total there are bones from around 4,000 monks here and there are whole crypts completely decorated with skulls and one with hip bones. The idea of the crypts is that it should remind visitors of their own mortality, and an inscription at the entrance of the crypt reads "What you are now, we once were; what we are now, you shall be". The Santa Maria della Concezione is a one-of-a-kind experience to see and can make the more sensitive of you have nightmares.
Walk around the world's first Catacombs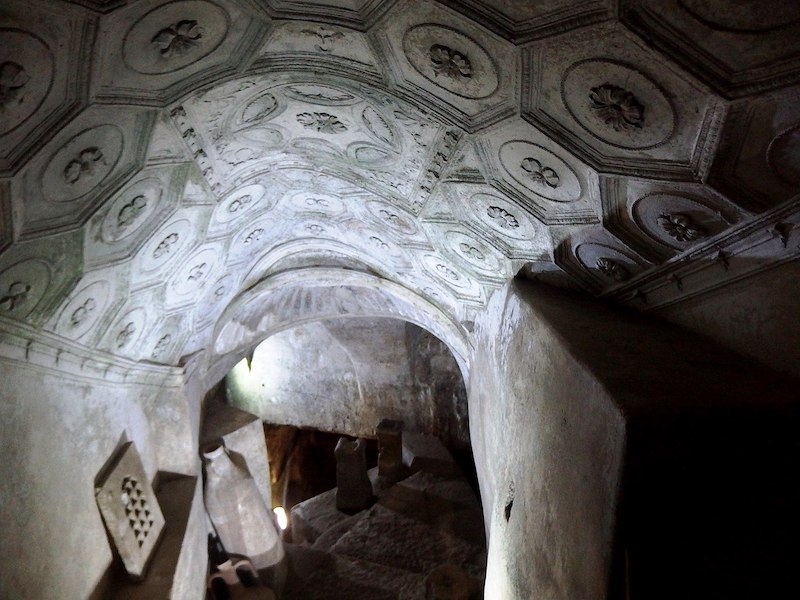 Along the Via Appia Antica, you will find the catacombs of San Sebastiano. Here the saint of St. Sebastian is said to be buried and ever since the 5th century A.D., the catacombs have been used for funerals. In fact, this was where the word "catacombs" was first used to describe Christian burial chambers. In the Basilica here there are several holy catholic relics including the arrow that is said to have killed St. Sebastian. Here you will also find marble footsteps that are believed to have belonged to Jesus from his walk along Via Appia Antica on his way to Rome. Even if you are not a Christian yourself, these catacombs are a moving place to visit and one can easily combine a visit to the catacombs with exploring the rest of the park around Via Appia Antica.
Go to the flea market at Porta Portese on a Sunday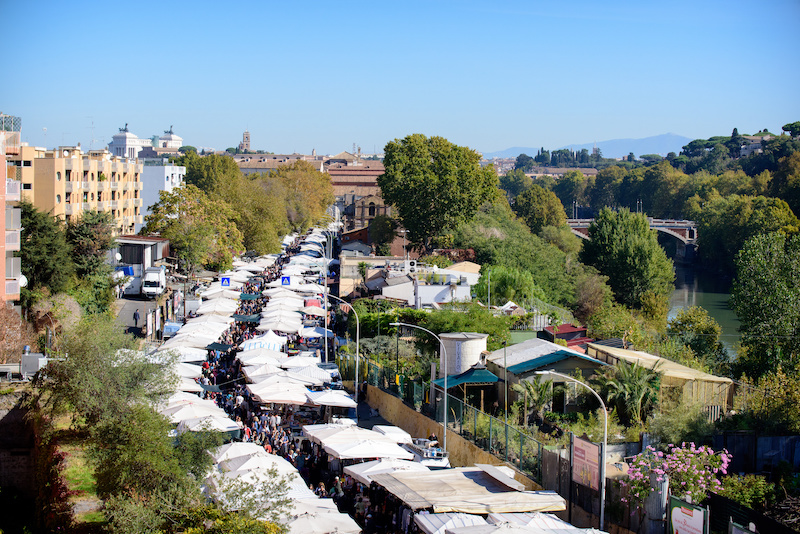 If you have time left over on a Sunday in Rome and like bargaining, the flea market at Porta Portese is well worth a visit. The market is only open on Sundays and is close to two kilometers long. There are several restaurants and coffee shops to sit down and rest at in case you need to take a break. At the market you can find a lot of cheap stuff. There are a lot of souvenirs and mass-produced gadgets but the closer to the Trastevere center you get, the more unique and interesting stands you will find. Here you will find clothes, old comic books, toys and many interesting gadgets. Most of it usually goes for 1-2 euros.
Shop away at Galleria Commerciale Porta di Roma
12 kilometers northeast, Galleria Commerciale Porta di Roma is one of Europe's largest and most modern shopping centers. Spread out over two floors and 72 000 sqm you will find over 230 shops and all the major international brands are represented. Of course, there are also plenty of restaurants, cafes and even a cinema here. There are several smaller shopping centers in Rome but for those who want to go on a major shopping trip, Porta di Roma is the obvious choice. It is possible to get here by car or bus from downtown Rome. If you arrive by car there are over 7,000 parking spaces.
Go on a thrilling evening tour
Explore Rome's darkest and most dire places during a single sightseeing tour. The catacombs, the tunnels under the Church of San Clemente, the chilling Bone Chapel (also known as the Capuchin Crypt). All the eerie hotspots are included and if you want to see them all in one and the same trip you can book a guided tour starting at sunset. When darkness falls you will follow your guide over gloomy squares, past haunted houses and into the former homes of infamous murderers. Learn more about Rome's terrifying history in a nerve-racking environment that you will not soon forget.
Visit the beautiful Chiesa di Santa Brigida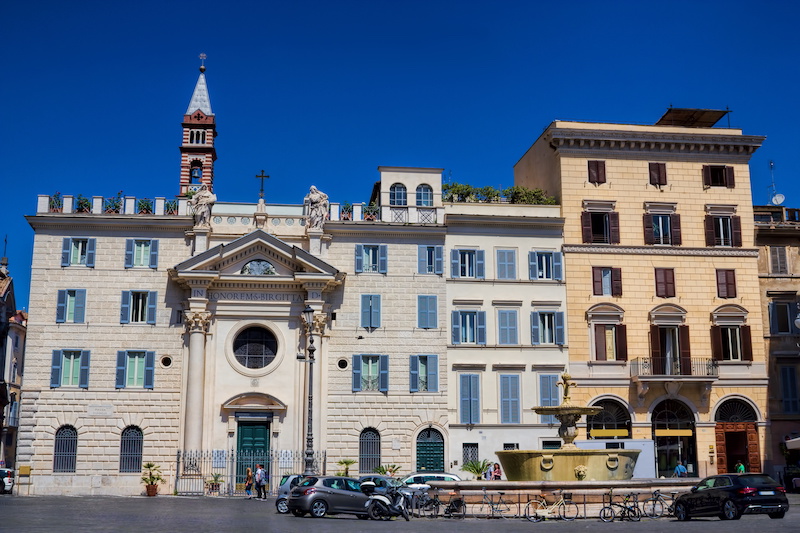 Chiesa di Santa Brigida is a grand building in downtown Rome, where Saint Bridget lived from 1353 until her death in 1373. Today, this medieval palace is partly a convent and partly a hotel run by the nuns themselves. The top floor houses the St. Bridget Museum and a small chapel. It was also here that Bridget lived and studied. Her deathbed is still to be seen and also medieval garb that is said to have belonged to the saint. Chiesa di Santa Brigida is at Piazza Farnese in the historic district (Centro Storico). One night in a double room costs about €200, so a one-day visit to the museum is usually enough for most visitors.
Gorge yourself on delicious Italian home cooking at Eataly
If you are interested in food and are planning to go to Rome (or are already there), you must not miss the Eataly food Palace, a three-story department store full of food stores, taverns, cafes and bars serving classic Italian cuisine. A dream come true for all foodies! The building was previously a station, so the location is not the most central. Take the Piramide metro from downtown and you will be there in about 20 minutes. Eataly in Rome is strangely enough not the original, but the fifteenth in a chain that was started in Turin. However, it is so far the largest of all the Eataly sites in Italy and New York. Eataly is located at Air Terminal Ostiense, Piazzale XII Ottobre 1492.
Shop away at Via Cola di Rienzo
Not as famous and far from as popular as Via del Corso but well worth a visit. Via Cola di Rienzo is the main street that cuts through Rome's commercial Prati quarter and is considered one of the best streets for a relaxing bit of shopping in the city. There will be a lot less people here than on Via del Corso, but you will still find a good mix of Italian and international brand stores. Wander through an impressive range of fashion stores, department stores, cafes, restaurants, bars and deli shops.
Visit the beautiful Rose Garden Roseto Comunale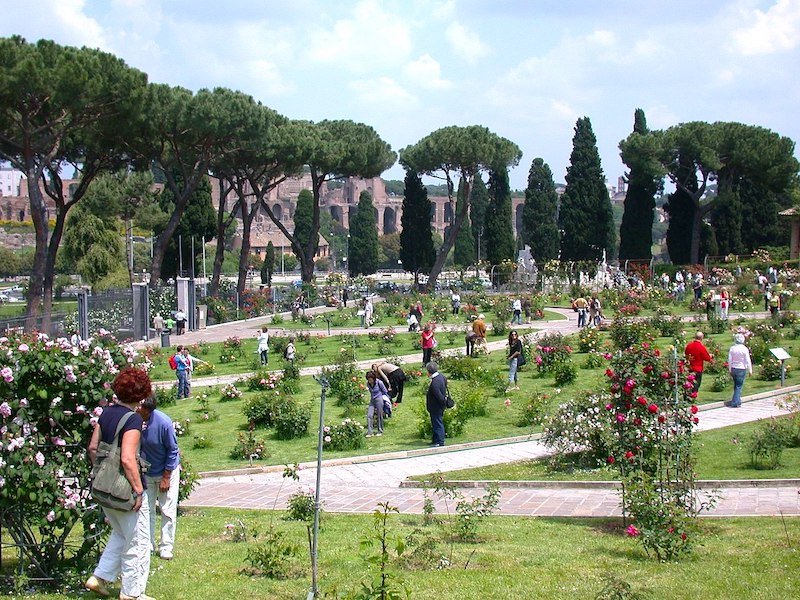 Next to Circo Massimo, at the foot of the Palatine Hill, you will find one of the most romantic gardens in all of Rome. Here you can see close to 1100 different species of roses. The garden is only open during the spring, when the roses bloom and the garden is filled with lovely scents. Admission is free, both for locals and tourists. The gates to the garden are opened on April 21 (the birthday of the city of Rome) and are open until mid-June. It is a very quiet rose garden, although it is just a short distance from the lively traffic around Circus Maximus.
Enjoy a spectacular view from the Janiculum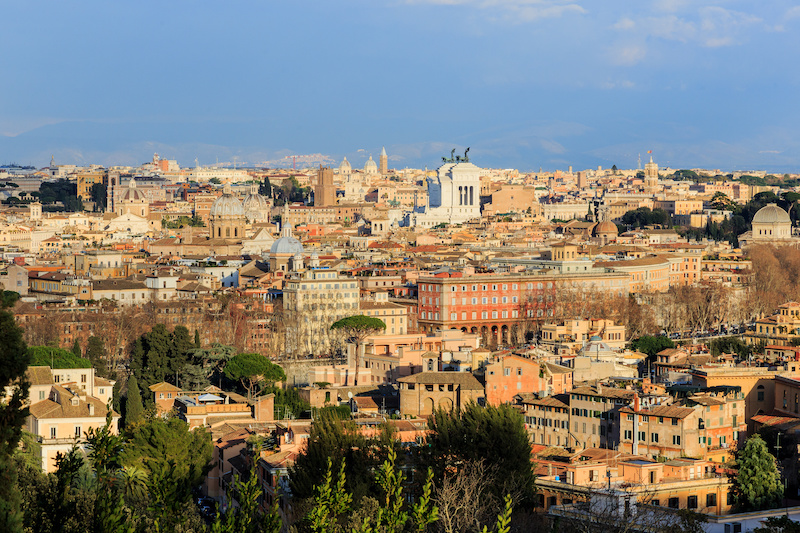 The Janiculum is a hill west of the picturesque Trastevere district. From the top of the hill, you have a stunning view of the city's ruins, monuments, towers and domes. A walk along the Janiculum is a must when you visit Rome. Families with children usually go up here on Sundays when you can see a traditional puppet theatre performance that both children and adults enjoy. At the Janiculum you can also visit the monastery of San Pietro in Montorio, a beautiful renaissance church built for Peter the Apostle, and Fontana dell'aqua Paola, a magnificent fountain erected by Pope Paul V in the late 16th century.
Visit Mercato Esquilino and get a taste of the real Rome
The Esquilino market offers fresh international produce and a rich history that shows Rome's multicultural heritage. This is the real Rome, a melting pot of cultures from near and far. Here you can pick up a lot of goodies for a lovely picnic in the park or sit down and enjoy the scents and the mystery. You will find classic features from Italian cuisine such as artichokes and olives, but also exotic spices and herbs. Here you can try everything from a classic pasta e fagioli to a Moroccan tagine.
Crafts and art exhibitions along Via Margutta
If you are in a mood to make a bargain, you must not miss a visit to Margutta and explore the exquisitely designed crafts, beautiful porcelain and lovely works of art. Via Margutta is not very popular with tourists, which means you get a more genuine sense of the real Rome. Art-interested visitors must not miss this artistic street that is bursting with studios, shops and antiquities that Federico Fellini himself is said to have visited on many occasions. Along the Margutta, the annual Cento Pittori Via Margutta exhibition is also organized, one of Rome's largest art exhibitions.
Different kind of city tour with Walks of Italy
Walks of Italy is a great way to discover Rome on foot. Go on an exciting tour packed with fun information about the city's biggest and best sights under the guidance of knowledgeable tour guides. Walks of Italy offers all the classic tours, but it is also possible to book some more unusual sightseeing. Walk through Rome's historical monuments at dusk and finish the evening with a classic Roman gelato or learn how to cook pasta under the guidance of a Roman chef who will teach you the secret of the perfect spaghetti.
Take a magical bike ride through "the eternal city"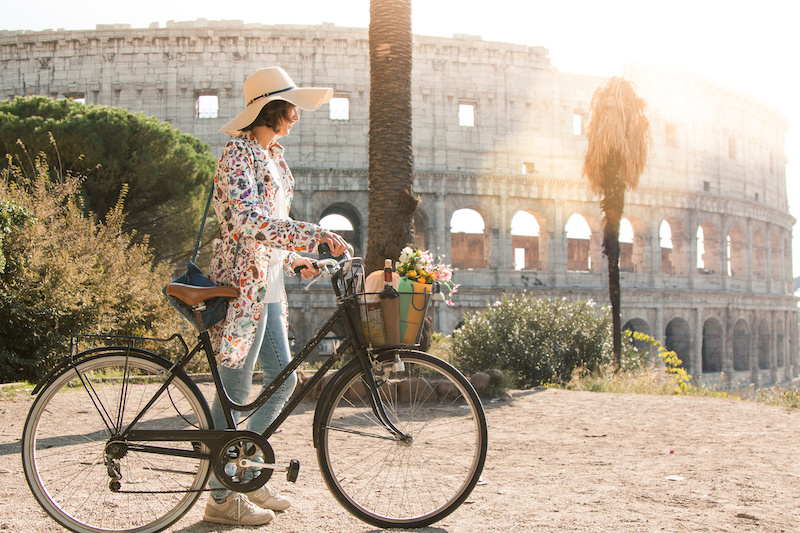 If you don't feel compelled to rent a Vespa in the chaotic Rome, a regular bike is the perfect way to discover this magical city. Head out into the city on your own or book a three-hour sightseeing tour through Rome's historic core. Bike along the beautiful coast of the Tiber, view the ruins and the monuments, peddle around the Colosseum and the Roman Forum, past the cobbled squares and the winding streets of the Jewish ghetto, explore the city's most emblematic districts, such as Trastevere and the Vatican. Rome has 3,000 years of history, so you will surely get to learn a lot about its amazing history, and at the same time burn a few calories.
VIDEO-Five minutes of Rome
Did you like the Rome tips? Then please share this article on Facebook :)