With FloridaTix, you can be 100% sure that you are going to enjoy the holiday of a lifetime in one of Orlando's biggest theme parks. They will take over the planning and ensure you discover every exciting attraction in Orlando, including SeaWorld, Universal Studios, Disney's Magic Kingdom, Epcot, Discovery Cove, and the Animal Kingdom.
If you are planning to visit Orlando, then the best thing you can do is ensure you get entry tickets to the theme parks as early as possible. Keep in mind that it pays to get your tickets in advance because most of the parks are always full throughout the year. Furthermore, you can save a lot of money if you decide to book your entry ticket early. If you stay up to date with the latest offers, you can secure an exciting deal, such as 3 parks for the price of 2, free parking as a bonus, and so much more!
Something for Everyone!
Are you planning to travel with your little ones? No problem because there is something for everyone in magical Orlando. Your kids will be happy to meet some of their movie heroes on a trip to Universal Studios, Wizarding World of Harry Potter, or Walt Disney World.
They will also enjoy swimming with dolphins and doing a lot of other things they have always wished for in their lives. For thrill-seekers, nothing beats the adrenaline-pumping roller coaster at the famous Busch Gardens in Tampa Bay, which is also home to more than 12,000 animals from 300 different species. You can also stick around for the live shows.
Online Guides
FloridaTix wants to make your trip to Florida pretty easy and memorable. This is the primary reason why they have prepared online guides to get you ready for your trip of a lifetime. The blog section of the site has a lot of insider information on how to get the most out of your trip and how to enjoy your tour of magical Orlando to the maximum.
You will find information on which shows to attend, how to find perfect restaurants, and what to do in the theme parks. Everything is written in a simple language to help you understand what you need to do to enjoy your trip to the fullest.
Discover Florida With FloridaTix
When it comes to visiting the Sunshine State, FloridaTix and its sister brand, AttractionTix, provide you with the best possible deals and offers that can make your holiday experience absolutely unforgettable. Below, you'll find a list of locations and experiences in Florida you can book with FloridaTix to save time and money:
Orlando Theme Parks and Tours
Orlando is well known for being the international home of entertainment, since it has more theme parks and attractions than any other city in the world. As such, if you want to see and experience as much as possible, you could use some discounts to avoid overspending.
With FloridaTix, you'll book tickets to theme parks such as Legoland Florida, Universal Studios Orlando, and Walt Disney World Resort Orlando. At each of these parks, you can enjoy the rides, various shows, unique dining options, and shopping outlets. To make your day out even better, look into advanced entry deals, such as Aquatica or Discovery Cove at SeaWorld Orlando, or Wet 'n Wild Orlando at Universal Studios.
Orlando Experiences
If you decide to spend your holiday in Orlando, Florida, you can be sure that your trip will be full of entertaining events. FloridaTix discount codes and special offers will make your stay even better! You can secure a great deal on activities happening both inside and outside of theme parks of your choice, such as:
Orlando dining - deals and special offer passes on dining at parks such as Busch Gardens, and other locations including Hard Rock Cafe Orlando and Planet Hollywood Orlando
Orlando dinner shows - deals on dinner and show events, including Cirque Du Soleil, Pirates Adventure Orlando, the Blue Man Group, and many more
Orlando sports and activities - special offers for exciting activities and sports events such as basketball matches, balloon rides, helicopter tours, indoo skydiving, monster truck rides, and much more
Orlando tours - cheap passes on unforgettable experiences such as swimming with dolphins, sea life safari, shopping tours, and more
Other Holiday Experiences in Florida
You can go on holiday to Florida, spend your entire stay in Orlando, and leave without trying everything on your bucket list. However, keep in mind that there's much more to see in the Sunshine State. Consider booking the following attractions with FloridaTix discount codes:
Miami tours - explore Miami on trips and tours to various locations, such as Key West or Seaquarium, and enjoy fishing, snorkelling, glass bottom boat rides, and more
Busch Gardens - visit this popular theme park with animals and exciting rides around 80 miles from Orlando
Kennedy Space Centre - located around 45 miles from Orlando, this NASA's launch complex is perfect for a fun and educational tour
Airboat rides and everglades tours - if you want to have an experience like none other, explore local wildlife in the everglades by airboat ride
How to Use FloridaTix Voucher Codes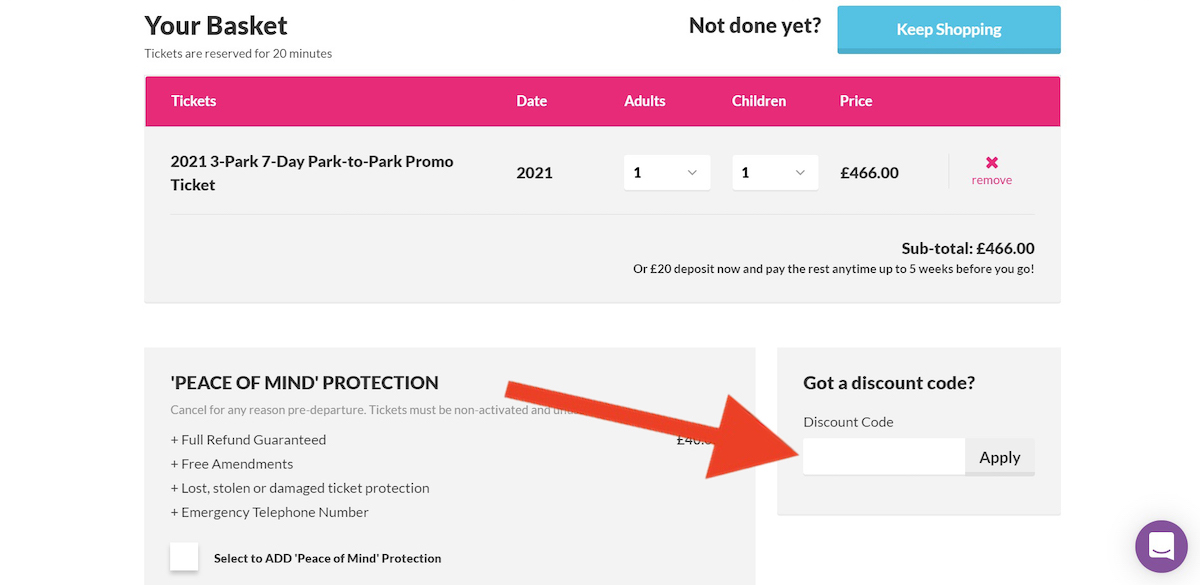 To use your FloridaTix discount code, you need to follow these simple steps:
Choose the offer you'd like to redeem
Click on it to unlock the discount code
Copy the code
Go to the FloridaTix website
Pick the park tickets you want and add them to your basket
Go to your basket
Click 'got a discount code?'
Paste the code in the box
Click 'Apply'
Proceed to checkout to complete your order
Wait for your confirmation email
Why Book With FloridaTix?
If you want to have an unforgettable holiday experience in Florida, book your trip with FloridaTix discount codes. FloridaTix is an official online broker with more than 15 years of market presence and great reputation that speaks volumes. It's been helping tourists and holidaymakers secure the best deals on holiday-related events, from park entry to dining.
Additionally, you can be sure that the tickets you buy are valid - FloridaTix is an official partner to Orlando's top attractions, such as Walt Disney World, SeaWorld, Busch Gardens, and Universal Resort. The tickets you buy are 100% genuine and official, and you can even make use of your expired FloridaTix coupons or make amendments to your order.
Here are some benefits of booking with FloridaTix:
time- and cost-effective solution that helps you avoid queues
low prices guaranteed - no more overpriced tickets
access to special offers, exclusive deals, and seasonal discounts
buy now pay later - deposits from £10
no credit card or booking fees
official tickets delivered for free
price match promise
opportunity to arrange for protection against cancellations
Save Money With FloridaTix!
FloridaTix discount codes are a great way to have a fun holiday in the Sunshine State. Even better, you can save more money during your trip to Florida. Below, you'll find useful tips and tricks on how to get the most of your Florida experience without breaking the bank:
Pre-Book Online
Imagine a situation, where you go to a theme park and are forced to wait in a long queue before you can enjoy it to the fullest. You get frustrated, your kids get impatient, and the overall mood of the trip gets ruined. Waiting in a line is not a fun memory, yet it's probably all too familiar to many people. Why go through it over and over again? The best solution is to pre-book your tickets online and use a voucher code while you're at it, since discout codes rarely apply when you're buying tickets at a brick-and-mortar location. To get the best deal, book your tickets in advance. It's a surefire way to avoid overpaying and wasting time in lines.
Go for Group Deals
If you want to get the best rates, consider booking group deals. Usually, these offers apply to groups of at least eight people. As such, you can turn your Florida holiday into a true family affair and go with your loved ones or your friends and their children. There are many great group deals for theme park visits and other attractions, often with additional features included as a bonus. This way, you'll receive a fantastic value quote for your group and enjoy your Florida holiday with your favourite people.
Buy Combo Tickets
Combo tickets are a great way to save some money because they allow you to see more than one attraction per purchase. Usually, they include all the must-see attractions and activities, which also helps you organize your trip and save time. You won't have to book separate tickets for each and every ride and event, and you'll have a nicely organized attraction checklist - all you have to do is go and have fun!
Register for Email Updates
If you want to stay up to date with the latest offers, limited-time promo codes, deals, and seasonal promotions, sign up to the mailing list. You can join the FloridaTix community by entering your email address in the footer of the FloridaTix website. This way, you'll receive the best deals straight to your inbox, which may help you book a trip of a lifetime at the best possible price.
Cancellation Options
If, for some reason, you can't use your FloridaTix discount code, you have the option to either cancel or amend your booking. For a £25 fee, you'll be guaranteed a full refund within three working days. Additionally, if the price of your tickets goes down up to five weeks before departure, you'll get the difference refunded. This way, you can have peace of mind and enjoy your holiday without losing your money, even when you need to cancel or change the details of your trip.
Valid FloridaTix discount codes and offers for November 28, 2023
| Discount details | Expires |
| --- | --- |
| Wonderworks Orlando Adults at Kids' prices | December 16, 2023 |
| Orlando Magic Basketball Full Season Schedule | April 16, 2024 |
| Up to 50% off at FloridaTix | No expiry date |
| Special offers on Florida combo tickets at FloridaTix | No expiry date |
| Exclusive FloridaTix offers and discount codes | No expiry date |
| Enjoy a 14 day pass for the price of 7 at FloridaTix | No expiry date |
| Enjoy 3 parks for the price of 2 on Universal Orlando Explorer Tickets at FloridaTix | No expiry date |
| Special offers on Discovery Cove® Tickets at FloridaTix | No expiry date |
| 3 Parks for The Price of 2 at FloridaTix | No expiry date |
| Discovery Cove Tickets for Only £158 at FloridaTix | No expiry date |
| Free Parking on SeaWorld Park Tickets at FloridaTix | No expiry date |
| Book Early with Low £20 Deposit at FloridaTix | No expiry date |
| Universal Orlando Adult Tickets from £282 at FloridaTix | No expiry date |
| Universal Orlando Children Tickets from £275 at FloridaTix | No expiry date |
Hello! I am Axel, tripplo.com's travel tips expert, travel savings expert and founder. It's me who publish and update most of the content and discounts on tripplo.com!
Frequently asked questions about our FloridaTix discount codes, deals and offers
How many discount codes and offers from FloridaTix are there at the moment?
Today, November 28, 2023, there are 14 FloridaTix offers and discount codes listed here on tripplo.com.
Are there any voucher codes and discounts from FloridaTix that soon will expire?
Yes, right now there are 2 FloridaTix discounts with an expiry date. The discount with the least time left before it expires is Wonderworks Orlando Adults at Kids' prices and this discount ends December 16, 2023.
Which FloridaTix discount is the most popular at the moment?
The FloridaTix discount that has been used the most is Up to 50% off at FloridaTix. This discount has been used 354 times.