About Trip.com
Trip.com is a leading travel booking website in the world, providing flight, hotel, train, car rentals and airport transfer booking facilities in all the major cities of the world.
Trip.com prides itself on being able to offer the best deals to travelers for both business and leisure travel. With a customer base of more than 300 million people, there are 30 million authentic reviews on the site that can help you choose the best options for your travel. Innovative features like flight-fare alerts, deal calendars, and early-bird discounts make a booking with Trip.com a great experience. Save more money on your next adventure by checking out Trip.com's discount codes and deals on our website.
All About Saving at Trip.com
Trip.com lives up to its name as one of the leading travel agencies by ensuring its users save on every trip. Choose Trip.com as your guide whenever you're organizing a business meeting or a family vacation.
The agency is dedicated to ensuring its clients travel the world with affordable flights, get access to discounted hotel bookings, and get the best train tickets. There is no other way to enjoy great deals other than using Trip.com.
Experience Perfection
Your vacation is a time to enjoy yourself and create memories. The least you need is anything that can ruin the moments. Trip.com will be by your side to ensure everything turns out well. Their priority is to ensure the satisfaction and loyalty of their customers. Shop on the best products with fantastic deals through Trip.com and have a perfect vacation.
Unlock the Best Hotels and Flight Deals
Are you traveling on a budget? No worry because Trip.com understands that and is ready to help. Go through their robust flight and hotel search filter to find whatever you're looking for. There are early bird deals, reduced fare alerts, and deal-finder calendar for you. Trip.com also entails stress-free payment options, which including UnionPay or credit and debit cards.
Excellent Services
Access Trip.com's easy to use website and mobile app and get 24-hour service. Make your flight and hotel bookings more straightforward and save all the time in the world. Trip.com is dedicated to serving multiple customers all over the globe in a variety of languages. Make your booking and inquiries in English, German, Spanish, Korean, French, Japanese, etc.
How to use Trip.com voucher codes (Image)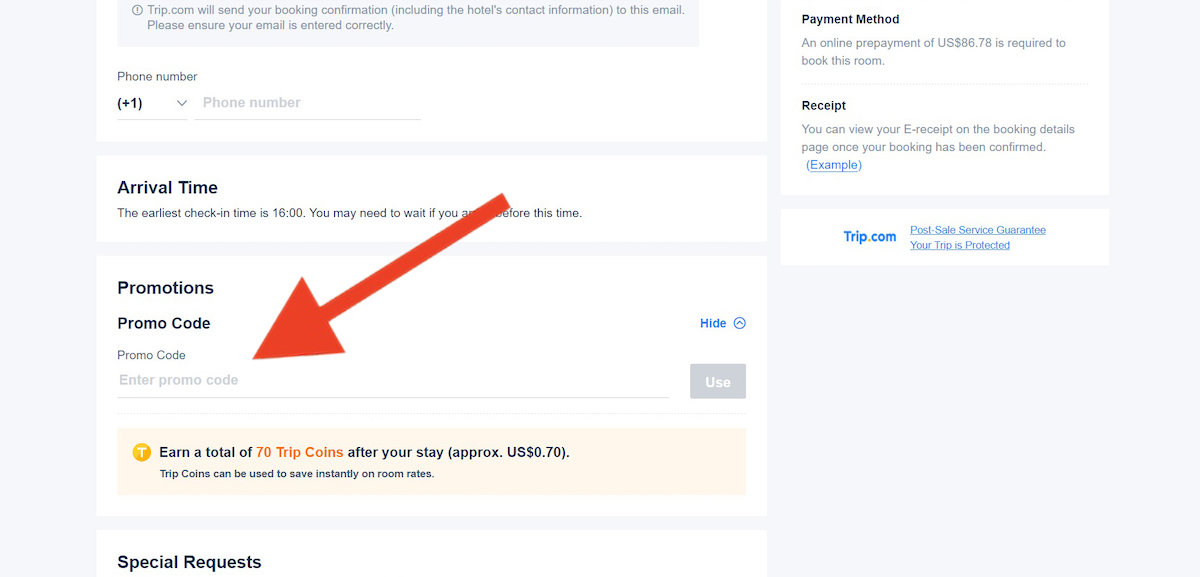 FAQ: Frequently Asked Questions and Answers About Trip.com Discount Codes, Discounts, and Offers
What terms and limitations should I consider when using a Trip.com discount code?
Every Trip.com coupon code always comes with certain restrictions and terms. Examples of these can be that the promo code:
Cannot be used more than once
Requires you to reach a minimum amount on your booking for the discount to be applied
Can only be used by new customers
Can only be used by returning customers
Does not provide a discount on already discounted trips and tickets
Will I receive a promo code as a thank you when I subscribe to Trip.com's newsletter?
At the time of writing, Trip.com does not have an offer that gives you a discount code when you sign up for the newsletter. However, this could change and during certain periods it may well be that those who register for the newsletter receive a discount code as a thank you.
Where can I find the best Trip.com coupon codes?
You can find them on discount sites such as Tripplo.com, in your email if you subscribe to Trip.com's newsletter, or on Trip.com's social media accounts where they sometimes share codes and campaigns with their followers.
How much discount can I get with a Trip.com discount code?
You can usually get percentage discounts such as 5%, 10%, 15% or 20% off. Any more discount than that is extremely rare for a Trip.com discount code to offer. If you find a voucher code that gives 10% off, you should be very pleased!
If I have a Trip.com promo code and find another Trip.com promo code, can I combine them to get an extra large discount?
Unfortunately, it's not possible to combine multiple promo codes to achieve a larger discount. You can only use one Trip.com promo code per booking.
Why isn't my Trip.com voucher working?
If your Trip.com voucher isn't working, there are a few things you should double-check. Firstly, ensure that you've entered your discount code correctly. Make sure you haven't mistakenly used a lowercase letter instead of an uppercase one or accidentally added a space at the end. You should also review the voucher's terms and conditions to ensure you haven't overlooked any requirements, such as a minimum booking amount or restrictions on certain destinations. If you believe you've entered your Trip.com discount code correctly and meet all the conditions but are still encountering issues, you can contact Trip.com's customer service for assistance.
How long is a Trip.com voucher valid for?
The validity period of Trip.com promo codes can vary significantly. Some Trip.com codes may be valid for several weeks or months, while others might only be valid for a day. A typical instance when Trip.com discount codes are valid for just one day is during events like Black Friday or Cyber Monday.
What benefits can I get by joining Trip.com Rewards?
There are many advantages to being a member of Trip.com Rewards. Perhaps the primary benefit is that you can earn Trip coins when you book trips. You can then use these Trip Coins to get discounts and benefits on your next trip. In addition to collecting points, you also get access to exclusive deals and, for instance, can avail of exclusive discounted hotel rooms at various destinations. We highly recommend becoming a member of Trip.com Rewards if want to get access to Members Only deals and save money!
Can I get a student discount at Trip.com?
Yes, you can get a student discount at Trip.com through platforms like StudentBeans. This discount can vary, offering anything from up to 30% off flights to smaller discounts on attractions and sights.
What benefits do I get with the Trip.com app?
There are numerous advantages to downloading and installing the Trip.com app on your mobile phone. App users, for instance, get access to exclusive discounts and travel deals not available elsewhere. Additionally, you earn bonus trip coins in the Trip.com Rewards program when you book via the app rather than the website. Within the app, you can also book airport transfers, purchase attraction tickets, and much more. In short, we highly recommend downloading and installing this app!
Valid Trip.com UK discount codes and offers for November 28, 2023
| Discount details | Expires |
| --- | --- |
| Flight App Offer Uk | January 1, 2024 |
| Trip.com Rewards: Earn trip coins and get up to 20% Off Hotels | December 31, 2025 |
| Up to 30% off at Trip.com | No expiry date |
| Up to 50% off at Trip.com | No expiry date |
| Exclusive Trip.com offers and discount codes | No expiry date |
| Trip.com App DEAL: Earn 30% more Trip Coins | No expiry date |
| Up to 50% off on daily hotel deals at Trip.com UK | No expiry date |
| Deals on hotels in San Diego at Trip.com UK | No expiry date |
| Deals on hotels in Philadelphia at Trip.com UK | No expiry date |
| Deals on hotels in Houston at Trip.com UK | No expiry date |
| Deals on hotels in Chicago at Trip.com UK | No expiry date |
| Deals on hotels in Los Angeles at Trip.com UK | No expiry date |
| Deals on HongKong and Singapore trips & adventures at Trip.com UK | No expiry date |
| Buy Trip.com gift cards from £10 | No expiry date |
Hello! I am Axel, tripplo.com's travel tips expert, travel savings expert and founder. It's me who publish and update most of the content and discounts on tripplo.com!
Frequently asked questions about our Trip.com UK discount codes, deals and offers
How many discount codes and offers from Trip.com UK are there at the moment?
Today, November 28, 2023, there are 14 Trip.com UK offers and discount codes listed here on tripplo.com.
Are there any voucher codes and discounts from Trip.com UK that soon will expire?
Yes, right now there are 2 Trip.com UK discounts with an expiry date. The discount with the least time left before it expires is Flight App Offer Uk and this discount ends January 1, 2024.
Which Trip.com UK discount is the most popular at the moment?
The Trip.com UK discount that has been used the most is Up to 30% off at Trip.com. This discount has been used 10733 times.